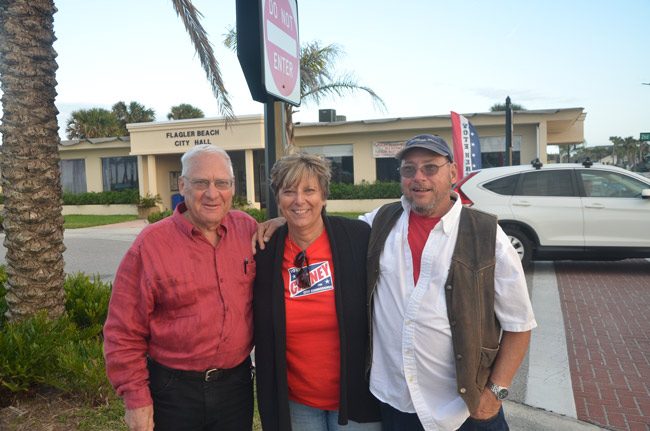 Last Updated: 8:13 p.m.
Flagler Beach voters today re-elected incumbents Marshall Shupe and Kim Carney to their third three-year terms on the Flagler Beach City Commission. They polled well ahead of challenger Paul Eik.
In Bunnell, newcomer John Sowell won a seat to the Bunnell City Commission, and incumbent John Rogers won re-election for a third term. One-term incumbent Bonita Robinson came in third, and lost her seat on the commission.
That means Bunnell, like the county commission, will be an all-Republican board. It also means that all local Flagler county governments are without a single minority–and that South Bunnell has lost the only commissioner who lived in South Bunnell.
"I think you're going to see people stay with what's familiar to them," Carney said this evening, less than an hour before polls closed as she stood with supporters–including former Clerk of Court Gail Wadsworth, a Flagler Beach resident–across the street from Flagler Beach's City Hall and lone poling station. She was right.
"I'm not ready to sit down yet," Shupe, who was also near the polling station, said, promising that he'd continue to be active in city issues even if he lost. He won't have to worry about that.
In Bunnell, Sowell, a long-time pilot of Flagler County's emergency helicopter as well as a military pilot for many years (now retired from both), said when he first moved to Bunnell he knew five people. He worked hard, knocking on doors more than Rogers or Robinson (Rogers relied on a letter and postcards). "If you start with knowing five people and you come up five people short, you've done a pretty good job," he said this afternoon. In fact, he was Bunnell's top vote-getter.
In Flagler Beach, Shupe was the top vote-getter with 475 votes, Carney had 417, Eik had 320. Turnout was relatively low: just 683 ballots were cast in a city with some 3,500 registered voters. Of those ballots, 278 were cast by mail.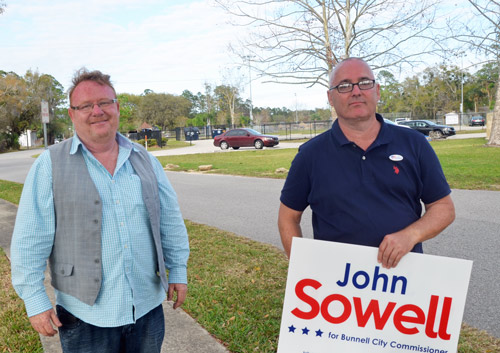 In Bunnell, Sowell got 144 votes, Rogers got 129, and Robinson got 113. Just 241 ballots were cast (81 by mail). The city has about 1,650 registered voters. Overall turnout between the two cities was 15.4 percent.
Flagler County Fire Rescue's Stephen Palmer, a Bunnell resident, had just voted for Sowell this afternoon. The two used to fly together when Palmer was a flight medic. "He was perfectly smooth, no G forces involved, it was a smooth flight," Palmer remembered, words he then applied to Sowell's likely style as a commission member. "He would be calm and collected."
When Sowell himself heard the word "rule" used in the context of a commissioner's authority, he was quick to correct the terminology. A commissioner, he said, does not "rule." Rather, he said, "if you can;t build consensus, you can't do anything as a commissioner." He may be today's only newcomer, but he spoke like a long-term incumbent.
As for Shupe–a consensus builder in his own right–he talked about a recent meeting with 39 people around the table, including the U.S. Army Corps of Engineers, environmentalists, local government representatives and others, all gathered to speak about reconstructing the beach. Shupe said it spoke of common goals, and of his own: his intention is to "do whatever I can to keep that going, keep that momentum up, and keep representing the people."
For the Flagler Beach Commission, today's election represents the continuation of a remarkable period of stability, with just one seat turning over in five years: in 2012, voters elected Linda Provencher mayor and Joy McGrew commissioner. Both had previously served as commissioners. The only change since was last year's election, without an actual election, of Commissioner Rick Belhumeur. He won the seat when Steve Settle chose not to defend that seat. Since Belhumeur was one of two candidates for two seats (incumbent Jane Mealy was the other) both were elected automatically.