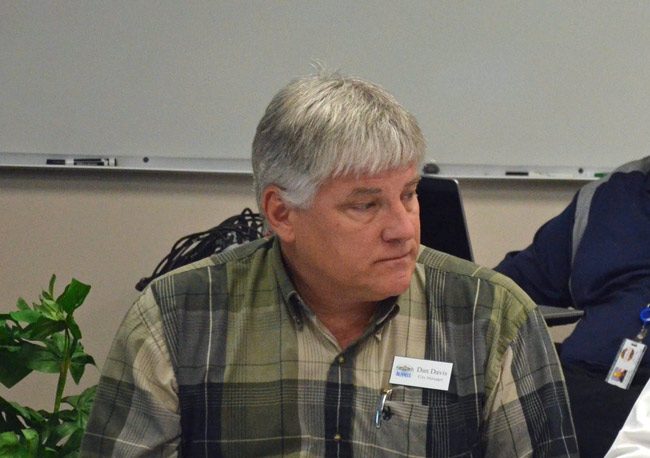 The Bunnell City Commission fired its manager, Dan Davis, in a 3-1 vote Monday evening, two years and four months after hiring him. Police Chief Tom Foster is the acting manager pending results of the commission's search for a new leader.
The firing took place after a brief discussion at the tail end of a review of Davis's performance evaluation, which Commissioner John Sowell called "pretty underwhelming." Davis had scored an average of 3, or "satisfactory," at the end of a six-month probation period that had itself followed a near-firing over the way he'd handled—or mishandled, in some commissioners' view—relations with then-City Clerk Sandi Bolser, who has since retired.
Strained relations have continued between Davis and several department heads, especially with Perry Mitrano, the city's solid waste director, and Stella Gurnee—both of whom had been the only two other finalists for the manager's job in December 2015.
This time, Sowell was "furious" over the way Davis handled the termination of the city's firefighters' retirement system, finding that Davis had misrepresented the issue to commissioners until firefighters spoke up and led to a different resolution that commissioners approved this evening.
"Six months ago we came very close to firing Mr. Davis," Sowell said moments before making his motion to fire the manager. "Were it not for some airline issues, he probably would have lost his job six months ago." At the time, Sowell had been delayed from returning to Bunnell for a commission meeting where, he said, he would have moved to fire Davis. He said he saw some improvements in Davis since, but looking at his evaluation, "I think we can do a lot better than average," Sowell said. (See the evaluations here.)
Davis's hiring in 2015 had itself been underwhelming, with Commissioner John Rogers casting the tie-breaking vote to give Davis a chance despite reservations about Davis's temperament, which had led him astray before with staffers and others, when he served as the city clerk over two separate stints. (In 2013, he resigned his clerkship in a bitter, public denunciation of then-City Manager Armando Martinez and the commission.) Rogers has had recurring issues with infrequent communications from Davis as manager. "The only time communications picked up with me was right before an evaluation," Rogers said.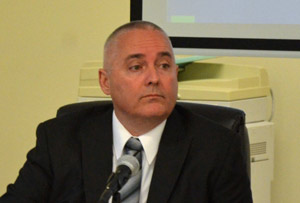 Rogers this evening said he'd gotten a call about an alleged illegal dump on County Road 13 that commissioners should have been informed about before, and that, Rogers said, Davis was aware of. "Stuff like this that should be brought before the board is not being brought before the board," Rogers said. "I think I offered him a fair, good faith, going back to city clerk. I think he excelled there. As a city manager I think he's terrible." (Rogers last year had proposed that Davis return to his position as clerk. That position is now filled with Kristen Bates, with whom the commission has been very satisfied.)
Rogers had used much different language about Davis just last Thursday as Rogers emceed a ceremony to honor emergency responders on the steps of the old Bunnell City Hall. "All this right here wouldn't be put together without our executive officer for the city of Bunnell who's seen the vision," Rogers said of Davis. "He served 20 years in the military, and he served under general [Norman] Schwarzkopf, and he's just got that servant spirit."
Rogers seconded Sowell's motion this evening.
Davis's hopes may have rested with Mayor Catherine Robinson, but her evaluation of the manager had been middling at best: she noted how she'd given him several; 2.5's that did not seem to be reflected in the final results, suggesting that the averaged numbers between four evaluations had been somehow inflated. (Commissioner Tucker had turned in only a narrative, no grades on itemized categories.) And when she started speaking, Davis's fate was sealed.
"My biggest issue has been the communication, and the communication and the internal unrest that's gone on in the city has been a concern," Robinson said, using strong language to describe that concern. She spoke of "dissention" between departments, a lack of teamwork, and how "sooner or later that's going to start impacting what we do externally. It hasn't yet, but it's going to. There's just things that go on that I'd like to be a party to before somebody else tells me about it," Robinson said. She cited some improvements since the probation period, with a weekly phone call that helped communications, but still, "the undercurrent and the struggles that go on, you can't help if you don't know."
Robinson joined Rogers and Sowell in the vote to terminate, with Elbert Tucker the lone dissenter. Commissioner Bill Baxley was ill and did not attend the meeting.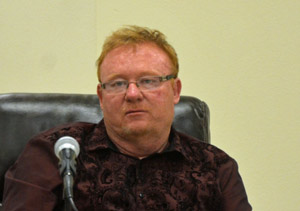 "I'm not unhappy with the city manager's performance," Tucker said. "I know what we've got with Dan Davis. You don't know what you're gonna get with the next city manager." Tucker said he was "not at all dissatisfied with the improvements that were made."
Davis sat through the entire discussion. He did not address the commission at any point, declined to speak when Robinson called on him during the customary manager's comment portion of the meeting at the very end, and quickly left the building after the meeting adjourned a little after 9 p.m., minutes after the vote and the commission named Foster the interim manager.
Asked in a text if he wished to address the outcome of tonight's vote, Davis wrote: "I really want to take the high road on this. All I can say is it was unexpected, and two of the commissioners told outright lies tonight. But that's on them. Staff knows different." He said he was not aware of anything relating to an illegal dump, and that "there were some internal problems but they were being addressed."
Davis disputed Sowell's claim that three department heads who told him (Sowell) that Davis should not be manager, or that he'd misled the commission on the firefighters' pension issue. "It's just not true. I would never lie to the commission," Davis said.
Sowell said he had done his best to support Davis, but that he could not continue to do so.
"That was a really hard thing I had to do tonight but I had to do it," Sowell said after the meeting. "The appropriate time to make that decision was tonight because we're talking about his performance evaluation." Sowell said he wants a "professional city manager" with a master's degree, "someone who knows how to grow our city economically." The city will be advertising for a new manager (the city attorney will be helping the finance director draft the ad), and a new hire, Sowell said, should happen in a matter of months. "We'll find one soon. It shouldn't take that long," he said, differentiating the process in Bunnell from that in palm Coast: that city is also hunting for a new manager, but it is stretching the search over two years to dovetail into current City Manager Jim Landon's retirement in 2019.
The Bunnell commission also voted to impose a hiring freeze, excluding the utility department or "critical need" to be determined by Foster and the commission, pending the hiring of a new manager.
The next manager will be Bunnell's third in five years, not counting Armando Martinez, who was himself fired in a near-midnight vote in June 2013 (the commission announced it would not renew his contract), ending a five-year tenure as manager.