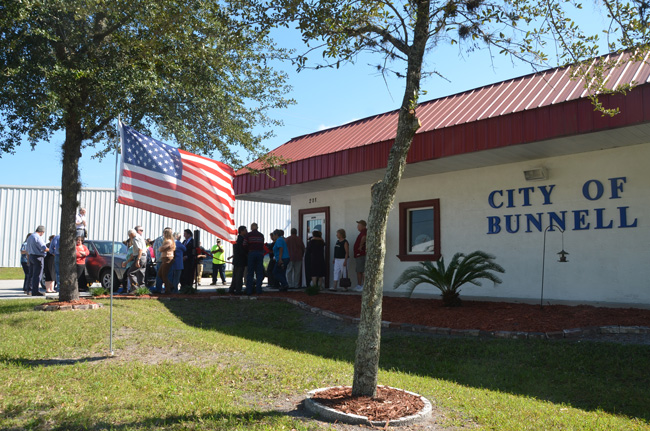 It wasn't as bad as wandering the Sinai for 40 years. But Bunnell's city officials and staff on Wednesday approximated in pride and relief their own version of finding their promised land as they celebrated the official opening of the new Bunnell City Hall after five years of wandering the halls and humors of other landlords.
"This is kind of a melancholy day for me," Mayor Catherine Robinson said, holding the giant scissors before the ribbon-cutting and for a very brief moment on the verge of losing her composure. City Hall, at the corner of West Moody Boulevard and South Main Street, had been for more than four decades her mother's kitchen and appliance store. "I worked in this building with my mother, I knew where the leaks were, I knew where the skeletons were, too." But Robinson had to close the business after her mother got ill. The building was sold to what became Cornerstone then Heritage Charter School, which was forced to close in 2012 by the Flagler County School Board because it was performing dismally.
At the time Bunnell's offices were spread around the city after the administration was forced to leave its old coquina-shelled City Hall in May 2009 because of torrential rains and a leaky roof. The heart of the administration moved into the county and school-board-owned administration building known as the Government Services Building. It did so mostly rent-free. At first it was on the assumption that Bnnell would be there a year or two. Other offices moved into the Atlantis shopping center on U.S. 1., again rent-free, but in exchange for building tax credit awarded Atlantis owner Mark Langello. That span stretched. And stretched. Until the County Commission gave Bunnell an ultimatum earlier this year: be gone, or start paying dearly.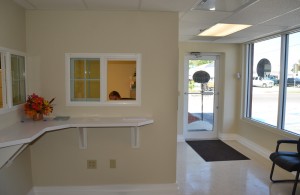 Bunnell's imaginary house, such as it was, was mired in turmoil as long-time City Manager Armando Martinez had been fired and his replacement, Larry Williams, was cleaning up a financial mess that included a nearly $1 million deficit. He was also contending with a divided commission and a mayor who had fought him at most steps of the way, and had opposed buying what had once been her own building. But the commission voted for the acquisition, a $600,000 purchase, in June, and today Robinson was all smiles, prayers and even pats on the back (literally and figuratively) for Elbert Tucker, the city commissioner who's become the de facto leader of the commission since power shifted to his coalition, and away from Robinson. It was Tucker, with Commissioners Bill Baxley and John Rogers, who pushed for the acquisition of the old Heritage (or old Robinson) building.
"The journey took us down a lot of different paths, but here we are today," Robinson said, gently acknowledging the scrappy road that had led to high noon today. "We got a great deal for this building," even Robinson said just before cutting the red ribbon, reserving thanks even for her old nemesis. "I want to thank Mr. Williams and being able to pull all this together." She was surrounded by every member of the city commission and several county commissioners, constitutional officers and school board members, including all incumbents for those seats.
"Is this a ribbon-cutting or a candidate forum?" a long-time observer of these scenes said.
All day city staffers were offering guided tours of the new complex, which includes four buildings. One of them will be razed to make room for a park. The main building, 12,400 square feet's worth, houses the administration, including all directors. Some of its walls are lined by the landscape art work of Palm Coast artist Elke Werner. Certain rooms have been given geographic names: the Bunnell Room is actually an emergency operations center, located in the center of the building. The Flagler Room is the building's largest, austere conference room (most of the walls are still bare).
"We've completely renovated the interior," Mick Cuthbertson, the city's community services director, said as he gave one of the tours. The city was expecting to spend $300,000 on renovations. "We erected a lot of walls, repainted, replaced the carpeting, had the roof replaced." As he was showing the place, he ran into Baxley and Charles Gardner, the Bunnell appraiser who frequently serves on city advisory boards and attends city meetings almost religiously.
"Thanks to this man right here, we got a fantastic price," Baxley said, his hand on Gardner's shoulder.
"I'll have to say, it looks better than I thought it would," Gardner said at one point.
Some offices are more personally furnished than others, among them that of Perry Mitrano, the solid waste director to whom innumerable moments in life are worth a frame on or near his desk. "We have a nice home, so we move in," Mitrano said.
The administration building also has ample office space for city commissioners, who've never had such accommodations before, and an unusually large and furnished exercise room. "The previous owner of the building left all this equipment, so rather than discard it, we set it up," Cuthbertson said.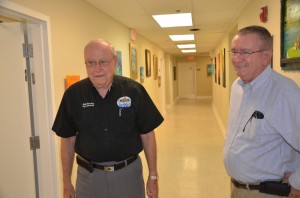 What's left of the Bunnell Police Department, now down to eight people including Chief Tom Foster, has moved into an adjacent building, a 4,260-square foot structure still in the midst of renovations. It won't be a completely self-contained department: the building won't have accommodations for interrogation rooms, for example (interrogations are conducted at the Sheriff's Office), because budget constraints have limited what could be done, Foster said. "As finances get better, I want to increase personnel," he said, though his first priority is to return the administrative support staff back to full-time status. Those non-uniform workers currently are working 25 and 32 hours a week as part of the city's austerity plan to eliminate its deficit.
"Quite frankly, we're very thrilled to have anything," Foster said of the new building.
And next to that structure is the 3,000 square-foot commission chambers, giving the commission its own meeting place for the first time in five years. The lobby to the chambers has been nicely decorated by the Flagler County Historical Society with Bunnell-related artifacts. It's not yet clear, Williams the city manager, said, whether the exhibit can stay permanently. If not, he'll try to keep the art theme in that lobby somehow. The chambers currently seat 50 and can seat up to 100, though the city does not yet have that many chairs. Judging from previous meetings, it may have to acquire them.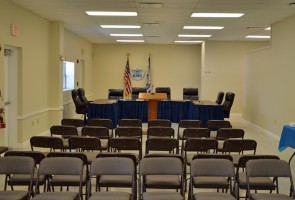 "It was a pretty good deal, saved the taxpayers of Bunnell a lot of money," Tucker said after the ribbon-cutting. "We're all here, have the police here, actually in a separate building, which is good, but I'm pleased with how it's turned out. And we didn't have to spend $5 million to get us here. This is not a money pit."
Tucker was referring to the old county courthouse, which the county donated to Bunnell only to have Bunnell rejected it–and return it–to the county after deciding (and discovering) that its needed renovations were a price Bunnell could not afford. It may not be the only property Bunnell has owned with the county that it will be giving back.
"Nothing wrong with 'no place like home,'" County Commissioner Charlie Ericksen said. "And now they do have a home."
The season of new city halls isn;t over. Palm Coast breaks ground on its new city hall at Town Center in an Oct. 29 public ceremony at 5:30 p.m. that day, on Lake Avenue, north of the lake at Central Park in Town Center.