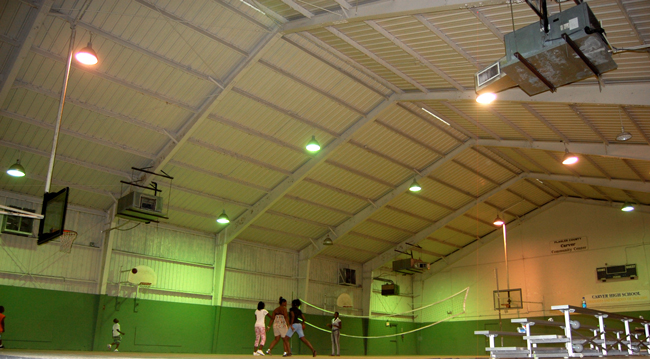 Bunnell city commissioners want to keep Carver Gym open. They just don't know how yet, and looked to have neither the patience nor the numbers to do the matter justice in a five-minute discussion on the matter during their nearly 150-minute meeting Monday evening.
Carver Gym is the old gym-community center in south Bunnell, the black end of town, that the Flagler County Commission wants to close unless the school district or Bunnell can at least share the cost of running it. The county puts that cost at $117,000, an inflated figure that doesn't jive with actual spending at the gym. The county sent a letter to Bunnell and the school board soliciting their intentions. The school board is discussing the issue Tuesday evening.
"You're all well aware of what's going on with our budget, you're aware of our situation financially," Bunnell City Manager Armando Martinez told commissioners. That situation is not good: the difference between Bunnell's revenues and expenses in 2009, in its general fund, was a $1.1 million deficit, which the city had to make up with money from sources outside the general revenue. Still, commissioners want a solution for Carver Gym.
"I will straight-out say that that gym has to stay open," Commissioner Jenny Crain-Brady said. "It's just paramount to have those kids that use that gym continue to use that gym, and I would like to encourage more children using that gym, and every activity possible could be going on there. So I don't know if there's some way the city can take it over through grants. I don't know. I would like to have a conversation with Judy to see what we can do." Judi Stetson is the city's grants director. She has a knack for unearthing possibilities.
"This is for the youth. What else do they have to spend money on but necessities that people need?" Commissioner Elbert Tucker said. He mentioned Bunnell's 37 churches as one way to draw support.
Catherine Robinson, the mayor, mentioned "some kind of private public partnership," without elaborating.
The commission and manager were poorly prepared to discuss the issue, however, throwing out vague numbers such as Robinson mentioning "$150,000 going up to Marineland" or Commissioner Daisy Henry talking about the money the county is shelling out for the Youth Center on the campus of Flagler Palm Coast High School without knowing the amount ($110,000).
The $150,000 Robinson referred to is a one-time, $150,000 expenditure that Marineland is paying for, not the county, to rebuild the River to Sea Preserve caretaker's residence. (See page three of the county's capital improvement budget.)
Just to keep Carver Gym closed, City Administrator Armando Martinez said, would cost $15,000 a month. Actually, it costs less than $15,000 a month to keep running, with salaries and maintenance. The $15,000 figure is the county's estimate of the annual cost of keeping the property in fair order—its lawn mowed (there isn't much of a lawn around Carver Gym, which the county neglects more than it invests in), its basic air conditioning running (there isn't much of an air conditioning unit in there, either: it wasn't working last week). So it's been with Carver Gym as public officials, including the county's, have confused the issue with numbers and assumptions that defy precision.
Commissioners decided to re-consider the issue in a subsequent meeting.