It wasn't quite Black Monday at the Bunnell City Commission, but it was gloomy enough: by evening's end, the city's grants department was history, so was 40 percent of the Bunnell Police Department, as were mainstays of the Bunnell city staff such as Judi Stetson—once a rising star with her sights set on the city manager's job—and, according to one commissioner, Randy Burke, the police lieutenant who's served in Bunnell for two decades and twice in the last two years was passed over for the chief's job.
City commissioners themselves agreed to cut their pay 10 percent, a proposal put forth by Commissioner Elbert Tucker. That'll bring their salary down almost $1,000 from $9,600. Elbert had been a leading champion of doubling commissioners' pay just four years ago, when it was $4,800 a year. The doubling meant that commissioners governing a city of 3,000 were making the same amount of money as Palm Coast City Council members, who govern a city of nearly 80,000.
Ironically, it was around the time of the salary doubling that the city, at the time managed by Armando Martinez, entered into its habit of annual deficit spending that culminated in an $800,000 deficit this year, and that auditors this year said was unsustainable, precipitating the cost-cutting crisis. The commissioners' salaries had a minor role regarding the deficit, although the raise, cumulatively, resulted in an additional expense of $120,000 for taxpayers over those five years. The 10 percent reduction will only save $4,800 a year.
City Commissioner John Rogers, who was chairing the meeting, committee a misstep when he said that the salary reduction item "does not affect the public, but you're more than welcome to come up" for public comment (no one did): the salary history, and its cumulative effects, played a clear role in the city's financial profligacy.
While the Bunnell Police Department was saved, for now, its annual budget of $1.1 million—the largest single expense in the city—will be reduced to $695,000, and the effective uniformed force will be cut significantly. The city budgets for 14 sworn officers, including Burke and Police Chief Tom Foster. Three positions have been vacant. Those will be eliminated. "That's going to be some of the cuts right there," Foster said today. "We're just not going to replace officers, so it's not going to be as drastic as you assume." Nevertheless, the force will be effectively reduced at least to 11 uniformed positions, and likely further than that. Foster would not confirm the number of cuts, nor the elimination of Burke's job, saying there are still several budget hearings ahead, with a final number provided not until September. But he conceded that the cuts the commission wants cannot be achieved without drastic measures.
In essence, there will be fewer Bunnell cops on the streets, and the Flagler County Sheriff's Office will have to compensate for the absence, even absent a contract for services. The Sheriff's Office already provides Bunnell policing with significant help, a sheriff's spokesman said Monday.
"They don't generally do that, but when the need is there, they respond," Tucker said. "I don't have statistics, but I have eyes. I've seen them. I've seen them."
Still, Foster was the toast of the commission Monday in an evening with few things to toast.
"I'm happy with that. I think we should keep the Bunnell Police Department," Tucker said. He was interrupted by applause. "That applause if for you, Chief Foster. It's not for anybody else. Thank you for taking the challenge and accomplishing the task."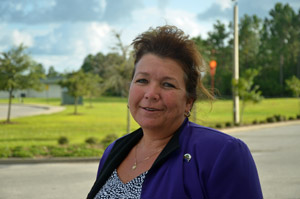 There was no applause over the elimination of the grants department, which will realize a saving of about $110,000. Rather, Williams emphatically countered claims that the department was either needed, or that figures attributed to its success were so much as close to accurate. It was an unusually public dressing down of a department within Williams's own organization, though the political dynamics of the matter were clear to see for anyone who'd followed Bunnell issues recently: Stetson, the head of the department, had competed for the manager's job and lost, but remained the administration's closest ally to Bunnell Mayor Catherine Robinson, who openly reviles Williams. Robinson, for the first time in years, was absent from the meeting Monday, leaving its chairmanship to Vice Mayor John Rogers.
When Mari Molina, better known as the Cat Lady, alleged that Williams has "a personal vendetta against Ms. Stetson" during the public comment period, Rogers, taking a page from Robinson's book of chairing meetings, immediately intervened. "We're not going to entertain that comment tonight, ma'am," Rogers said. "Anyone else?"
Williams outlined his cost-cutting plan after briefing the commission on cost-cuts Tucker was also presenting.
"What you look for is positions for work within the city that can be outsourced," Williams said, "and that brought to light the police department and also the code enforcement department. I want to, like I said before, I really congratulate our chief. He did a phenomenal job, recognizing a problem and working within the problem, and basically reducing his budget over 40 percent, which is remarkable. I still think we should have on the table eliminating the grants department. It's a cost of roughly $150,000 per year. I've worked as a city manager for 13 years prior to coming to Bunnell, and basically small municipalities like us, actually small cities, larger than us, don't have a grants department." They outsource, he said.
Palm Coast, for example—which has successfully funded numerous projects through grants—has no grants department. "Some department staff write their own grants. Sometimes we hire a grant writer," Palm Coast spokeswoman Cindi Lane said Monday evening. Flagler Beach, a city of 5,000 (compared to Bunnell's 3,000), also doesn;t have a grants department. Williams then contested the figures presented in defense of the grants department's worth.
"A lot of the figures that the council has seen including the one tonight is somewhat misleading," Williams said. "You've heard figures of $25 million over the last five years, well, our budget has not even been $5 million a year, or slightly over. Our whole budget for the city. Of that $25 million, $10 million was in loans. There's a claim made for the new water facility for $3.82 million, well, that was also a loan, and I personally wrote the RFP for that, and I interviewed the finalists and made that recommendation to council." And, he added, over $7 million of a grant was actually obtained by Flagler County, which is jointly running the city's new water plant at Plantation Bay. (Bunnell and the county bought the decrepit plant for $5.5 million last year.)
He added: "I've met with staff and we're exploring some long-term solutions that could help generate additional revenue in the future." For example, a franchise fee for solid waste, which would generate $60,000, a stormwater free of $4 a month could generate $500,000. Substantial amounts could be charged away from the general fund and to enterprise funds. That could shift from $64,000 to $128,000 in costs away from the general fund.
In all, the combined cuts will reduce expenses to $2.4 million with revenues at $2.16 million. That still leaves a deficit of $237,000.  "We feel we could make that up, but again that's the elimination of department positions," Williams said.
The commission approved most cuts, by 4-0 and 3-1 votes (with Commissioner Bonita Robinson the lone dissenter), but rejected a ban on police officers driving their police-issued vehicles home (the proposal was that they should lose that privilege if they live outside city limits). And the proposal to cut the police vehicle budget by $40,000 was also rejected, at least until the police chief made clear where the money to pay for the vehicles would be coming from.
When Foster was challenged about the cost of two new Tahoe SUVs in this year's budget—a cost commissioners would prefer to see eliminated—Foster managed a little humor in defense of the vehicles.
"I was not looking to spend the city's taxpayer money. I would rather finance these cars through our local drug dealers and criminals," Foster said, referring to forfeiture assets. Such assets have themselves been occasionally controversial, being the result of seizures from suspected, not necessarily convicted, drug dealers, and resulting from at times overzealous policing. Bunnell had its own grave controversy over one such policing method for eight years, until four years ago, when it was illegally requiring drivers whose vehicles were impounded by police to pay a $350 "administrative" fee to recover the vehicle. The fee was bogus, and grossly unfair, especially as the city's police would set up roadblocks designed to generate the sort of arrests that would then generate that sort of cash. The State Attorney's Office, following a damning investigation, brought an end to the fee, and the city was required to advertise its culpability and make restitution to those who applied.
There were surprisingly few public comments. Aside from Molina, Bunnell business owner Mark Langello and Bunnell-based Pastor Sims Jones (a resident of Palm Coast whose church is in Bunnell) spoke. Langello insisted on keeping a police car budget. He also questioned the stormwater charge absent details, though Williams stressed that before any such fee was voted on, it would be preceded with plenty of meetings and hearings. All three speakers argued against getting rid of the grants department.
Another cost cut Tucker had proposed but agreed to let go was his call for using a surplus sedan for the city's new K-9 unit. "Pull out the back seat, screw down plywood, carpet, expanded metal panel between officer and K-9," Tucker had proposed, eliciting a sigh and a "my goodness" from Rogers. But by the time the commission was ready to vote on the item, Tucker had surrendered.
"Good deal because I think this ain't Mayberry," Rogers said, referring to the fictional setting of the Andy Griffith Show and its comical police department. "We got the dog, we've got to give him something to ride in." Proposing to eliminate the K-9 unit, which appears to have been more of a luxury than a necessity in Bunnell–given the sheriff's readily available K-9s down the road–was never on the table. The dog was paid for with a donation from a private company, but its upkeep and incidentals, including a vehicle, are entirely the city's costs to bear–a detail not included in the publicity that surrounded Bunnell's K-9 acquisition last November.