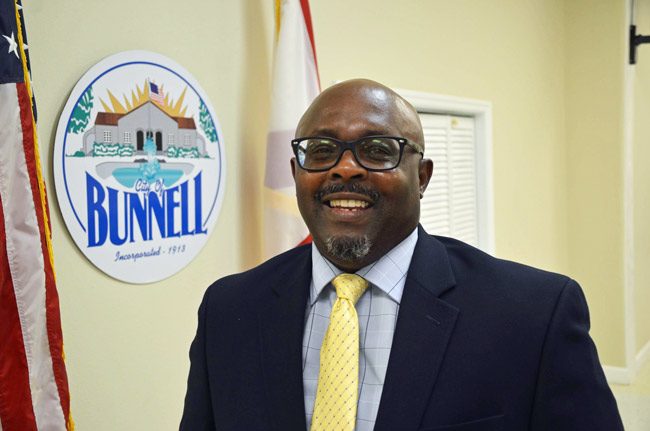 Alvin Jackson is the Bunnell City Commission's newest manager, its fourth since 2013. The commission voted Monday evening 5-0 to hire him for $82,000 a year.
Jackson, 57, an effusive booster and a natural preacher with a flair for self-promotion–his 72-page application included five pictures of himself, most in articles about himself–is currently the economic development director in Suwanee County. He is taking a $14,000 pay cut to move to Bunnell. His job starts Oct. 1.
It is the first time in 10 years–going back to the unanimous vote to shift Armando Martinez from police chief to city manager–that the commission hired a manager on a unanimous vote, a sign of cohesion that should benefit Jackson. When the commission voted 3-2 to hire Larry Williams in 2013, Robinson refused to sign his contract. Dan Davis in 2015 was hired on a 3-2 vote. In June the commission voted 3-2 to hire Martin Murphy, after Jackson had failed to get a second when Commissioner John Rogers first moved to hire him. Contract talks with Murphy soon collapsed, reopening interviews and leading to Jackson's second and more successful appearance.
City Attorney Wade Vose summarized his contract terms at a meeting of the commission Monday evening. The terms were negotiated over the phone between Rogers and Jackson.
The $82,000 salary is $2,000 more than the "not-a-penny-more" amount two commissioners said they would pay their new manager just a few weeks ago. But Vose explained that the higher salary for Jackson also means that he will not bill the city for any professional development expenses, but will take them out of his pay.
That means any trips to city and county association functions, which can accumulate over time, will be at his own expense: "The city manager shall be responsible, out of his personal funds, for the payment of all expenses associated with his professional development, including but not limited to professional publications and expenses relating to various professional conferences and training."
Yet the very next provision states that the city will pay his membership fees in the two most prominent associations through which those activities take place. The provision after that states the city will reimburse him for all "employment-based expenses." And the contract nowhere requires Jackson to continue professional development or attend conferences. The extra $2,000, in other words, is tendered in exchange for little that may be accountable.
Aside from the $82,000 salary, Jackson will get a $2,400 gas allowance ($200 a month), and $1,200 in relocation reimbursements. He will get 38 days of paid leave, or nearly two months, each year, with a significant caveat: the 38 days are in lieu of all other time- or -leave-related benefits, including personal time off, administrative leave (to which Bunnell's top employees are entitled, in addition to their regular vacation and personal time off), and any other leave entitlements.
And in the most unusual provision of the contract, the unused time does not carry over from year to year, it does not accrue, and Jackson may not cash it out under any circumstance.
"I did not want to hold the city hostage with vacation leave and all this stuff like that," he said.
"This is something I heard came out of their negotiations," Vose said. "I heard about it after the fact and I thought it was an innovative idea we could implement."
Rogers elaborated. "Mr. Jackson explained to me in his 19-plus years as a public employee, he has seen some terrible contracts from city managers, and how they keep counties and cities hijacked," he said. "Previous city managers left here, left here with a lot of money. So he explained that's not his heart or his intention."
---
"He has seen some terrible contracts from city managers, and how they keep counties and cities hijacked."
---
Rogers might as well have been talking about Palm Coast and its manager (Rogers said he was not), Jim Landon, whose contract provides for a nearly quarter-million dollar severance. The contract has, in fact, kept the city hostage: the council has wanted to be done with Landon since last summer and even has a head-hunting firm on contract, ready to search for its next manager. But Landon and the council are sitting on the firm, preventing it from doing its job just yet, because Landon hasn't told the council when he intends to retire, and the council has (so far) been unwilling to pull the nuclear option–fire himn and incur the cost of his severance.
Jackson will get three months' severance pay, or 12 weeks' worth, in case of termination without cause.
Jackson's contract negotiations also contrasted with those of Martin Murphy's just a few weeks ago: Murphy had pushed for $86,000 and wanted his health benefits to kick in immediately, as opposed to waiting the required weeks, as do other employees, for the benefits to start. Jackson's benefits will kick in as they would for any other employee.
Jackson has never held the title of city manager before, though he's come close. He's been in Suwanee for the past four years. He's been a "leadership coach" and motivational speaker in the private sector, headed Hallandale Beach's redevelopment agency for two years, ran his own company–but contracted almost exclusively with government–between 2007 and 2011, was deputy county manager and economic development director in in Lake County for eight years, and held other government posts.
Throughout, he's also been pastored every Sunday in Pentecostal churches. He will continue to do so, commuting every Sunday to Tampa's Church of the Kingdom of God, as he works in Bunnell. He draws a small income from pastoring, he said. He's done so at churches in Frostproof, Gainesville, Miami and Eustis. "Guess what, I've never pastored where I've lived because they've always sent me to a church where I don't work," he said in an interview today.
Jackson today was visiting with Bunnell staff and holding one-on-one meetings, as he intends to do for the next few days. "I'm enjoying the individuals I'm meeting and feeling really, really excited about the team," he said.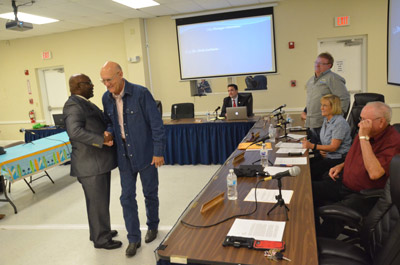 His pay cut stands out not just in relation to his current $96,000 job, but in relation to previous jobs he's held, which he lists as having had wages of $120,000, $103,000 and $170,000 a year.
"He likes this area, his wife likes this area and they want to relocate, and they were going to relocate to this area," Rogers said of Jackson and his wife, who is a certified public accountant. "Sometimes money is not everything."
Asked about the pay cut, Jackson today said: "Because I've been in this business 25 years and I love what I do and when I have an opportunity, thank Goodness all my kids are gone, we are downsizing, it's about quality of life and it's about doing those things you really love." He and his wife have seven girls and one boy, all adults, most having gone through college. The youngest is 21, a musician who teaches music to at-risk youths in a Boys and Girls Club in Boston. His father tells him he could make a lot more money. "Dad, it's about touching lives," Jackson said, quoting his son by way of explaining why he felt he was doing the same, while explaining his pay cut.
After the vote and some applause Monday evening no member of the public opted to speak, but Mayor Catherine Robinson invited Jackson to say a few words.
"It is another great day in beautiful Bunnell," he said, borrowing the catch phrase that's also his way of answering the phone, and is the title of the book he self-published in 2009 ("It Is Another Great Day: An Inspiring Guide to Effective Leadership"), "and as I say now in the center of the universe, and I really want to say thank you all for giving me an opportunity to participate with you in this, what we call, government, and be on your team. For me at the end of the day it's about helping you touch the lives of people and making a difference in the quality of lives here in Bunnell."
He said he'll seek to set up a "retreat" with the commission, thanked Tom Foster, the city's police chief who'd been acting as interim manager, and described himself to the commission this way: "I'm your man in Havana."
Especially given Bunnell's rocky past with managers it was a very strange reference for a new manager–not because Bunnell has nothing to do with Havana (in a few ways it does: both cities have been pining for a renaissance, both have had their share of oppressive leadership, both have an authenticity their more colossal neighbors to their north may lack) but because the "man" at the center of Graham Greene's famous novel is a vacuum-salesman-turned sloppy spy who fabricates evidence to make himself look good and scam his way to a small offshore fortune.
"What I was saying is I'm their point person," Jackson said today about the reference. "I'm their keeper here on the ground and I want them to know I'm available to them and the community, it was not intended to be derogatory. I was trying to make a point."

Alvin Jackson's Contract (2018):