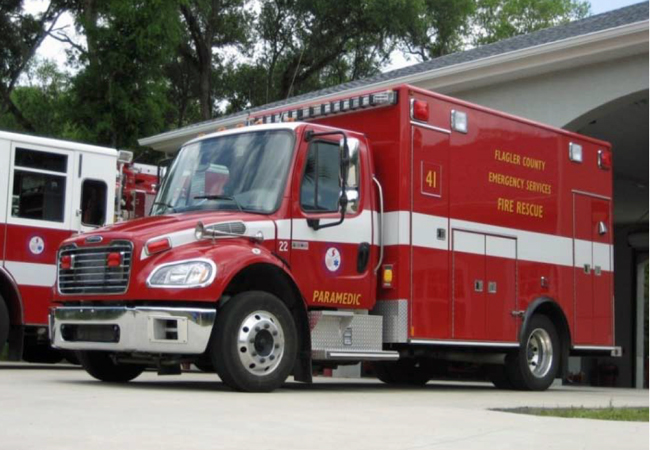 As they did last year, your county taxes are likely to rise again this year, according to a proposal before the Flagler County Commission.
County administrator Craig Coffey is proposing to lower the property tax rate from the current $7.9906 per $1,000 in taxable value to $7.975. That's a 0.2 percent decrease in the tax rate—also referred to as the millage rate. (See a fuller explanation here.)  But it would not overcome a projected 4.7 percent to 5 percent increase in property values. In effect, the county property tax bill of the average property owner could therefore increase by 2.5 percent to  4.5 percent–with some of that increase due not to increased assessments on existing properties, but due to new construction. (An earlier version of this story had not made that distinction). Under Florida law, that's considered a tax increase, even though the tax rate has been cut. If cities and the school board take the same approach, the average property owner's tax bill could see a larger jump.
That's almost certain: "This year on the school side the local effort is going to increase substantially, I can tell you that," Coffey said, referring to the local school tax, which has declined substantially in the last two years. The local school board does not set that tax rate. The state does. But it appears on local tax bills as the local school board's levy—a quirk of state law local boards can do nothing about.
The commission had the temerity to meet Monday morning—and was scheduled to meet again Monday evening–despite it being Coffey's birthday ("It's great spending my birthday with you both this morning and this afternoon," he said. "There will be retribution"), and despite the United States' first World Cup game, scheduled at the same time as the commission's evening meeting. Unlike certain nations, where half-day holidays are declared when the national team is in action, governments in the United States plod on regardless. The commission sang Coffey the happy birthday song and got to work on its 2014-15 budget.
Aside from minor reminders—Commissioner Barbara Revels, for example, cautioned that as health care costs go up and reimbursements go down, "it's always going to land on our doorstep, that's what we always have to be looking for"—commissioners had only routine questions or objections to a few line-items, letting Coffey's budget proposal sail through virtually unscathed. That, too, is a reflection of a more relaxed, less financially pressured budget season, and a willingness among commissioners to replace years of austerity with increased investment in the government infrastructure.
Unlike previous budgets, this one projects increases almost across the board, from $67 million this year to $68.6 million—a $1.52 million, or 2.3 percent, increase. It is the first budget in seven years that sees such a significant increase, even though, overall, county government—including the Sheriff's Office—projects a decline in employment, from 380 employees to 374. The budget includes a 1 percent across-the-board cost-of-living raise.
Many costs are out of the county's control. Some $650,000 of the increase is the result of state impositions to cover increases in the Medical Examiner's costs ($22,500), required increases to the state retirement fund, Medicaid, juvenile justice ($178,000 covers costs of juvenile detention that the county contends, along with a majority of counties in the state, should be a state cost, not a county cost).
"All the constitutionals had a budget increase," primarily because of the mandated increase in retirement contributions from the state, Coffey said of the constitutional officers (such as the sheriff, the tax collector, the property appraiser). Sheriff Jim Manfre had a more significant budget increase of around $600,000, despite merging his information technology and fleet management departments with the county's, and not because he's adding deputies. The reason: $190,000 for retirement, the expiration of the federal grant for community-oriented policing, which now makes those costs the county's responsibility—if the county chooses to continue the program—at a cost of $160,000, shifting the cost to the county. (Community-oriented policing fields actual cops on the streets and should not be confused with the volunteer COP program.)
The new crime lab Manfre set up in October also added a $130,000 cost to his budget. At the time, the addition of a crime lab technician was justified by the elimination of a position in the accreditation office. In fact, the addition, including a $75,000-a-year cost of a contract with a  private DNA lab, adds $130,000 to the sheriff's costs.
"What they've done now at the state crime lab, instead of first in first out, it's by priority," Coffey said, so property crimes, which, aside from domestic disputes, dominate crime in Flagler County, are at the bottom of the heap. That's what compelled the sheriff develop the department's own CSI unit.
There were also necessary changes compelled by former Sheriff Don Fleming's cost-savings. "He quit buying new vehicles, so what you've got is Sheriff Manfre has a backlog of older vehicles with a lot of mileage," Coffey said. That's an additional $270,000 cost. The sheriff's costs are increasing even though he's projecting a cut in total employment from 259 to 254 full-time employees, and from 26 to 24 part-time employees.
"I really think we need to look at the sheriff's budget to see why we're seeing what we're seeing," Revels said. But Coffey dampened her concerns by again outlining the various hits the sheriff took this year.
In fire services, the county would add three new firefighters, a new fire engine and a new ambulance. The engine is a replacement, the ambulance is an actual addition, increasing the total functional ambulances on each shift from six to seven. "Next year we may have to add three more firefighters, to be honest with you," Coffey said. The county is also studying having a peak-hour service for ambulances. The county is filling five vacancies in the fire department, and will be looking to hire three more, for a total of eight in a department with what will be 78 total firefighters. That will eliminate the need, this year, to have reduced the number of firefighters on some fire engines from three to two.
Fire Flight, the county's emergency helicopter, is also requiring additional spending, from $356,100 this year to $439,500 next year, a 23 percent increase. Mechanical upgrades and repairs account for $84,000 of that.
The county's reserves are up to 7 percent. Coffey wants that ratio higher. "I would not like to go below our own policy of 7 percent," Coffey said of the reserves.
In a sore point for county taxpayers and commissioners, Coffey updated the commission on so-called "tax=-increment financing" schemes that cities have in place, and that lock in taxes owed to the county, diverting them instead to whatever zone those cities declare as "Community Redevelopment Agencies." Bunnell, Marineland, Flagler Beach and Palm Coast each have CRAs. But Marineland's and Bunnell's are not generating any significant taxes.
Palm Coast's is. This year, the Palm Coast CRA denied the county $1 million. In 2014-15, that figure is projected to increase to $1.1 million.
The two-hour meeting of the commission this morning–a workshop, where no decisions were made–ended just before 11 a.m. The commission meets again for its regularly scheduled bbusiness meeting this evening at 5. The commission meets again for a budget hearing July 7.