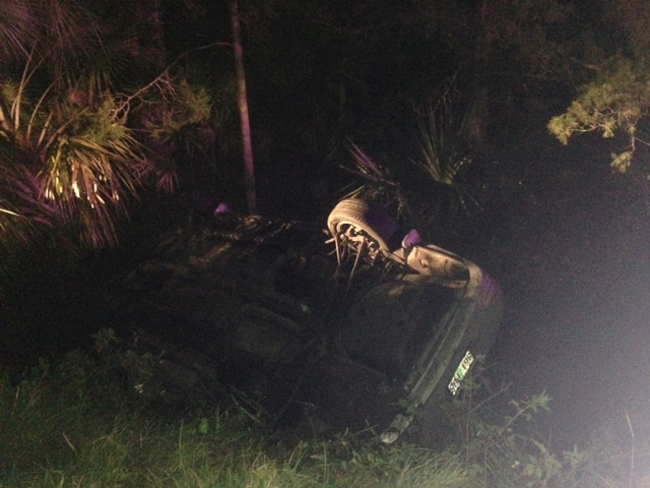 Last Updated: 4:42 p.m.
Brianna Bellon, 23, a resident of Beach Village Circle in Palm Coast, was killed late Sunday night as the car she was either driving or riding in with two men rolled into a canal in an isolated part of Flagler County, south of the Mondex.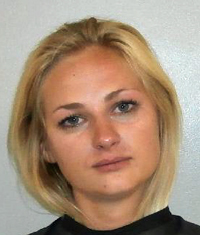 The two men Bellon was with, Zackariah Holden and Corey Doyle-Carlson, both 23 and both of Palm Coast, were not injured, according to a Florida Highway Patrol report. But information to Flagler County Dispatch (the 911 center), released Monday afternoon, tells a different story.
The wreck appears at least tangentially but tragically related to the death of 17-year-old Meredith Smith a year and a half ago: Doyle-Carslon, from postings on his Facebook page, had posted of marking Smith's birthday the morning before the crash, and referring to her by her nickname: ""Been up all night drinkin thinking of you I miss the shit out of you kid thanks for lookin over me MERFF miss the hell out of you this ones for you."
Smith was killed, along with 19-year-old Lane Burnsed, in a three-vehicle crash on I-95 in Ormond Beach in July 2012.
A friend of Doyle-Carlson's commented below that post: "Every time I see u post it's about having a drink!," one commenter told him Sunday. "Might wanna attend a couple AA classes! Lol."
At 3:30 a.m. Monday morning, what would have been a few hours after Sunday night's crash, Doyle-Carlson posted again: "yo just woke up upside down in a ditch and I think I broke my shoulder." He makes no reference to either Bellon or Holden. A friend on his page would later take him to task for focusing on his shoulder instead of on Bellon's fate.
The two men left the scene after the 10:30 p.m. wreck, according to a Florida Highway Patrol report, "went to a residence, and contacted police from there."
The report does not specify where the residence was, or why the two men did not contact 911 from the scene. But a Flagler County Sheriff's report issued this morning notes that Holden and Doyle-Calson "got a ride" to Holden's mother's house at 12 Katrina Place in Palm Coast, and that one of them got there "covered in mud and bleeding." Suzanne Holden told police that her son and Doyle-Carlson told her that Bellon was driving when the vehicle flipped. The men said they had "attempted to locate" Bellon "but could not find her and got a ride from a friend back to Katrina Place."
Again, it is not clear how or why the two men were able to call a friend to the scene in order to get a ride to Katrina Place, almost 17 miles away from the wreck scene, but were not able to call 911 from the scene–or why, as victims of wrecks generally do, they had not stayed at the scene for rescue units to arrive.
Bellon, the report states, "was located floating face down and was pulled out of the overturned vehicle by deputies. Deputies attempted CPR and utilized a defibrillator on [Bellon], however, she was pronounced deceased by Rescue 51."
Dispatch notes (from the 911 center) released this afternoon show the two men appearing at Suzanne Holden's house on Katrina place at 10:39 p.m.
---
"They don't know the female," the dispatcher tells various units, referring to information the two men were relaying to 911. "They[y] crawled from the veh[icle]," the notes state.
At Flagler authorities considered contacting Air One, the Volusia County emergency helicopter, for a search. That was at 10:44 p.m. The men reported that the car was in 6 inches of water. At 10:44 p.m., the order went out from Dispatch to "hold off on Air One."
An ambulance unit, Flagler County Firer Rescue 51, was on its way at 10:43 p.m. Rescue 92 was dispatched at 10:53 p.m., but for the two men on Katrina place.
Deputies found the car at 10:48 p.m.
"She is under water, possibly Sig7," Dispatch noted one minute later, suggesting that it was not at all difficult for the deputies to locate Bellon. Signal 7 is the code for a deceased person.
It is not clear from the 911 notes when precisely Rescue 51 arrived at the scene, but at 10:55 p.m. they were directed "across ditch and into woodline." The deputies tried to get her out, and had done so by 10:51 p.m., at which point they administered CPR.
At 10:54, the deputies used an automated external defibrillator.
As the deputies–who were later reported to be infuriated that the two men had left the scene–were attempting to revive Bellon, 911 noted that the wreck had "occurred 45mns to hour ago."
The Florida Highway Patrol was informed of the incident at 10:56 p.m.
Brianna Bellon was pronounced dead by Rescue 51 paramedics at 11:12 p.m.
At 11:45 p.m., authorities located a landline for Bellon's mother at Beach Village Circle, but it is not clear at which point she was informed of the accident, though a sheriff's chaplain was also contacted in order to make the notification in person.
FHP arrived at the accident scene seven minutes after midnight, at which points, as is routine, the sheriff's office turned over the scene to a state trooper.
The FHP report also states that it is unknown at this stage of the investigation who was at the wheel of the car: it is not clear why the men have not provided a fuller description of the incident. Agents from the Florida Department of Law Enforcement were on their way to Johns Towing in Bunnell around noon Monday to examine the car and better determine who had been driving. The car was towed to Johns Towing.
Bellon, Holden and Doyle-Carlson and Holden were traveling north on County Road 2007 in a 1999 Toyota Solara when, near the intersection with County Road 110, the car lost control–for unknown reasons–skidded east, struck a tree and overturned in a waterlogged ditch. The Toyota was on its roof when authorities arrived at the scene.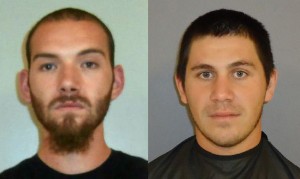 All three individuals have prior arrest records.
Holden was found guilty of drunk driving last fall. An accompanying charge of DUI with property damage was dropped. In 2009 a minor pot possession charge against him was dropped. Doyle-Carlson, who has a young daughter, has been booked at the county jail eight times between 2008 and 2012, for felony probation violation, felony battery, criminal mischief, home invasion robbery and introducing contraband in a jail, among other charges. Bellon was charged with battery on a law enforcement officer. She had agreed to a pre-trial intervention contract, which wipes the slate clean once the terms of the contract are fulfilled.
Between 9 and 10 a.m., Haley Eubanks wrote below Doyle-Carlson's "status" from the ditch: "I know y'all probably feel like shit and all because of the accident last [night] but come on. Yesterday was MEREDITHS BIRTHDAY! And why did We lose her?! A CAR ACCIDENT CAUSED BY SOMEONE UNDER THE INFLUENCE! Y'all should know better than to get wasted! I love you and zack to death and that's why I'm so heart broken by y'all's DUMB ASS DECISIONS! Yesterday was about Meredith, it wasn't an excuse to get drunk."

Note: more recent images of Brianna Bellon may be sent to [email protected].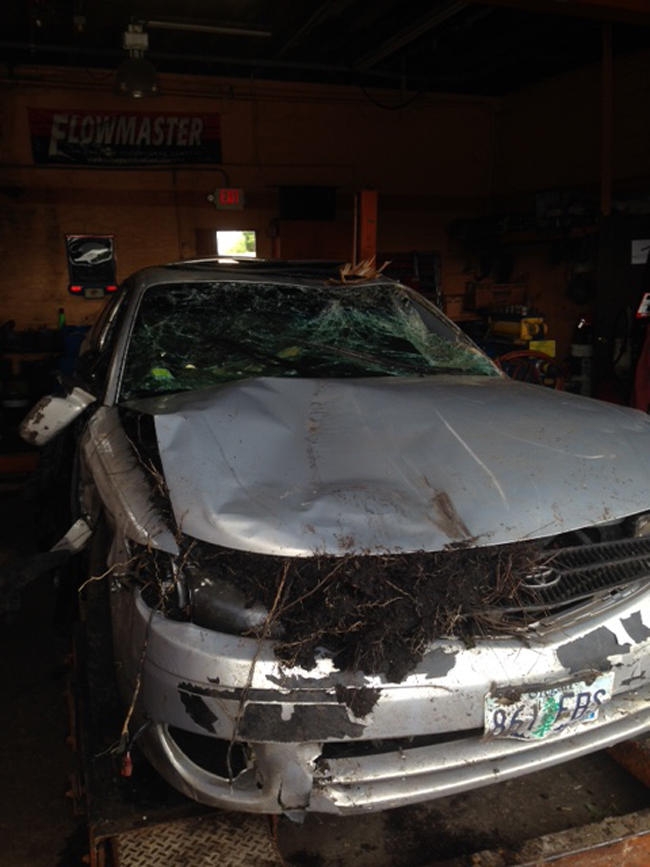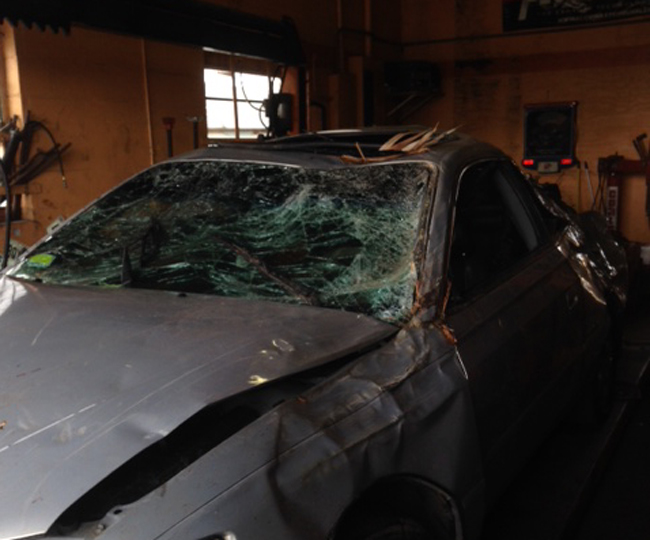 The distance from the scene of the crash to 12 Katrina Place, where Zackariah Holden and Corey Doyle-Carlson say they got a friend to drive them, before they told Holden's mother of the wreck, and she called 911.