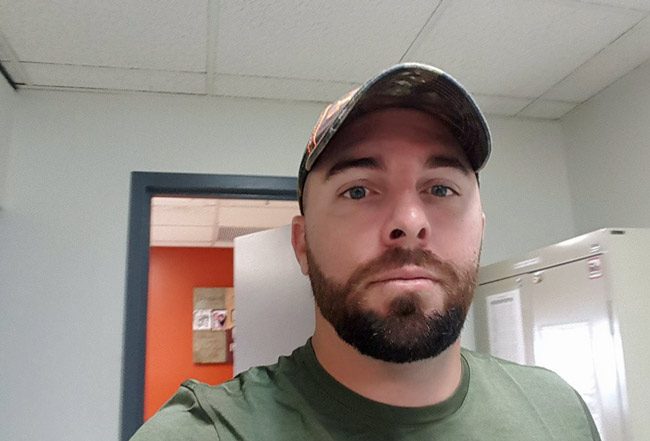 In 2008, Brian Wothers of Ormond Beach was found not guilty by reason of insanity in the shooting death near Graham Swamp of 26-year-old Jeffrey Maxwell, a traveling construction worker then on assignment in Palm Coast.
He'd been charged with first-degree murder and armed robbery. After the bench trial before Circuit Judge Kim Hammond, Wothers was ordered to a state mental hospital. In 2012, he was allowed to leave the hospital for a residential facility with 24-hour supervision called Passageway Residence, in Miami. That meant he was no longer confined. In 2014, the court allowed him to move into an apartment of his own, with five days a week supervisory check-ins at Passageway, monthly home visits from the organization and monitoring of his medication.
Today, Wothers, appearing by phone from Miami with his lawyer David Glasser in a Flagler County courtroom, was asking the judge to grant him permission to reduce supervision to two days a week, pending the lifting of almost all supervisory protocols so he could move permanently to Delaware or Maryland, where he has family, and where he's been allowed to spend up to 10 days a month.
Circuit Judge Dennis Craig–filling in for Terence Perkins, since Craig had to carry out a sentencing today locally–asked Assistant State Attorney Jason Lewis what he thought of the arrangement.
"I'm not thrilled judge," Lewis said.
"That's kind of the same feeling I have about it," Craig said.
"But at some point," Lewis continued, "we kind of need to trust the professionals who say that this is what is appropriate in that situation. They've been working with him for a long time so if this is  what they're telling you and us this is the appropriate method at this point, I'm going to trust that. Do I love it, no. But sometimes we have to step out and do things we're not super comfortable with when other people recommend them."
"I'm kind of in the same position. I'm agreeable but uneasy,"  Craig said.
After conferring with an official from the Miami facility, who was in a room with Wothers–and who had been supervising him–Craig agreed to change Wothers's conditions. It was the latest step in what appears to be the rehabilitation to society of Wothers, now 36, a veteran of the wars in Afghanistan and Iraq, where he'd been assigned to a motor unit. He'd been discharged because of post-traumatic stress. At his bench trial before Hammond, the judge had ruled that the murder Wothers was accused of was the result of flashbacks caused by PTSD.
The morning of May 26, 2006, two employees of a land-clearing company had parked their car at Graham Swamp and walked across Old Kings Road to their job site. On their way they noticed a black hat dropped on mulch, then a brown flip-flop partially buried, then north in the brush, they noticed a man, his face covered in blood. He wore a white t-shirt and boxers, his blue jeans lying at his feet. He'd been shot. They called 911.
The man was Jeffrey Maxwell. He was from Denison, Texas. He'd been staying at the Sleep Inn in Palm Coast, part of a larger work crew working on water towers and the like. His roommate told investigators that Maxwell had tried to convince him to go clubbing in Daytona Beach. Harvey didn't want to go: they had an early flight the next day, out of Orlando. Maxwell went with other people from the motel, and met Wothers at a club.
Wothers and Maxwell drove back to Flagler early the morning of the 26th. Wothers would later call his father and tell him he might have killed a man: Maxwell had passed out in his truck and had acted "weird" when he'd woken up, according to the charging affidavit. He'd shot him with his M-4 rifle. He was arrested the next day and held at the county jail until his trial.
Wothers, who lives on $4,000 a month in government benefits, is on medication to treat PTSD and depression, according to court papers. A January motion to reduce his supervision notes that "during the past 5 years except for some mild episodes, [Wothers] has been psychiatrically stable." An October 2017 report by Kathy Lopez, his case manager, noted that he "needs to continue remaining medication compliant and meeting with his psychiatrist on a regular basis in order to maintain his mental health stability." (Hammond in 2008 had ordered Wothers's medical files and history to remain open because the judge considers the information important to help with broader understanding of what veterans of war suffer, and what medical issues they contend with on the way to recovery.) "Mr. Wothers enjoys spending his free time with family, reading, and volunteering," Lopez's report continues. The projected move to Maryland is to enable him to live with family on 62 acres he is inheriting.
Lopez was on the phone with Craig today, saying again that there's been no issues with his treatment.
"Your feeling is Mr. Wothers is ready for this and he doesn't pose any issues for either himself or the community?" Craig asked her.
"Correct," Lopez said.
When Lewis asked her if Wothers has complied with all protocols and if there'd been any behavioral issues, Lopez's reply was: "Nothing significant, no." She was not asked to elaborate.
Wothers was last in Flagler last January, when he appeared in court as part of a prior motion and testified at length. He did not testify today, except for once addressing the judge at the end of the hearing: "Thank you very much, sir," Wothers told Craig.
Maxwell had a 4-year-old son at the time of the shooting.