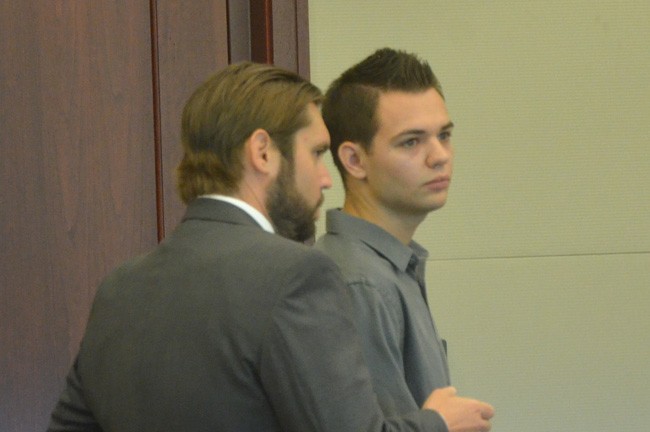 On Jan. 9, Brian Szmitko, 19, driving his 2007 Subaru, rear-ended the car Elisa Marie Homen, 22, was driving on Whiteview Parkway, catapulting her in the way of a full school bus. The crash killed Homen, who left behind a 3-year-old child and a young husband. The crash also sent 25 middle school students to the hospital for precautionary measures. None was seriously injured.
A Florida Highway Patrol investigation found that Szmitko had been careless, but not criminal. Today (Aug. 5), even the careless driving charge against him was dropped, and Szmitko walked off, free of any penalty or so much as points on his license for the crash, let alone a license suspension.
The reason? "The Uniform Traffic Citation is defective in nature," Szmitko's attorney, Dan Leising, said as he made a motion to have the citation dismissed outright this morning before County Court Judge Melissa Moore-Stens. The citation, the attorney said, merely states that Szmitko was accused of careless driving without "sufficient facts and circumstance" to support the accusation.
Case law, including a Florida Supreme Court decision, supports the attorney's position that, absent such explanation on the citation, however minimal, a citation is invalid. "It should be dismissed," Leising said.
When the judge asked three Florida Highway Patrol troopers if they had any rejoinder, including trooper K.L. Cooley, who write the citation, they were almost wordless.
"I don't think I have any choice but to grant the motion to dismiss," the judge said.
So it was. Szmitko was in court. He walked out with his attorney, shook his hand, then walked away. Deborah Prince, Homen's mother-in-law, was also in court. She was wordless at first, then dejected, calling the outcome "wrong."
Had the case not been dismissed, Szmitko did not face a steep penalty: a $166 fine and possibly a suspension of his license for six months or more.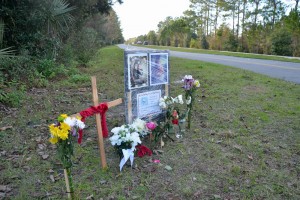 "Traffic court is very rule-specific," Leising said. "You get into the situation where any traffic court lawyer is going to first and foremost look at that ticket. You'll find that a lot of tickets, fortunately or unfortunately I guess, depending on how you view it, can be fatally defective like that one was, and it makes sense, you know. People talk about technicalities. It's really not. It's really just rule-following. For example, if you or I or he was accused of careless driving or reckless driving, we should know what it is they're saying was careless or reckless about our conduct in order to either defend it ourselves or hire a lawyer to defend it. And that's why it's a very important aspect of the ticket. Again, I'm not saying that it's a baseless allegation, I'm saying we don;t know what it means. Was he careless? I don't know. The troopers were not there, we weren't there, and they're often, in their defense, left to try to come after the fact and make sense of what happened without seeing it, which can be difficult."
He said if the trooper had merely written on the ticket that Szmitko was "following too closely, I don't make that argument," Leising said. The attorney termed himself at most "surprised."
"Terrible tragedies happen, and unfortunately sometimes they're the result of criminal conduct, and sometimes they're the result of accident," he said. "The fine is $166, that's not going to ruin anybody's life, but it's a terrible tragedy that happened. We all agree. Nobody likes to read about a young person dying in a tragic accident like that. But again," Leising continued, "there are rules that have to be followed, and the ticket simply wasn't written correctly, and that's what the law says. That's how we uphold the integrity of the system, in my opinion."
Elisa Marie Homen and her soon-to-be husband Vincent Vento, along with their son Vincent Vento Jr., who turned 4 in February, lived with Vento's mother, Deborah Prince. Vento didn't want to be in court today, she said.
"I don't think this was right, what happened here today," Prince said. "I'm speaking for the family. Nobody even attempted to apologize, to say they were sorry. No remorse, no nothing. We got nothing." She said that whatever the case outcome may be, Szmitko "killed someone, OK? She was only 22 years old. I have a 4-year-old grandson at home, keeps looking for Mommy, Mommy, Mommy, Mommy, but yet he gets to walk free and to go drive along like nothing ever happened. He shouldn't even be driving. He should have been put away."
Price said Homen's parents, who live in Massachusetts and couldn't make it to the hearing, are considering legal action against Szmitko in civil court.