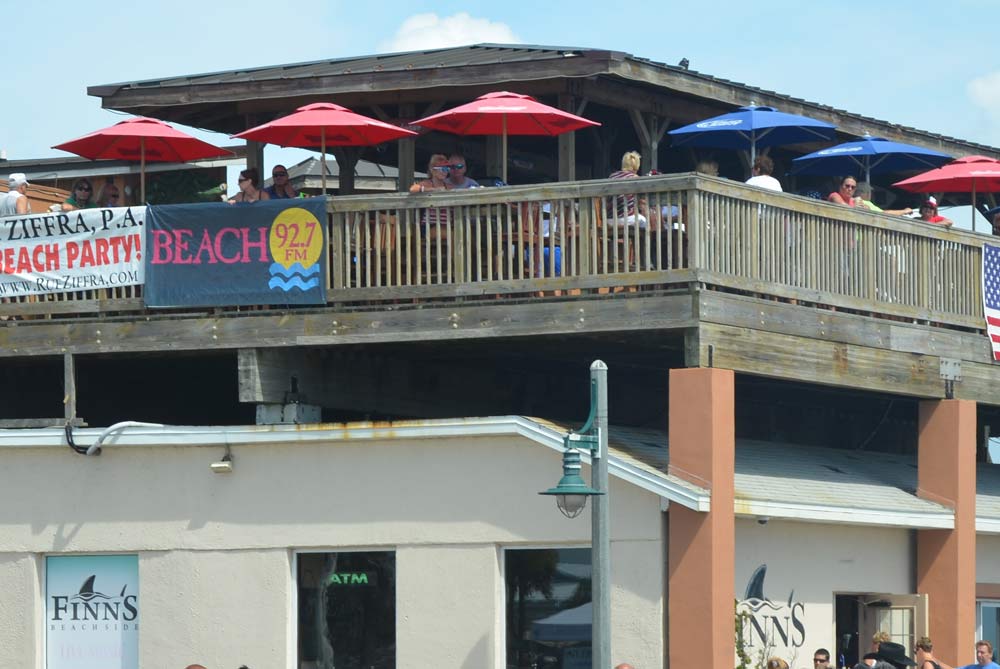 The Flagler County Sheriff's Sgt. Michael Breckwoldt will not face criminal charges following an investigation of an incident at Finn's bar in Flagler Beach late the night of May 26, in which a man alleged Breckwoldt had battered him and abused his authority.
Breckwoldt, who was in charge of the agency's narcotics unit, was placed on paid administrative leave for a day after the incident, then reassigned administrative duties. He will now be the subject of an internal investigation at the agency where he has served for 20 years. Such investigations always await the conclusion of any criminal investigation before proceeding. (See: "Flagler Sheriff's Sgt. Breckwoldt, In Charge of Narcotics Unit, at Center of Abuse of Power Allegation.")




The criminal case was investigated by Flagler Beach Police Department Detective Rosanna Vinci, who reviewed surveillance footage from numerous video angles and interviewed Lance L. Redding, the 41-year-old alleged victim, and five other people, but not Breckwoldt. Through his attorney, Breckwoldt invoked an employee right not to be interviewed that was not, in fact, applicable in the given situation, though even outside employee parameters, it was still his right not to be interviewed.
"Upon reviewing video from Finn's I found no video evidence showing M. Breckwoldt committing battery as described by L.R. in his interviews," the detective concluded, using Redding's initials.
Unquestionably, there was contact between the deputy and Redding, but not the sort of contact that would amount to anything aggressive or confrontational, the detective found. She found no body-bumping as Redding described it–at least not on video–but rather Breckwoldt tapping Redding with a finger or the back of the hand as if to gain his attention in a noisy environment. "Based on the video surveillance, M. Breckwoldt's actions appeared to display no criminal intent, ill will, or [malice]," the detective wrote. "Furthermore upon L.R. indicating to Breckwoldt his actions were unwanted, M. Breckwoldt was not seen touching L.R. for the remainder of the evening."
There is no question, however, that Breckwoldt demanded of Redding, whom he did not readily know, that Redding buy him a drink, which Redding did. It was only after Redding bought him the drink that Redding found out that Breckwoldt is a law enforcement officer, though Breckwoldt had made references to his self-importance beforehand.




The investigation further reveals that Breckwoldt made unwanted advances toward a woman and repeatedly touched her against her will. It reveals that, according to witnesses he said "I run this town" and told Redding that he would regret it if he did not buy him a drink. And that he was so intoxicated that security staff escorted him out of the bar after his third interaction with Redding.
But it was Redding who, after being told by someone else that Breckwoldt was a law enforcement officer, returned to Breckwoldt twice, accusing him of throwing his weight around and of sexually harassing a friend at the bar.
"L.R.'s actions indicated no fear or concern for his safety as he reengaged with M. Breckwoldt," the detective concluded. "Furthermore L.R. statements to M. Breckwoldt, which were observed by witnesses, support the fact that L.R. had no fear of M. Breckwoldt. Based on video evidence coupled with witness statements, I found no probable cause to support criminal charges against M. Breckwoldt."
Vinci's detailed report extends 13 single-spaced typewritten pages, describing behavior that, while not found to be criminal, nevertheless shows Breckwoldt to have behaved inappropriately and Redding to have possibly had a motive other than filing charges–at least according to Austin Chewning, a former Flagler County Sheriff's deputy and colleague of Breckwoldt's who worked at Finn's as security that night, and who had arrested Redding on a charge of driving on a suspended license seven years ago. Redding accused Chewning of throwing him into homelessness because of that arrest.




In other words, Redding was known to Chewning that night, as was his past (Redding is a convicted felon who served two brief stints in prison when he was much younger). According to video footage, Chewning and Breckwoldt had been conversing before Breckwoldt approached Redding to demand the drink, seemingly out of the blue and causing Redding and an acquaintance who was also at the bar to wonder about the surrealism of the ask. Redding told the detective he felt he was being targeted and treated stereotypically by Breckwoldt because of his dreadlocks and possibly his skin color (he is Black).
Ashley Perkins, the acquaintance, told the detective that Breckwoldt "was antagonizing L.R. and particularly recalled M. Breckwoldt saying to L.R., 'that's why we have an open case on you.'" Perkins told the detective that she felt Breckwoldt knew Redding, "because he approached him immediately after L.R.'s arrival, and asked him for a drink. She did not recall M. Breckwoldt approaching any other patron in the bar and asking them for a drink."
Once Redding found out who Breckwoldt was, he told the deputy, according to Perkins: "If you were anyone else in the street, I would have hit you by now for being all up on me."
"If you're going to hit me then hit me already. I'll ruin your life. Do it Do it," Perkins said Breckwoldt responded. (Video surveillance has no sound.) It was around then that Breckwoldt became flirtatious with Perkins. Perkins's sister, who was also interviewed, said Breckwoldt touched her chest area, among others, a gesture the detective saw on video, though Perkins herself said that had not happened: he'd touched her elsewhere against her will even after she told him to stop, which prompted Redding to call him out and draw the attention of security.




Regarding Breckwoldt abusing his power, Blake Shockley, the manager on duty that night, had told a Flagler Beach police officer the night of the incident that while he did not see the incident, he "observed" Breckwoldt saying to Redding that "I'm the sergeant of Flagler Beach and I fucking run this town." Shockley was quoted to that effect in the officer's incident report, which Vinci included in her report. But when Vinci interviewed Shockley, "it was determined that he did not directly hear M. Breckwoldt make any statement regarding his profession or that he was the sergeant of Flagler Beach. He explained that he was told that by the other party who M. Breckwoldt was in conflict with."
Jada Perkins, the sister of Ashley Perkins, who was also at the bar–the incident unfolded on the upper deck of the bar–also said she heard Breckwoldt make those statements about running the town, according to the investigation.
Ashley Perkins told the detective that she was considering pursuing legal action against Breckwoldt over the unwanted touching. Dusty Morrow, a bartender that night, had witnessed Breckwoldt "making some females uncomfortable," according to his interview with the detective, which prompted him to cut off Breckwoldt and order security to escort him out. After her initial interviews with the detective, Perkins stopped communicating despite numerous attempts by Vinci to contact her.
Chewning in his interview with the detective portrayed Redding as the "excited, agitated," "yelling and screaming," and recalled Redding saying, "I'm going to fuck this n— up," apparently after the initial interactions and discovering that he was a cop. Chewning told the detective that Breckwoldt was clearly impaired but more "lackadaisical" and unaware. After the upper deck was closed and Chewning was outside the bar, Redding approached him and leveled the accusation about Chewning causing his homelessness. Chewning told the detective, going off of what he heard from a person only known as "A.J.," who was never interviewed, that Redding was "going to get paid" through a legal settlement after going after Breckwoldt's job.
Vinci also attempted to give Breckwoldt the opportunity to provide his version of the events. There were communications between him and the detective, but he deferred to his attorney, Hank Coxe, who asked Vinci on at least two occasions whether she was aware of the Sheriff's Office "ordering his client to speak with me." Vinci was not aware of any such order, and assured Coxe that the investigation was being conducted independently by the Flagler Beach Police Department.




Coxe then invoked what are called Garrity rights which, as Vinci explained, are "rights afforded to law enforcement officers and correction officers, to not to answer questions during a workplace investigation or be compelled to answer questions with the threat of retaliation or disciplinary action." (The rights apply to all public employees.) But since Flagler Beach was not employing Breckwoldt, the rights "would not apply to this investigation," Vinci explained.
Breckwoldt did not interview with the detective. But on May 30, four days after the incident, Flagler County Sheriff's Chief Mark Strobridge forwarded an email to Flagler Beach Police Chief Matt Doughney. The email was by Breckwoldt, and had been sent to Sheriff Rick Staly. It read: "I apologize for my actions, I went out to dinner with my family visiting from South Carolina straight from work. I honestly do not remember anything from after dinner. I am not making excuses but definitely not my character. I did want to reach out to you directly."

breckwoldt-investigation