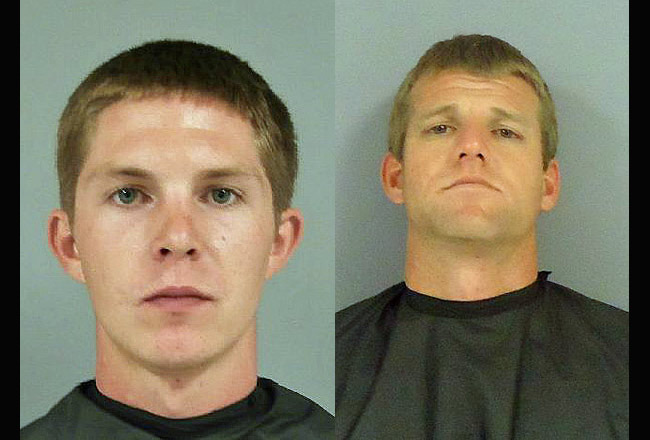 Sunday proved a day of pursuits for the Flagler County Sheriff's Office. Beside leading to the arrests of two men in separate cases, after both men had allegedly wronged the very women who were trying to help them. The cases also tied up loose ends, or outstanding warrants.
The first case began to unfold shortly before 4 a.m. Sunday on on Nutwood Avenue in the Mondex, when a card game went bad. Saundra Charles had allowed William Ginrich to stay at her house for a few days. Ginrich had invited to men over to play cards, but got into a verbal argument with Charles, who allegedly threatened her as he walked out of the house by drawing the words "you lose" in the air.
Charles then heard a knock on her door. It was Ginrich, telling her that someone would take him back to his girlfriend's house. But he'd been ordered to stay away from that house, a police report states. There was a knock on the door again, and by Charles's telling, this time Ginrich had a gun, and brandished it until she ran back into the house and got her own gun. Ginrich vanished.
Shortly before 10 a.m. Charles, 46, called 911 again and reported three men tampering with her phone line after a black truck, unknown to her, had pulled into her driveway, then driven off.
Ginrich, 34, a resident of Fruitwood Avenue until he was trespassed from there, was still at large.
When deputies arrived at Charles's house, they looked around the property. They didn't see the three tinkering men. But they did notice a car parked in the far off southeast corner of the property, under a car cover. It was a silver Mercury Cougar. One of the deputies on scene recalled that the sheriff's office had recently logged a report on a stolen silver 1999 Mercury Cougar. The license plate checked out. That was the car, reported stolen on Nov. 13.
Charles was aware of the car, but wasn't aware that it had been reported stolen. She told cops that Ginrich had asked her permission to put it in the yard. He'd told her that a friend of his had gotten drunk, struck a deer with the car, and was taken to the Flagler County jail, but that people had pulled the car off to the side of the road. To keep it from getting towed, Ginrich allegedly explained, he took possession of it, as a favor to the drunk deer-hitter, and would safeguard the car until he got out of jail.
Ginrich identified the man as "Brad Fultz." His name would have to remain in quote marks: there never was a Brad Fultz at the Flagler County jail. A Duane Fultz was jailed there, but that was back in April 2011, and he's long been released.
While deputies were at Charles's house, investigating, a woman who was at the scene received a call from Ginrich on her cell phone. The number registered on the phone traced back to the woman's home on Fruitwood Avenue. Deputies rushed there. Less than three miles separate the two addresses through the heart of the Mondex.
Ginrich was standing on the front porch. As soon as he saw the cops, he pivoted and walked inside and out the back door, into the yard, where he was ordered to stop.
"No, no, no," Ginrich said, according to his arrest report, and kept going, pivoting back toward the house as if he were "attempting to flee inside the residence," the report states. Only when he was threatened with a Taser, which a deputy drew, did Ginrich squat behind a garbage can and begin to lie on the ground. He was read his rights, then rattled off the story about the mysterious man getting drunk and hitting a deer, and noticing his car parked on Water Oak Road with a red tag on it.  It so happened that one of the arresting deputies had written out the red card and placed it on the Mercury on Nov. 6.
Ginrich was arrested and charged with grand theft auto and resisting arrest without violence, and aggravated assault with a deadly weapon. He remains at the Flagler County jail
About 12 hours later, Shani Sherman, a resident of Bridgehaven Drive in Palm Coast, called police to report that her son Austin Brammer, 22, had stolen her house safe, and with it $400 in cash, $400 in jewelry, and a $250 iPod.
Brammer was supposed to be under house arrest. He was booked at the county jail just a week ago on a probation violation offense, and booked three times before that on similar charges going back to an arrest for burglary in April 2011. Sunday, he was not home: another violation of probation. He's also got a warrant out on him from Volusia County, where he's violated terms of probation as well.
A family friend informed a cop that she'd just spoken to Brammer, and that he was at RaceTrac, the gas station on Palm Coast Parkway. He wasn't. Cops were told he was at Starbucks, a few blocks west on the Parkway. He wasn't. The same friend, who told cops she was on the phone with Brammer, trying to convince him to return the safe, then told cops he was standing at the Smoker's Express gas station, Brammer allegedly told that friend that he'd stolen the safe to make good on a debt he owed someone waiting for him in the Walmart parking lot.
A deputy went to the Smokers Express and there, saw a thin-built man standing by the ice machine, and a large black backpack and another bag, smoking a cigarette.
"Austin Brammer?" The deputy asked the man.
"Yeah," Brammer replied. The deputy walked up to him and ordered him to place his hands on the ice machine.
"What am I going to jail for?" Brammer asked, complying at that point.
"You have a felony warrant for your arrest for violation of probation," the deputy, Craig Rossi, told him.
Brammer put down his cigarette. Rossi placed his hand on Brammer's right wrist to put him in handcuffs. As Rossi was bringing Brammer's right arm to the small of his back, Brammer pulled away and swung around. A scuffle ensued, the deputy trying to cuff Brammer, Brammer trying to prevent him from doing so, and eventually prying himself loose and running away. A chase began across business lots and vegetation, behind Prosperity Bank, then behind the vacant lot of another bank. At that point, according to the deputy, Brammer jumped a 3 to 4 foot drop and "tripped falling to the ground," but got up and ran to the Winn-Dixie parking lot, where he came face to face with Cpl. Jennifer Taylor in her marked cruiser, lights and siren blaring.
Brammer stopped running.
He laid face down on the pavement. He was finally handcuffed and placed in custody, and tended to by Flagler County Fire Rescue because of his injured leg. He would also later be taken to Florida Hospital Flagler, complaining of groin pain. Rossi read him his Miranda rights there, only to hear Brammer recite the Miranda lines himself, from memory. He then told the following account: that another man had stolen the safe from his mother's house even as Brammer's father was at the house, watching TV. Brammer wouldn't name that alleged thief, but said he placed the safe in the car with him, and both men drove somewhere to pry open the safe. Brammer wouldn't tell the cops where they went, or where they dumped the emptied safe, only that they'd dumped it in a pond.
Brammer said there was just $15 in the safe, along with jewelry and the iPod, plus some prescription medication. Among the items recovered from the backpack and another bag at the gas station, were a computer tablet, two yellow or gold rings with diamonds valued at $300, a $100 silver necklace, the iPod, some prescription medication, and the iPod's red case. No cash was recovered. The items were returned to Brammer's mother.
Brammer was jailed and charged with escape, resisting an officer with violence, grand theft over $300, violation of probation, and possession of prescription drugs without a prescription. He remains at the Flagler County jail on $14,500 on most of the charges, but is held without bond on two of the charges (the Volusia County warrant and the felony probation violation).