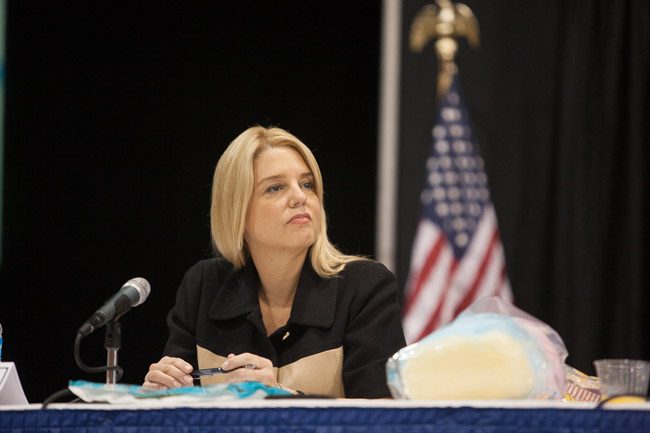 Declaring that she "wasn't scared to take them on," Florida Attorney General Pam Bondi filed a civil suit Tuesday accusing five of the nation's largest opioid manufacturers and four distributors of causing the opioid crisis that is killing an average 15 Floridians daily.
"We are very proud because we have just filed one of the most comprehensive lawsuits in the country on behalf of the state of Florida regarding the opioid crisis," Bondi, standing in the lunchroom of a recovery center in Tampa, said.
Bondi, who is seeking to recover "all measure of damages allowable," predicted a settlement with the defendants could be in the "billions."
Five other states on Tuesday also filed lawsuits against drug maker Purdue Pharma, but Bondi called Florida's challenge "one of the most comprehensive suits in the country."
The lawsuit alleges that manufacturers Purdue; Endo Pharmaceuticals; Janssen Pharmaceuticals; Cephalon, Inc.; and Allergan plc — and their related companies — and distributors AmerisourceBergen Drug Corporation; McKesson Corporation; Cardinal Health, Inc.; and Mallinckrod LLC violated the state's unfair and deceptive practices laws and Florida's criminal racketeering laws.
The manufacturers "promoted misrepresentations about the use of opioids to physicians, other prescribers, and consumers that were designed to increase opioid prescriptions and opioid use," the 54-page complaint, filed in Pasco County, reads.
The lawsuit also accuses the manufacturing companies of using "front organizations" to promote opioids and of paying alleged medical experts, called "key opinion leaders," to publish articles that promoted the use of opioids to treat pain but omitted information regarding the risks.
Other alleged misconduct includes misleading veterans about the dangers of mixing opioids with benzodiazepine, a drug commonly prescribed for post-traumatic stress disorder.
Distributors are accused of filling suspicious orders and failing to properly assess customers before filling the orders, among other things.
"These dangerous acts and practices have devastating consequences as you all know," Bondi said. "It's time the defendants paid for the pain and the destruction they have caused."
As the opioid crisis has worsened, hundreds of local governments around the country have already sued drug manufacturers.
After trying to work out a settlement, a federal judge in Ohio last month announced plans to move ahead with three trials in 2019.
Bondi, noting that Florida is the third largest state, said she wanted to pursue separate litigation.
A bevy of law enforcement officials, as well as Agriculture Commissioner Adam Putnam, House Speaker Richard Corcoran, among others, joined Bondi for Tuesday's announcement regarding the legal action.
Putnam, the leading Republican gubernatorial candidate, said he supports the lawsuit and credited Bondi's efforts to eradicate prescription drug abuse.
Putnam said he has discovered "a sad recurring theme" in his travels around the state.
"In every community, they've had to add staff to the medical examiner's office and add space to the morgue. That's how serious the opioid crisis is," he said, adding that proceeds from the lawsuit can be used to help fund treatment.
But state Rep. Sean Shaw criticized Bondi, who has served for attorney general for eight years, for waiting too long to challenge the drug makers and distributers.
Shaw, a Tampa Democrat who is running to succeed Bondi as attorney general, called the lawsuit "too little too late for the families in our state who have been devastated by a preventable epidemic had action been take years ago before we reached this tipping point."
In 2016, heroin caused 952 deaths in Florida, fentanyl caused 1,390 deaths, oxycodone caused 723 deaths, and hydrocodone caused 245 deaths, according to a legislative staff analysis of a measure aimed at combatting opioid addiction. More than 4,000 babies were born addicted to opioids in Florida in 2016, an increase of over 1,000 percent from a decade ago, according to the Florida Department of Children and Families.
Those statistics led Gov. Rick Scott last year to declare a public health emergency due to opioids.
Earlier this year, lawmakers passed a bill that, among other things, places limits on prescriptions that doctors can write for treatment of acute pain. Doctors in many cases are limited to writing prescriptions for three-day supplies, though they can prescribe up to seven-day supplies of controlled substances if "medically necessary." Cancer patients, people who are terminally ill, palliative care patients and those who suffer from major trauma are exempt from the limits.
In the complaint filed Tuesday, Bondi enlisted assistance from five different law firms, including two Panhandle firms — Santa Rosa Beach-based Drake Martin Law Firm and Panama City-based Harrison, Rivard, Duncan & Buzzett — she worked with on a lawsuit filed in response to the Deepwater Horizon oil spill. The litigation resulted in a $2 billion settlement.
–Christine Sexton, News Service of Florida