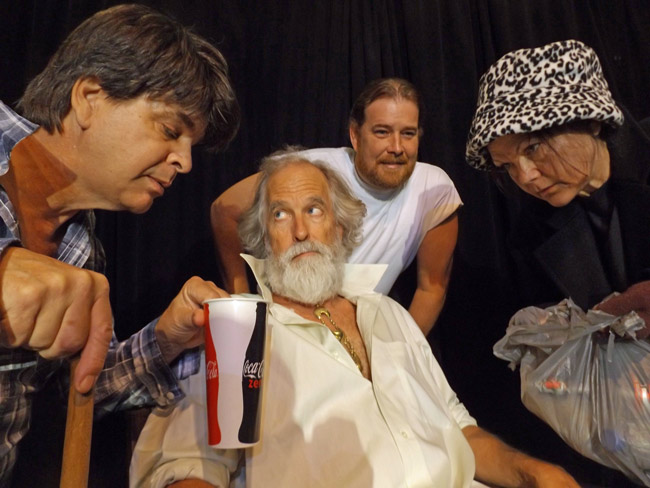 Book your ticket easily online here.
Yes, Eric Bogosian's "Sex, Drugs, Rock & Roll" is set in post-Reagan America. But the play, which opened last Friday at City Repertory Theatre in Palm Coast, isn't some period piece: those who see the show will find themselves in very recognizably angry American territory: for all the seemingly vast changes since 1990–the internet, the iPhone, terrorism, tea parties, a black president, a hair piece as a presidential candidate–not much has changed.
The play was the summation of everything Bogosian had thought, written, screamed and performed from his brooding cavern of a mind until then. It's humor and satire are as universal and ubiquitous as, well, the excreta that one of its homeless characters soliloquizes. "What Lenny Bruce was to the 1950's, Bob Dylan to the 1960's, Woody Allen to the 1970's," wrote Frank Rich when he was still the chief theater critic at The Times, "that's what Eric Bogosian is to this frightening moment of drift in our history. With the possible exception of Spike Lee, I know of no one else like him in pop culture right now. He knows which way the wind is blowing, and in 'Sex, Drugs, Rock & Roll,' those icy currents smack you right in the face."
Who could claim that we're at an any less "frightening moment of drift in our history?"
"Sex, Drugs, Rock & Roll," which actually is a series of 10 monologues spouted by a number of urban-spawned oddball characters, "certainly does have a number of references tied to the early '90s," Sbordone says. "There are references to Reagan and Quayle," if anyone still remembers the first Bush's potato-haunted vice president. "But the biting nature of the satire and humor are very universal, and very apt to touch on many things we see and hear about today."
"Sex, Drugs, Rock & Roll" premiered off-Broadway in 1990 with Bogosian performing solo as all 10 characters. He also starred solo in the 1991 film version.
However, the work often is staged with an ensemble cast, and City Rep's production stars Jonathan Haglund, Evelyn Lynn and CRT newcomers Ron Long and Jim Fellows.
It's Haglund's homeless man who spouts a piece titled "Dirt."
"It starts 'Shit fuck piss, shit fuck piss, shit fuck piss,' " Sbordone says. "The character deals with how excrement affects everything we touch in life."
Sbordone reels off an environmental trail that runs from acid rain and factory run-off and trash from Armenian restaurants polluting rivers (why Armenian? Because Bogosian, of Armenian descent, couldn't very well pick on Kazakhstan, and Borat's Sacha Baron Cohen was still attending Cambridge), to "yacht men who piss and vomit their caviar right into the ocean," to dead fish devoured by rats on beaches, to cats that devour the rats and dogs that eat the cats and "the dogs shit and we're shit piss back in this again," the director says. "It's an amazing cyclical vision of what we're mired in. It's bizarre yet funny. And there's truth to it."
Not to be outdone, one of Long's characters boasts about his priapic accomplishments. Another character is an artist "who doesn't create anymore because he thinks robots are taking over the world," Sbordone says.
City Repertory Theatre will stage "Scapino!" at 7:30 p.m. Friday and Saturday March 17-18 and March 24-25, and at 3 p.m. Sunday March 19 and 26. Performances will be in CRT's black box theater at City Marketplace, 160 Cypress Point Parkway, Suite B207, Palm Coast. Tickets are $20 adults and $15 students, available online at crtpalmcoast.com or by calling 386-585-9415. Tickets also will be available at the venue just before curtain time.
Click On:
---
And there's Fellows' former rock star whose philanthropy involves helping Amazonian tribes, even as he accepts sponsorship from a cigarette company eager to flood this untapped market with smokes.
Bogosian earned praise as a "monologist" not only because of his acclaimed "Sex, Drugs, Rock & Roll" but also because of "Drinking in America," which won the 1986 Drama Desk Award for Outstanding One-Person Show, and 1994's "Pounding Nails in the Floor with My Forehead."
"Talk Radio," Bogosian's 1987 play, was a traditional work that launched him to widespread acclaim and earned a Pulitzer nomination, and he starred in the film version a year later. His 1994 play "subUrbia" also was made into a film. "Sex Drugs, Rock & Roll" was his last solo act: he'd decided by then to move to Hollywood, act in films and direct.
Along with penning other plays, "solos" and three novels, Bogosian also has worked steadily as an actor, including parts in films by Woody Allen and Robert Altman, and in his most noticeable role as a regular on the TV series "Law & Order: Criminal Intent."
Writing in 1990, New York Times writer Joel Rose remarked that Bogosian's "characters walk an intriguingly thin line between striking realism and cartoonish cliche."
Sbordone agrees with that assessment.
"There is a bit of the cartoonish about them," he says. Sbordone speculates Bogosian's approach comes from "a sense of the world being almost out of grasp, so you grab for anything you can get that might help" bring characters to life.
"But they're recognizable," Sbordone says. "Because of the way he structures these monologues, you want to know more, as outlandish as they may be."
City Rep staged "Sex, Drugs, Rock & Roll" in 2013, but for only three performances as part of a repertory with two other plays. Area veteran actor Robert Gill starred in that one-man version and was tentatively slated to reprise his solo performance for this run at City Rep, but scheduling conflicts prevented his return.
"Sex, Drugs, Rock & Roll" "is not for everybody," Sbordone says. "But then neither is CRT. It's not 'You're a Good Man, Charlie Brown,' which we're doing in the fall. It's more 'The Laramie Project' (a 2002 play about the murder of a young gay man) or even further off the beaten track than that.
"It's fun. I think people will find it fascinating, thought-provoking, maybe even a little scary."

City Repertory Theatre will stage "Sex, Drugs, Rock & Roll" at 7:30 p.m. Friday and Saturday and 2 p.m. Sunday, May 6-8 in City Marketplace, 160 Cypress Point Parkway, Suite 207B, Palm Coast. Tickets are $20, available by calling 386-585-9415 or booked easily online here.