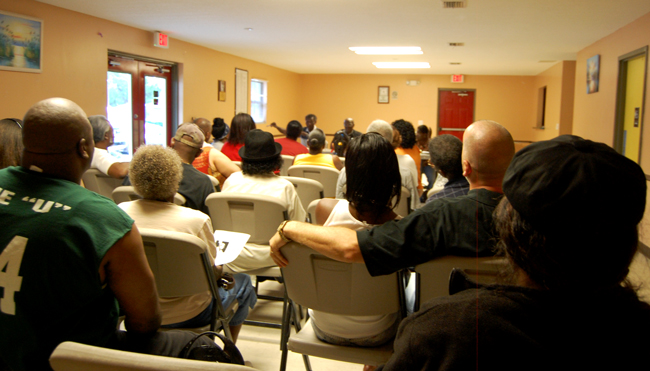 Expect protests. Expect signs. Expect numbers at the next meetings of the Flagler County School Board, the Bunnell City Commission and the County Commission. That's the word following a community meeting Monday evening that gathered some 32 people at the Bunnell community center, a block away from Carver Gym, to devise a new strategy that would do more than merely keep the embattled gym open.
Those gathered there under the leadership of Rev. Frank Giddens, Bunnell City Commissioner Daisy Henry and Aaron McKinney were alternately frustrated, angry and outraged that the very cause they'd brought to the commission in June—keeping the gym open—had been wrested from them and redirected toward political ends the Carver Gym community had never intended.
Expect to hear this message: the community around South Bunnell's Carver Gym—the real "stakeholder" in the equation, as community members see themselves—is not interested in letting Bunnell take over the gym from the county, as the Bunnell City Commission decided to do last week. Nor is the Carver Gym community interested in the Boys and Girls Club taking over all programming at the gym, as Bunnell is also pushing for.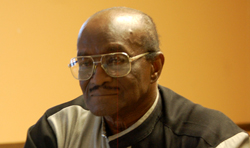 "I am not against the Boys and Girls Club at all. Boys and Girls Club does a good job," Giddens is no longer worried that Carver Gym will close, as the county commission intended following a meeting in June. "We need to go further than that," Giddens said. "Carver Gym is being saved. We need the Carver Gym to remain on the Board of County Commission where it's been for the last 35 years."
The county commission has been underwriting Carver Gym since the commission acquired the property from the school board in the early 1980s. In June, four of the five commissioners agreed to close it pending any interest to pick up the costs from the school board or the Bunnell City Commission. County commissioners backtracked some after they faced the first outcry from community members.
But the discussion then shifted to matters of control. The school board and Bunnell clearly want the gym to stay open. But they want to give control of it to the Boys and Girls Club, essentially taking it away from the community around the gym, which sees the gym as a playground, a community center and more. Bunnell is also considering moving the Bunnell Police Department there, a move that, when mentioned Monday evening, got unanimously turned down.
The school board isn't interested either in taking back the gym or contributing money to it. But on Tuesday, it will approve a plan to schedule adult education and GED classes at the gym as one way of contributing to its viability. That plan is formulated in a letter to County Commission Chairman George Hanns. The school board is set to approve the letter Tuesday.
The Carver Gym community can bank on two more feathers. Bob Abbott, the county commissioner who's now become associated with his explicit declaration to close the gym at a county workshop in June ("get rid of it," he said at the time), has made a 180. "I'll tell you this. You can even print this," Abbott said later Monday evening, after the community meeting, "I am going to vote for it just level funding, just like last year. We've done that for four years." Abbot, who is running for reelection, made the same pledge to Giddens in a discussion last week. Abbot now says his "get rid of it" remark was about the Boys and Girls Club, which, he said, he's "never liked." He then specified his plans for Carver Gym: "I will make a motion that we fund it full."
County Administrator Craig Coffey said that in his administrative budget for next year, which he submitted to the commission on July 15, he included a "placeholder" budget for Carver Gym of 75 percent funding from current year level. It's now up to the commission either to approve that level of funding or increase or decrease it. The 75 percent wasn't chosen at random: It's part of Bunnell's plan to take over ownership of the gym in 25 percent increments over the next four years.
On July 8, Bunnell City Commissioner Jenny Crain-Brady held a semi-secret meeting, by invitation only, with representatives from the school board, the county commission, the county housing authority and the Boys and Girls Club to devise the strategy she then brought back to her commission.
Sid Nowell, the Bunnell commission's attorney and a candidate for circuit judge, was at Crain-Brady's meeting and at the community meeting Monday evening. Later, he said that he'd been the first to speak at the Crain-Brady meeting. This is what he told the people assembled there: "I'm looking around the table and seeing a lot of people that aren't here that are supposed to be at this table." To which School Board Member Colleen Conklin, one of Crain-Brady's invitees, said: "He's right."
Nowell aside, None of the people in the community center Monday evening were invited to the Crain-Brady meeting, which was seen not as a well-intentioned attempt to save the gym, but as the latest attempt to override the interests and desires of South Bunnell by way of the Boys and Girls Club.
"When you turn that over to the Boys and Girls Club, you're going to see their true colors," McKinney said. "They have a good program and everything, we're not knocking that, but that gym must stay open for the public. That is a public gym, that is a community gym and we want it to stay open for the community use."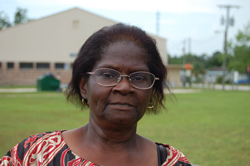 Henry went further. She would not support the Boys and Girls Club there. And she related the story of meeting a black representative from the club earlier this week. The representative, Henry said, described herself as coming from DeLand. "I said you're from Spring Hill," Henry told her, referring to DeLand's predominantly black neighborhood . "You ought to know what's going on. Let me tell you all something. From day one, and we need to get real here. From day one, when any white man wanted another black man to come from the plantation, who did he send? A black man to recruit a black man to another plantation, OK? Understand? So he sent her to me, and I'm looking at her and say she can't read between lines? They use us against one another, and we shake and bake it. It's time we stand up as a people. That's my only beef."

That's when the protest idea began to gel.
"I'm looking around the room, I'm seeing all these people in this room, right now," said Sims Jones, a pastor and a member of the Flagler Area Ministerial Association. "Why don't we form some kind of rally, going to their doorstep? People don't like it when you come to their doorstep. There's got to be somewhere we can go where we can hold up signs, we can have a rally about Carver Gym, where we can make it known even more to the public. We're saying a few things, but where is the body that is opposed to this? We have to show them some action that we can stand on the corner or stand out somewhere and say something to these county commissioners, to these city commissioners, to these officials, that we care, we matter, and if we don't stand up there, they will never take us seriously. That's right: if you want my vote, then you've got to hear me. But you ain't going to hear me if I don't step out and say nothing. And there's enough people in this room that we can make some noise. They'll take us more seriously when they start seeing the numbers out there about a certain situation."
The gathering decided to appoint Chris Borgmann its community organizer. Borgmann, whose wife volunteers at Carver Gym and whose children play there, was among the half dozen people who spoke to the county commission last month, redirecting the momentum against closing the gym.
"We made our first argument that night we stood before the county commission," Borgmann said. "We said that we did not want the gym closed, and obviously they heard that because now it seems they don't want to close it but they're trying to find other ways of passing the buck, maybe pass it to the Boys and Girls Club. Our next step, our next position, ought to be to go before the city and the county and let them know that the Boys and Girls Club is not an option. Everyone is making decisions on this issue except the citizens. Politicians are trying to decide what the fate of the Carver Gym should be without listening to the citizens. It seems like politicians need to listen to the citizens that put them in office. Instead of meeting with each other, they need to hear what the people want to do with that gym."
To which James Crockett of Espanola added:  "I'm all about protesting, I'm all about signs. But let's not just talk the talk. Let's walk the walk."