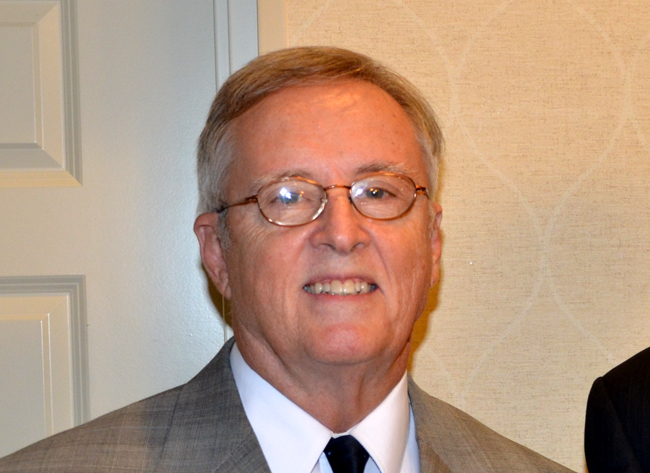 For background on the Live interview, go here. For the Holsey Moorman interview, go here. And if you'd like to take the Palm Coast City Council election poll, or see those results, go here.
The Questions in Summary: Quick Links

The Candidate: Bill McGuire
Date of Birth: Not provided; McGuire cited his age: 69.
Principal jobs: Manufacturing Shop foreman, Production Manager, Plant Manager, Operations Manager, Management Consultant.
Party Registration: Did not answer. McGuire is a registered Republican.

1. Palm Coast has 18,000 undeveloped lots; the city has also approved four DRIs (Developments of Regional Impact) totaling 17,000 homes and 9 million square feet of commercial and industrial development. Set aside Flagler County's and Bunnell's own ambitions to grow, and assume, generously, that the housing market recovers reasonably well soon. First, was it smart to approve such an abundance of residential development in the rubble of the great housing crash. Second, given that abundance of approved developments, how is Palm Coast to avoid another damaging housing glut? Third, how are property values going to recover when, assuming the rules of supply and demand haven't changed, that abundance of supply will naturally keep prices low?
Palm Coast, like most American communities, didn't see the housing market collapse coming until the economic downturn was upon us. I recommend that Palm Coast schedule regular meetings with local developers and real estate companies to assess the current state of empty houses and commercial property and that no approval of new construction be effected without a comprehensive study of the impact upon property values relative to the neighborhood in question.

There were warnings of a housing crash starting in 2005. Signs grew from there. The first and third questions, which you do not answer, go to foresight as policymakers: the city was developing without heed to the possibility of a crash, and continued to approve massive developments last year. What's a "comprehensive study," who would conduct it, that study, how would its findings have the force of policy?
McGuire replies: This comprehensive study would be led by the City and include members of the business community, especially developers and Realtors. The recommendations of this council would be of an advisory nature to the city council.
Jump to Moorman's answer


2. What defines a great city—beyond its employees, its manager, its council, its great people and its beautiful medians—and what will you do (or, in Moorman's case, what have you done) to make it so? Please give at least three specific examples within the scope of what's doable by you as a member of the council. Also, give at least two examples of where Palm Coast is failing as a city, outside of infrastructural or economic issues.
A great city is a safe city, a clean city and an interesting city. As a councilman, I will work to maintain Palm Coast's safety and anti-crime policies, support recreational opportunities for all citizens and ensure that available amenities continue in our community. Palm Coast's current council activities include pushing for a new city hall and a lack of contrasting studies relative to dual functions of the city and county.

Not clear where you think Palm Coast is failing, nor do you define "interesting" or "available amenities." Bathrooms at public parks are available amenities. So would be a community center in the northern section of town. How do you see "amenities" and how would you pay for them?
Jump to Moorman's answer


3. City Market Place, Roma Court, St. Johns Plaza, Palm Harbor Shopping center, Town Center: Every one of those commercial areas, old or new, is suffering from gaping vacancies or inactivity, or, in two of those cases, decay as well. If you're the incumbent, this happened on your watch. What has the council done, and what can the council do, concretely rather than rhetorically, to improve matters, keeping in mind those 9 million additional square feet of commercial space in the city's future?
I am looking forward to the mission and direction of the county Economic Development Council. Palm Coast should pair up with the organization, in conjunction with the regular meetings suggested with local developers and real estate companies, to explore avenues whereby all parties concerned address empty space in commercial properties.

Beyond rhetoric: You're not saying how you as a council member would bring ideas to the table to address these issues.
Jump to Moorman's answer


4. What have you done for culture lately? How have you supported the arts locally (beyond, say, signing your name to a proclamation or attending a show)? What have you done to support the arts as a member of the council, or what would you do as a member on the council? Palm Coast's budget for the arts has been declining: $33,000 in 2009, $24,000 in 2010, and $20,000 budgeted for this year and next year. Why the decline, and should a city of this size be so stingy when it comes to the arts?
I have not been a strong supporter of "The Arts" in Palm Coast. The city should be cooperative with cultural efforts without hitting the taxpayers' wallets. We need to be "stingy" because there are higher priorities for the city budget. Cultural activities should be primarily self-supporting.
Why the quote marks around the arts?
Jump to Moorman's answer


5. Palm Coast is already a consolidated city: it contracts with the sheriff for law enforcement services, in effect ensuring that it maintains the higher level of law enforcement services that it wants through that contract while avoiding the cost of a police department of its own. Would you support a similar model with fire and EMS services, if it was shown to save the city money?
I would support modeling the fire and EMS services similar to the law enforcement model, but I would demand specific and educable characteristics for all groups of this nature. Again, I would support a comprehensive study comparing city to county and determining which model best serves the citizens of Palm Coast.
Jump to Moorman's answer


6. When and where will, or should, Palm Coast annexations stop? Would you support a Duval-like government for the entirety of Flagler County?
I see no attractive or viable annexations to Palm Coast at this time and would not support annexation efforts. I would need to further study what's happening in Duval County and Jacksonville before I could respond intelligently to this question.
Jump to Moorman's answer


7. The argument has long been that the city's lopsided dependence on residential property taxes is unsustainable. Yet council members happily tout Palm Coast's tax rate as the second-lowest in Florida, for cities Palm Coast's size, while the administration recently put out a long list of accomplishments and council members repeatedly speak about the bang for taxpayers' buck. Explain the contradiction.
Perception is realty. The citizenry of Palm Coast pay taxes to the county, after which 17% are earmarked for the city. The city council's budget reflects the spending propensities of it. While the tax rate remains low, the council still spends money frivolously at time, and has its priorities misaligned. Look at their self-published list of official priorities for 2010 and again for 2011 and decide which of these are "must have" and which are "nice to have, but not crucial".
Can you cite an example of frivolous spending? One program, one job, you'd cut?
[Note: About 40 percent of the average property tax bill—by far the largest share—goes to the school board; residents also pay taxes to the water management district, the inland navigation district, mosquito control, environmentally sensitive lands and the financing of the courthouse. The county's share is nowhere near 83 percent. It is closer to the city's share. City officials, unfairly and inaccurately, at times perpetuate the misperception, as McGuire does here.]

Jump to Moorman's answer


8. The Palm Coast City Council often appears to be in lockstep: unlike other local governments, dissent is rare, discussions and decisions, even in workshops, often appear pre-determined, and closed-door, one-on-one meetings with the city manager appear to play a large, and largely invisible, role in decisions. Please give us your assessment of council dynamics and transparency.
The city council gives the clear perception of predetermined outcomes and having cut a deal in a separate session. In the last year alone, the council members voted unanimously over 97 percent of the time. This appears to be collusion. Workshops and presentations do not propose alternatives to the issue at hand and city staff presentations are often stilted and pedantic. Questions by city council are not probing. There's no "devil's advocate" on presentations and nobody probes pros and cons unless the public shows up in force. Public comment is not permitted in workshops, nor are rebuttals allowed in public meetings. All questions must be addressed only to the Mayor with answers given later. Entire format is not citizen friendly and needs to be revised. I will work to revise it.
Would you institute a public comment portion to workshops, as the county commission did during budget season?

Jump to Moorman's answer


9. Please give us your assessment of race relations in Palm Coast, where improvements are needed, and what you'll do to push those improvements along.
Race relations in Palm Coast are excellent. Minorities are considered in city protocols. I haven't seen a better example of racial harmony anywhere else in these United States and will support the continuities of city policies currently in force.
Jump to Moorman's answer


10. Give your assessment of the city manager's and the council's handling of the renewal of the city's garbage contract. Explain what and how you would have done things differently. If you've accepted any contributions from any garbage haulers, cite how much and from which company, and explain how you don't see that as a conflict of interest, given the timing.
The council acted poorly in the handling of the trash-hauling contract. All contracts, especially one of this magnitude, should be put out for bid. The city manager gave the impression of irresponsibility and apathy by pushing for a continuation of Waste-Pro without bid. The council should not have even entertained this idea. I don't think a candidate for public office should accept a campaign contribution from any city contractor or vendor and an ordinance should be passed with this prohibition.
Jump to Moorman's answer


11. What makes for an effective council member, what makes for a lousy council member? Give examples of both and rate or evaluate yourself.
An effective council member works for the benefit of the citizens, considers the pros and cons of every issue with regard to the effect upon Palm Coast citizens, put personal interest and prejudices aside for the greater good and fights for or against issues which do not stand up to these criteria. A lousy councilman does not. If you sit in your seat without comment, vote passively and do nothing to advance or challenge issues in your district, you should not be a councilperson. I can't evaluate myself; I'll let the public do that.

Why not evaluate yourself? It's a standard job-evaluation practice that, as a businessman, you are surely familiar with, and appear to be evading here.
Jump to Moorman's answer


12. Evaluate Jon Netts as mayor. Understanding that no one is perfect, what more would you like to see of him as mayor?
12. Evaluating Mayor Netts and City Manager Jim Landon, without clear parameters of job description and assigned would be purely speculative. Landon's salary is an issue that should be re-examined by the Mayor and Council. It's hard to see how the City Manager makes more money than the Governor of Florida, but there may be a plausible explanation. To the public performances of both, they appear knowledgeable and professional, but aloof. Private conversations with both have shown me a better image than they project publicly. The City Manager's salary should be examined closely and both could use a public relations image do-over.
Jump to Moorman's answer


13. Evaluate City Manager Jim Landon's performance in your view, citing strengths and weaknesses. His total compensation package is close to a quarter of a million dollars. Is that appropriate for a city this size the city weren't under budget constraints, would you give him a raise?
See above.
Jump to Moorman's answer


14. With Frank Meeker's exception, the council is made up of individuals well into retirement, working either part-time or not at all (council duties aside), and living off of pensions, Social Security, and government-subsidized health care. How are you representative of a majority of residents who don't fit in that category (though a large portion do), and how can you relate to the unique issues and stresses facing working-age residents facing unemployment, foreclosure, lack of health insurance and other similar everyday strains?
The issues, which I cited constituting a great city cut across all age groups and income levels. I can relate to the issues of working citizens because I faced the same issues during my working career. Fiscal responsibility transcends age and employment status when considering public service.
Saying you can relate doesn't explain how you can relate: have you collected unemployment? Have you been foreclosed? Have you been without health insurance? Have you lived paycheck to paycheck? If so, please tell us. The question does not go to fiscal responsibility but to your capabilities as a representative to understand these current economic issues saddling a large part of the population outside the class of retirees.

Jump to Moorman's answer