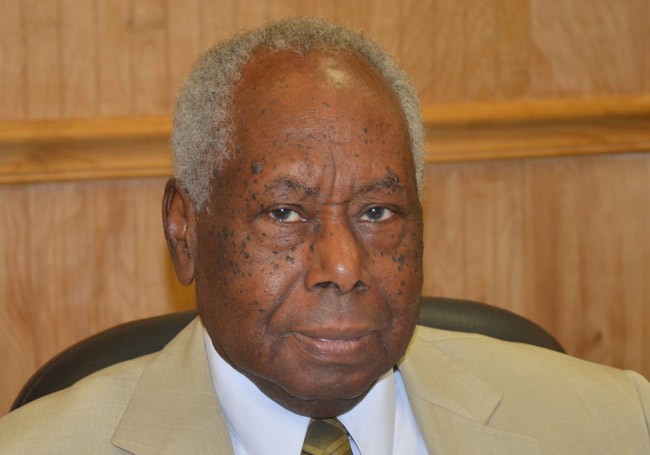 Note: Services for Bill Lewis are scheduled for Dec. 28 at 1 p.m. at St. Thomas Episcopal Church, 5400 Belle Terre Parkway, Palm Coast.



Bill Lewis, who made his mark on the Palm Coast City Council as a champion of the arts, an advocate for a well-tended city, and as one of only three black council members to serve in the city's 15-year history, died Sunday at Florida Hospital Flagler after battling illness for two years. He was 84.
A Florida native–he was born on June 18, 1931–Lewis went to college in New York and spent much of his career there as a chemist and an Equal Employment Opportunity officer for the New York City Board of Education before retiring to Daytona Beach. He moved to Palm Coast just as the city was incorporating in 1999. He was appointed to the city's planning board, and in 2005, decided to make a run for the city council.
"He elected to run for an office that none of us had run for before," said Linda Sharpe Haywood, president of the NAACP in Flagler County, where Lewis had been a member since it was chartered in 1999, serving on the executive committee for several years. "Despite being told it probably wouldn't happen he went ahead and did it anyway and I think he made a tremendous impact, especially for not having lived here a very long time and not being part of that political machine in Flagler County. He was a resident and a citizen and decided he was going to be one of those citizens who had an impact in the way our community performed."
Sharpe Haywood's mother and Lewis had known each other since they'd attended college in New York. "He was a trailblazer here in FC. He was always a champion for the community, and it's a great loss," Sharpe Haywood said. "He was very easy to talk to. He was mild-mannered, very modest, but if he told you he was going to do something, he did it."
In his first run for office Lewis was edged out by Alan Peterson. The two men were running to fill the seat left vacant by the death of Ralph Carter. Three years later Peterson was elected to the Flagler County Commission, leaving his seat up for a council appointment. Lewis was one of four candidates for the appointment. But the council split its votes again and again, finally resolving the issue with a coin toss. Lewis won the toss. He was elected to the seat a year later without opposition.
He served four years that were distinguished by his relatively conservative, change-averse philosophy, with great emphasis on code enforcement and, year after year, support for more city spending on the arts. He found the city's $20,000 a year in grants for arts organizations too stingy, and by 2013 managed to push the amount to $25,000. He was a great supporter of such stringent regulations as the ban on commercial vehicles or ad-blaring vehicles in residential zones, opposed cottage businesses in residential areas, and once famously had the city police the parking lots of big box stores for truckers who'd pull in for a nap there.
"Bill was a guy that I'd call whenever I had questions about procedures and stuff with the city council," Ralph Lightfoot, who chairs the county's Democratic Executive Committee, said. Lewis was a Democrat. "More recently I talked to him about the city charter. He was against the review, and he explained to me how as far as he was concerned that the city was running very well and did not require change at this time." That long conversation took place about a month ago, Lightfoot—who is for a charter review—said, and was a reflection of Lewis's conservatism.
"He was very positive about the city and the progress that was being made," Lightfoot said. "He may not have been the most progressive person there, but he certainly stood up for his values and what he thought was the right thing to do."
Jason DeLorenzo, a current council member who served three years alongside Lewis, had known him from Lewis's tenure on the planning board, with which DeLorenzo interacted when he was involved in rewriting the city's Land Development Code. "I miss his level headedness," DeLorenzo said, recalling that he and Lewis were not in agreement on development issues, but that Lewis was good at offering different perspectives.
Lewis fell ill two years ago, keeping him out of the re-election race he wanted to run for much of the election season. He made it into a run-off in a four-way race, but lost the general election to Steven Nobile by just 302 votes out of 24,500 cast.
"I really enjoyed working with Bill, I think he had the city's best interest at heart, really cared about the arts and tried to promote the arts through the city as best he could."
Holsey Moorman, who also served with Lewis on the council, remembered his old colleague's aversion to confrontation.  "He didn't like controversy," Moorman said, referring to the can-we-all-get-along line by Rodney King. "He was a person that would always want everybody to treat everybody else politely, with a humane sense of dealing. He was just very astute. He was on top of his subject matters."
A widower for many years, Lewis had also raised his two children, Pavalon Lee and Bart Lewis, as a single father.