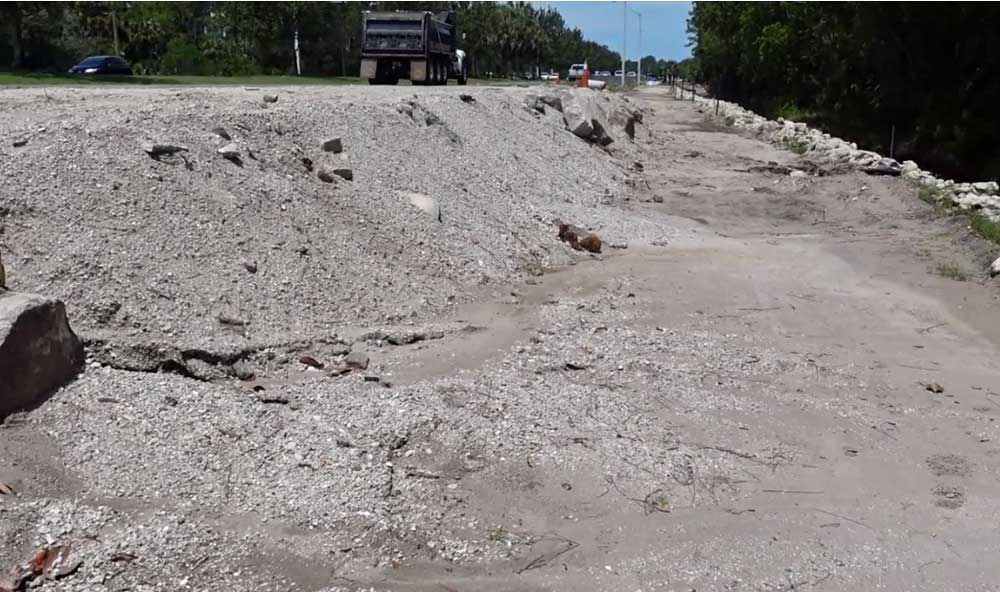 When the Palm Coast City Council voted to approve the reconstruction of culverts and the Belle Terre Parkway pathway near Buddy Taylor Middle School exactly a year ago–at its May 3, 2022 meeting–the project was to cost $1.89 million and to be done by last November, not including a $189,000 contingency.
That cost was already so over budget from what was initially planned there that the city had to shift $840,000 from a lower-priority project in the K Section to cover the difference. It was financing the project through a loan.




After a series of change orders, the project cost has now nearly doubled from last year's price, to $3.4 million. A completion date has now been pushed back to July, mere months after the city–in February–projected a March completion date.
City Manager Denise Bevan is blaming it on "somewhat of a perfect storm–with storms," a reference to last fall's two hurricanes/tropical storms, which disrupted work, as well as "the compounding factor that was unveiled as we explored the project and as we looked at the culverts."
When the council voted on the initial contract award a year ago, the item was rather lost at the end of a council meeting that by then had lasted three and a half hours, most of that time taken up by the council's tug of war with the Green Lion over that restaurant's lease at Palm Harbor Golf Club.
Carmelo Morales, a stormwater design and construction engineer, told the council that the project had been around for three years before coming to fruition even then. It had been sent out for bids, came in over budget. The city adjusted the bid package, sent it back out, and still returned bids that were overbudget. But "we need to move forward with the project," Morales said, explaining how the city shifted dollars around from a K-Section drainage project to make it work.




The project entailed rehabilitating culverts at that location, under belle Terre Parkway, a job affecting three 84-inch pipes (replacing them would have required digging out Belle Terre Parkway, rehabilitating them does not), and rebuilding the walkway. The pipes were originally installed in 1980. The replacement of the bridge surface from wood to concrete would also be part of the project, ostensibly to lower the cost of maintenance.
There were two bids. Custom Built Marine Construction of Fort Pierce bid at $1.89 million. Kiewit Infrastructure South of Orlando bid at $2.6 million. Custom Built Marine got it, with a $189,000 contingency "for any unforeseen issues." That figure proved wishful. The latest cost far exceeds that of the high bidder.
Then-Council member Eddie Branquinho had asked: "Is this project going to create havoc or some disruptions on Belle Terre, and if it does, for how long?"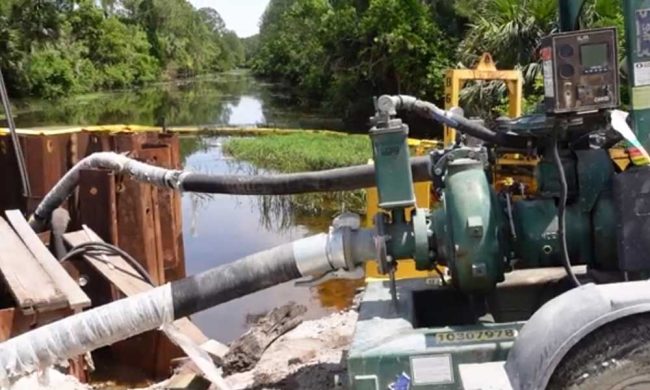 "Yes and no," Morales said. "It's going to affect the pedestrian traffic on that bridge, that much is certain." The contractor was responsible for maintaining pedestrian access "open at all times, whether it be routing bikers, joggers, kids, through the other side of the road, or providing some sort of in-between access so they can get pout safe. We still have to work that out with them. We obviously have to talk with the school as well, see what works out best." Traffic impacts would be minimal, he said. As for the timing, he said the city was trying to have the project coincide with summer to reduce the effects on students. That timeline, too, proved wishful.
The administration has had to seek council approval for two major budget amendments since, in February and again in April. When the council took up the $1.4 million budget increase in February, it did so again at the tail end of another marathon meeting–more than four hours into a meeting that had mostly dealt with a the Harborside development at Palm Harbor. Morales again appeared before the commission, spoke of pipe failures and other significant issues that had to be addressed, such as a design for a wall that had taken a lot longer than expected: the length, the thickness, the rebar needed for that wall were all delaying issues as the city and the contractor negotiated. He had the "not to exceed" request of $1.4 million, but couldn't be more precise.




Already worn out council members were not happy.
"How do we make sure entering into high-performance contracts and not continuously asking for more money?" Council member Theresa Pontieri asked Morales. "This is something I've been a steward of in other instances, and that's a concern. I understand that there were some things that came up that hurt this project but at this point, how confident are you that we will not have more unexpected expenses with this project? And are we able to cut somewhere else because of unexpected expenses with this project?"
Morales said he was 95 percent confident there would be no more additional expenses. "We're probably 60, 70 percent complete in this project. I can't have that much bad luck," he said.
"With supply chain and rising costs, they're totally unpredictable at this point in time," Mayor David Alfin said, hoping to put a more positive outlook on the expense: "This additional expense, which is at the expense of another project–so even if it doesn't impact the budget directly, it's costing us a different project or the timeline for a different project–is this buying us a future on this infrastructure that would have cost us more? One year, three years, five years from now, whenever it was?"
A relieved Morales, who had already spoken of his rare appearances before the council (his discomfort was apparent), whacked the softball: "Yeah, at the very least, 40 more years of life without having to go through old brick and mortar."




Eight weeks later–on April 4–Morales was again before the council, asking for more money. Again, it was at the end of another very long meeting, this time taken up by the debate over whether to start meetings with a prayer (the council voted no.) "Last time I came here I was fairly confident I was not going to have to come back and talk about this project. But here I am," Morales told the council. He described his appearance as a matter of precision, even though the document before the council was for a request for an additional $100,000″contingency."
"I don't envy you right now. I remember having this conversation," Pontieri told him. "I remember very clearly being very unhappy that we were back here asking for more money. And so I'm sure you can anticipate my position at this point. My question is, you're requesting an additional contingency, which I find to be somewhat odd as far as the semantics go. So why is it an extra contingency of $100,000? Are we just needing some extra cushion? is this money dedicated for something? Have we blown through the other contingency? What exactly is this?"
The project did, in fact, blow through the previous contingency of $189,000. And it wasn't really an additional contingency that was being requested: "It's not whether we may need $100,000 or not," Morales said. "We're going to need it to complete it per the latest proposals received from the contractor." He said a previous change order had inadvertently not been processed.
In February, Morales said the project was "probably 60, 70 percent complete." Now–eight weeks later–he was saying the project was "probably 50, 60 percent. I just met with them this morning." He pledged it would be done by "summertime," without being more precise.
The city noted that the project has created deficits that would be balanced through next year's finances. The project was one of four originally approved with the same pot of money. But cost overruns have caused it to take money from two of the other four. The other two have been delayed. All of which got Pontieri wondering: what would happen if the council refused to fund more overruns?




"That's a good question," Morales said. "We need to get it done."
Carl Cote, the engineering director, stepped in and said the original loan that was to finance the quartet of project could still cover the Belle Terre contract.
Twenty days later the city issued a video explanation of where the project stood, with the city's Patrick Appolonia saying the project would be finished "by the end of summer."
"It's not anyone's fault. I get the price increases," Council member Ed Danko told Cote and Morales. "But you just can't keep coming back asking for money over and over and over again. I know we got some buckets, and those buckets are going to run dry. So I'm just asking that we really find the way to step up our game. And I don't know how to do that. You guys are the ones that are going to have to figure it out."

Palm Coast government video: