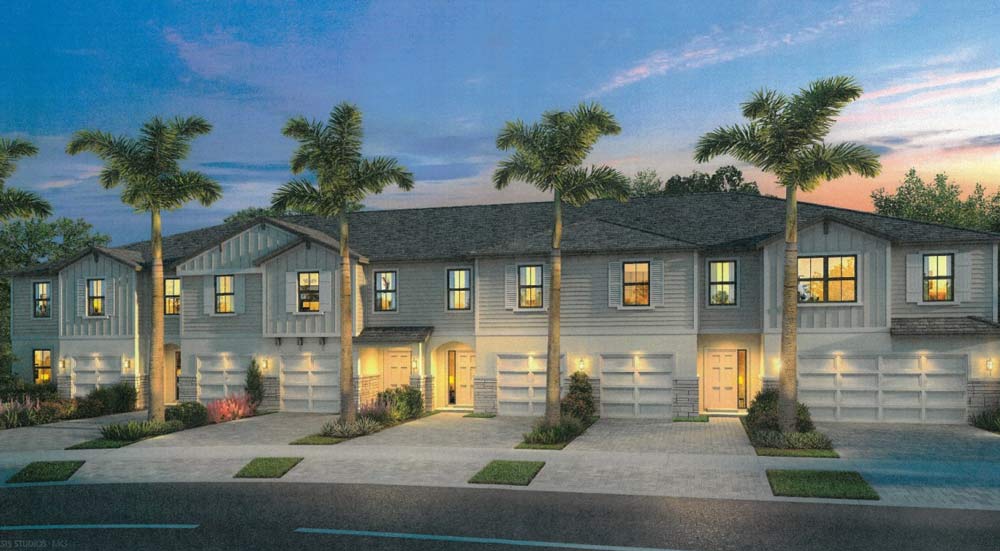 The Palm Coast Planning Board Wednesday evening recommended approval of the development of 275 upscale town-home apartments in a gated community on 40 acres at the southeast corner of Citation Boulevard and Belle Terre Boulevard, just west of a city water plant.
The unanimous vote also recommended rezoning the acreage from commercial to master planned development. The development would be the latest in a series of conversions of land previously slated for commercial uses, to mostly residential uses, despite city council members' repeated if not necessarily consequential insistance that residential development is lopsided in the city: Palm Coast is also in dire need of more affordable housing options, and options less indentured to single-family doctrine.




How affordable Belle Terre Estates will be, however, is open to question: no price points were provided the planning board, and one of the developer's representatives described the project as "an upscale community without being unaffordable," which may have broken new ground in real estate doublespeak.
The development will consist of some 40 two-story buildings, each about 50 to 60 feet long and 50 feet high, most with six or seven units, each 19 feet wide and 90 feet deep and a shade under the 1,500 square foot threshold, above which the developer would be required to provide two-car garages instead of one. Some units at the extremities of buildings will be over 1,600 square feet. Each unit will have three or four parking spaces.
A planning board member was concerned that, if a resident were to have 10 guests over or dinner, there would be a lack of parking spaces. City planners did not contradict her. "I understand your concern, but this is how our code is applying it," Ray Tyner, the city's planning director, said. "I think the clubhouse probably would remediate some of that concern." But the board could (and did) recommend additional parking.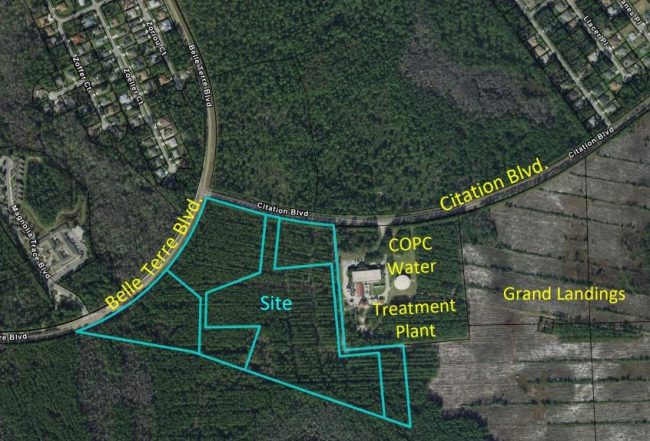 The new designation preserves 1.75 acres for future commercial development. The grounds will be maintained by a property association, though residents will not have much of a yard.
To avoid a monotonous look, the town homes will be designed to look unique even as they have cohesive architectural elements.
"Lots will focus less on yard space to maintain and more on practicality of accommodating one or two-story housing plans that prioritize natural light over large car garages and multiple stories typical of townhome designs," the agreement reads. "While not planned to be an
age-restricted community, this townhome development serves to the needs of the aging population by offering more livable space on the first story including an optional first floor bedroom and less yard to maintain."




Bill Hoover, a senior planner with the city, said the acreage, split into four irregularly-shaped parcels, was platted for commercial use in 2006 but "sat vacant for 15 years due to an apparent lack of demand for the commercial at this corner."
The acreage was acquired for $1 million in December 2021 by Belle Terre Holdings, managed by Mark Goldschmidt, with the intention of developing a "walkable" mixed use community of town homes. (A search of the Division of Corporations' records online did not turn up a record for Belle Terre Holdings or Mark Goldschmidt in association with Belle Terre Holdings.)
"These neighborhood scale village centers should have commercial office, multifamily and single-family uses," Hoover said, "and townhomes are considered multifamily. So it would be a valid component of this neighborhood center."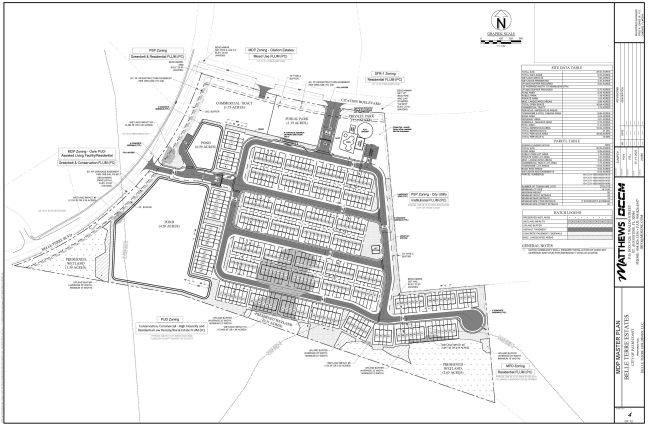 The project is one of likely many to come that are being spurred by the ongoing east-west extension of Citation Boulevard to Seminole Woods Boulevard. The 40 acres are surrounded mostly by residential zoning, with some conservation and greenbelt zoning as well, though in recent years those designations have lost some of their ironclad meaning: the City Council only last May rezoned 42 acres of greenbelt to residential not far off in Seminole Woods to make room for 180 homes.
To the north of Belle Terre Estates, Flagler Village is under construction, with 227 single-family homes on 50-foot-wide lots. Grand Landings to the west of the project is also a development of single-family homes on 50-foot lots.
Belle Terre Estates will have a 1.2-acre dog park next to the commercial tract, fronting Citation Boulevard. The dog park will be open to any member of the public, not just residents of the new development, but it'll adjoin a private park. There'll also be an amenity center.




Christina Evans, a senior planner with St. Augustine-based Matthews DCCM, the engineering and development firm, said the community is "meant to be low maintenance and appeal to retirees who want to downsize and who can't or don't want to maintain a yard and a pool." But it would "also appeal to young professionals and couples who don't need a lot of space yet." She described Belle Terre Estates as "an upscale community without being unaffordable."
But no prices were offered. Sandra Shank, a planning board member who's often focused on affordability, was curious about the way Evans defined the development as both upscale and affordable. Evans's answer: "It's not luxury, but retirees could afford it, and newer families."
No market analysis was done for the project, which raised a concern for Sandra Shank, a planning board member. "Because we have multiple townhome projects developments going into Palm Coast," she said, "because you mentioned that the target is retirees, residents with disabilities. All of the units are two story units. Is there any consideration to any single-story that will accommodate retirees and persons with disabilities." There would not be, Evans said, but the units offer options of first-floor bedrooms.
The developer's attorney told the planning board that the developer has not previously built projects in Flagler County, but has done so in Volusia, St. Lucie and Seminole.
The project will have to go before the Palm Coast City Council for a rezoning hearing, as well as for a review of the final plat. It will not go before the planning board again.

belle-terre-estates