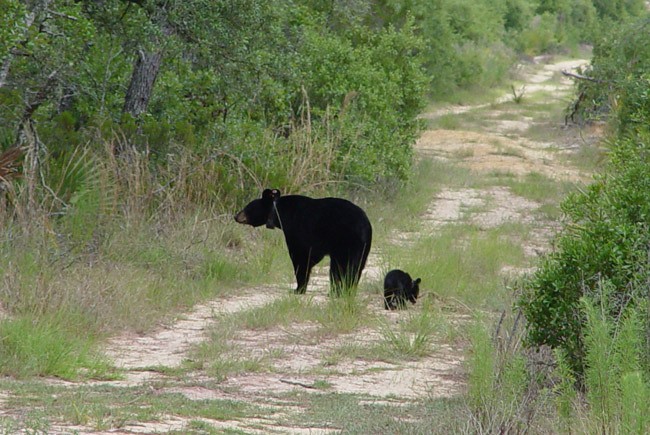 The Florida Fish and Wildlife Conservation Commission will be asked next week to set a quota of 320 bears for a controversial hunt in October.
The hunt, the first in the state in more than 20 years, has already attracted 1,795 hunters who have purchased permits, according to the commission.
Staff members released a memo Monday outlining updated bear-population counts in two of the four regions in which hunting will be allowed. The memo is expected to go before the commission at a Sept. 2 meeting in Fort Lauderdale. The hunt is scheduled to start Oct. 24 and last from two days to seven days, based upon each region's quota goals.
According to the latest figures, there are an estimated 1,300 bears in the central region, which includes the St. Johns River watershed to the Ocala National Forest, and 550 bears in the north region, which goes from Jacksonville west to Hamilton and Suwannee counties. In each region, the harvest target is proposed at 100 bears.
The bear quota is 40 in an eastern Panhandle region, which includes the northwestern Big Bend area to west of Apalachicola Bay. In a south region, which includes Broward, Collier, Hendry, Lee, Miami-Dade, Monroe, and Palm Beach counties, the quota number is 80. The south region excludes the Big Cypress National Preserve.
The hunt is intended to help the state achieve a 20 percent reduction in the bear population in each region. The 20 percent figure includes the number of bears that die naturally, are hit and killed by cars and are captured and killed by wildlife officers due to conflicts.
One of the arguments of the hunt's opponents has been that the state was using old numbers for the bear populations in the four regions. Two of the four regions — the eastern Panhandle and south regions — continue to rely on 2002 study numbers, according to the staff memo.
Black bears were placed on the state's threatened list in 1974, when there were between 300 and 500 across Florida. At the time, hunting black bears was limited to three counties. In 1994, the hunting season was closed statewide.
The issue has gained attention recently because of conflicts between bears and humans in some areas of the state. Critics of the hunt contend that people are moving into bear habitats and that the state should focus on efforts such as bear-proofing trash containers and prohibiting people from feeding bears.
The cost to get a bear hunting permit is $100 for Floridians and $300 for non-Floridians. The permits will be available up until the day before the hunt begins.
Each hunter is limited to one bear, and the kill will have to be registered and tagged within 12 hours.
–Jim Turner, News Service of Florida