Wednesday Briefing: Heat Index Up to 105, Bicyclist Killed in Wreck With Palm Coast Woman on U.S. 1 in St. Johns, Scott Less Hated
FlaglerLive | August 26, 2015
Today: high in mid-90s, low in mid 70s, heat index from 101 to 105. Details here.
Today's fire danger is low. Flagler County's Drought Index is at 267 (+15).
The weather in St. Johns, Antigua and Barbuda: high 87, low 79. Details.
Today's document from the National Archives.
The OED's Word of the Day: Quirinal, adj. and n..
The Live Community Calendar
Today's jail bookings.
Today's Briefing: Quick Links

Note: all government meetings noticed below are free and open to the public unless otherwise indicated. Many can be heard or seen live through each agency's website.
The Flagler County Parks and Recreation Advisory Board meets at 10 a.m. in the first-floor conference room of the Government Services Building. It has no posted agenda.
The Portuguese Consulate celebrates its opening in an invitation-only ceremony at 145 City Place in Palm Coast, otherwise known as the Chiumento Building in Town Center. (11 a.m.)
The Friends of A1A Scenic and Historical Coastal Byway Board meets at 2 p.m. at St. Augustine City Hall. The agenda is here.
Ribbon Cutting: Today it's at the Palm Coast Italian American Social Club, 45 Old Kings Rd., at 4 p.m.
Anastasia State Park and Fort Mose Historic State Park Public Meeting: DEP's Florida Park Service is in the process of updating Unit Management Plans for Anastasia State Park and Fort Mose State Park. Citizens are invited to attend a public hearing to learn more about the proposed plans for both state parks and to share their comments. (7 p.m., St. Augustine Amphitheater Conference Room, 1340C A1A South.)

No Spartan Race: Good riddance, or missed opportunity for Flagler County? The Observer's Brian McMillan reports on the strains between environmental concerns and economic opportunity that clashed over the proposed Spartan race at Princess Place Preserve after a FlaglerLive story revealed the plans. The race was scrapped last Sunday. "According to some, it was a major victory for the residents of the community, and a major victory for Princess Place. According to the county administration, it was a missed opportunity and was the result of a major misunderstanding," The Observer reports.
No Pollution Problem Along Florida Park Drive, Council Concludes, Ending Further Debate
: After analyzing air-quality figures at one of the city's most heavily trafficked intersections, the Palm Coast City Council has determined that it isn't worth pursuing further analysis along Florida Park Drive, where residents have complained of dirty and polluted air they claim is harmful to health.
Lawmakers and Judge Turn to Supreme Court to Break Congressional Map Stalemate: Circuit Judge Terry Lewis told lawyers for the House and Senate at a conference Tuesday that he wants to hear from the justices before deciding what to do next. Lewis was supposed to hear arguments over any congressional map that lawmakers approved before the long-running redistricting case would have returned to the Supreme Court.
Ex-Con With Long History of Arrests Charged in Pizza Hut Stabbing of Homeless Man: Larkland Harris Jr., a Palm Coast resident with a long history of violence and who spent six years in state prison, was charged Tuesday in the stabbing of Raymond Glass, a 21-year-old homeless man, in the parking lot near Pizza Hut off Palm Coast Parkway late Monday night.

Circuit Judge J. David Walsh is in juvenile proceedings much of the day in Courtroom 401. Circuit Judge Michael Orfinger ion Courtroom 301 and County Judge Melissa Moore-Stens in Courtroom 404 hold various hearings.
A foreclosure sale is scheduled for 11 a.m. in the civil department lobby of the courthouse.

Note: Most proceedings below can be followed live on the Florida Channel.

The Florida Elections Commission starts two days of meetings and takes up cases involving elected officials and political groups from across the state. 8:30 a.m.)
The state Agency for Health Care Administration hosts a pair of meetings in Jacksonville to discuss behavioral-health issues. The meetings will include representatives of groups such as managed-care plans and behavioral-health providers. (8:30 a.m. and 12:30 p.m., The Schultz Center for Teaching and Leadership, 4019 Boulevard Center Dr., Jacksonville.)
The State Board of Education, meeting in Gainesville, considers issues such as a 2016-17 budget request and proposals for new bachelor's degree programs at Tallahassee Community College, Polk State College, Seminole State College of Florida and Santa Fe College. (9 a.m., Santa Fe College, Northwest Campus, Fine Arts Hall, 3000 N.W. 83rd St., Gainesville.)
Cabinet meeting prep: Aides to Gov. Rick Scott, Attorney General Pam Bondi, Agriculture Commissioner Adam Putnam and Chief Financial Officer Jeff Atwater will discuss issues in advances of a Sept. 1 Cabinet meeting. (9 a.m., Cabinet meeting room, the Capitol.)
The Gulf Consortium Board of Directors meets to discuss issues related to the use of money from the Deepwater Horizon oil spill. (9 a.m., Hilton St. Petersburg Bayfront, 333 First St. South, St. Petersburg.)
–Compiled by the News Service of Florida and FlaglerLive

Police, Fire and Emergency Notes:
Palm Coast woman involved in fatal crash with bicyclist in St. Johns: Kalette Manka, 18, of Palm Coast, was not injured, according to the Florida Highway Patrol, but Charles Frederick Barret, 50, of St. Augustine, was killed late Tuesday evening in a crash at U.S. 1 and Datil Pepper Road in St. Johns County. Manka was at the wheel of a 2011 Honda, driving south on U.S. 1. Barret was on a bicycle. east on Datil Pepper Road, and approaching the intersection with U.S. 1. He "attempted to cross U.S. 1 and traveled into the path" of Manka's Honda. The Honda struck him. He was pronounced dead at the scene.

Today is La Tomatina, the world's biggest food fight, in Spain. See the website.
Oil prices and stock markets are tanking. Here's the latest on oil:

In Coming Days in Palm Coast and Flagler:
Click on the links for more details:
August 29: Flagler Chapter of the NAACP Hosts Annual Freedom Fund Banquet, 6 p.m. at the Ocean Ballroom of the Hammock Beach Resort, 200 Ocean Crest Drive, Palm Coast. The branch boasts of fine dining, dancing, and music provided by Darnel Butler & Xpression.
Sept. 4: Michell Palmmucci is the featured artist at Ocean Art Gallery for September. Her show, "Paradise – Lost and Found," opens Friday, September 4 with a 6 p.m. reception at 200 S. Oceanshore Blvd., Flagler Beach. The artist will be on hand to meet guests and demonstrate her painting style.
Friday, Sept. 11: The Palm Coast Arts Foundation Presents Big Band Night (and more) with The Chris Thomas Band of Jacksonville, in the Ballroom of Halifax Plantation, 4000 Old Dixie Highway, Ormond Beach. Dinner and dancing is all part of the ticket price ($50 PCAF members; $60 general public).  Click here for details.
Sept. 21: Flagler Beach Police Captain Matthew Doughney and 7-Eleven host "Doughnuts with Doughney": The Flagler Beach Police Department and the city's 7-Eleven have partnered to host "Doughnuts with Doughney" on Monday, September 21, from 8 a.m. to 10 a.m. at 408 South Oceanshore Boulevard.
Sept. 28: Bunnell's State of the Art Water Treatment Facility Grand Opening and Ribbon Cutting at 100 Utility Drive (directly across the street from the Flagler County Government Services Building), from 4 to 6 p.m.
Oct. 6: The Flagler County School Board holds a town hall meeting at the Government Services Building.
Flagler County is now accepting applications for the Fall 2015 Citizens Academy. Classes will be held on Thursday evenings from 5 to 8 p.m. beginning September 10 for nine weeks. For more information, click this link or go to flaglercounty.org/academy.

Seats are still available for Flagler County's (usually) popular Citizens Academy program designed to introduce participants to the day-to-day operations of Flagler County government. Beginning on Sept. 10, classes will be held Thursday evenings from 5 p.m. to 8 p.m. for nine weeks. Sessions feature presentations from each department of Flagler County government, in addition to meeting with Constitutional Officers and County Commissioners. Meeting locations will vary each week including a tour of Emergency Operations and the Flagler County Executive Airport. The program culminates in a highly engaging mock County Commission meeting with participants taking on the roles of commissioners, county administrator, and as concerned citizens as they utilize the information they have learned throughout the session. Each Citizens Academy class is limited to 30 participants selected in order of their application and the program is free to all Flagler County residents. Interested residents can apply online from the County's website at www.flaglercounty.org/academy; or for further information, please contact Ben Hogarth, Flagler County Special Projects Coordinator at 386-313-4040 or by email at bhogarth@flaglercounty.org.

U.S. New Home Sales Up 5.4 Percent in July: "Sales of newly built, single-family homes rose 5.4 percent to a seasonally adjusted annual rate of 507,000 units in July, according to newly released data from HUD and the U.S. Census Bureau. "Our builders are reporting higher traffic and more serious buyers, and are adding inventory in anticipation of future business," said Tom Woods, chairman of the National Association of Home Builders (NAHB) and a home builder from Blue Springs, Mo. "Today's report is in line with other government data and improving builder sentiment and shows a gradual but consistent housing recovery," said NAHB Chief Economist David Crowe. "As job growth and consumer confidence continue to strengthen, the housing market should make additional gains this year." Regionally, the Northeast, South and West posted respective gains of 23.1 percent, 5.8 percent, and 6.7 percent. The Midwest registered a 6.9 percent decline. The inventory of new homes for sale was 218,000 units in July. This is a 5.2-month supply at the current sales pace." From GoToby.
Gov. Scott Approval Ratings Improve:
Gov. Rick Scott's approval rating among Florida voters has climbed to 45 percent, a substantial improvement from earlier this summer, according to a Quinnipiac University poll released Tuesday. The poll indicated that 45 percent of voters approve of the way Scott is handling his job, while 44 percent disapprove. In a June Quinnipiac poll, 39 percent of voters approved of the way Scott handled his job, while 49 percent disapproved. The new poll also indicates that voters have favorable views of U.S. Sen. Bill Nelson, D-Fla., and U.S. Sen. Marco Rubio, R-Fla. Quinnipiac found that 45 percent of voters approve of the way Nelson is handling his job, while 30 percent disapprove. Meanwhile, 57 percent of voters approve of Rubio's job handling, while 31 percent disapprove. The Connecticut-based Quinnipiac, which frequently polls in Florida and other states, surveyed 1,093 Florida voters from Aug. 7 to Aug. 18. The poll has a margin of error of 3 percentage points. News Service of Florida.
At Donald Trump Event, Jorge Ramos of Univision Is Snubbed, Ejected and Debated: A journalist for the Spanish-language network Univision who asked Donald J. Trump about immigration was mocked by the candidate, then escorted out of a news conference here on Tuesday evening. Jorge Ramos, an anchor for Univision news shows based in Miami, stood and began asking a question just as Mr. Trump recognized another reporter. "Excuse me, sit down. You weren't called," Mr. Trump told him. "Sit down. Sit down." Mr. Ramos asked Mr. Trump about his call to deport 11 million undocumented immigrants in the country and build a wall the length of the Mexican border. "You haven't been called, go back to Univision," Mr. Trump said. […] Mr. Trump was silent as Mr. Ramos, an Emmy-winning journalist who was on the cover of Time magazine's World's Most Influential People issue, was removed from the room. Several other journalists asked Mr. Trump why he refused to take questions from Mr. Ramos. The billionaire real estate investor, who is leading in Republican polls for the presidential nomination, said it was because he had asked a question without being called on. […] About 15 minutes after his ejection on Tuesday, Mr. Ramos returned, and he and Mr. Trump engaged in a long back-and-forth about Mr. Trump's immigration proposals, frequently talking past each other." From The Times.

Palm Coast Construction and Development Progress Reports:
The following is an update of ongoing construction and development projects in Palm Coast, through Aug. 6:
Palm Coast Parkway Six-Laning is 87 percent done: Widening on the north side of the parkway almost complete. Landscape irrigation work continues. Milling and Resurfacing of Roadway continues. FPL began installation of light poles and fixtures along the north side of the roadway.
Holland Park, 27 percent done: Continuation of installation of new water main. Began installation of FP&L primary conduit to new transformer.
Palm Coast City Hall at Town Center, 84 percent done: Installation of drywall on interior walls, mechanical duct work & VAV damper installation, electrical conduit rough-in and fire sprinkler piping are all 98% complete. Painting of interior and exterior walls continues. Floor tile in bathrooms continues. Mechanical system startup occurred. Parking lot curbing completed. Irrigation installation began See ongoing images of construction here.
Colechester Drive Bridge, 32 percent done: Bridge deck being removed, curbing on all sides has been removed.
County's I-95 Interchange Matanzas Woods Reclaim Water, 25 percent done: Contractor has installed approximately 1,000 ft. of reclaim water main total installed 5,000 ft. to date.
Palm Harbor Parkway Roadway Extension, 6 percent done: Contractor working on submittals and coordinating utility work with FPL & ATT.
Island Walk Shopping Center Phase 1, 91 percent done: The second run of gravity main was installed near Starbucks entrance.
Shops at Pine Lakes Convenience Store, 96 percent done: Pump station start-up and testing completed.
Old Kings Road Force Main – Master Pump Station, 10 percent done: Clearing crew on site removing trees.

Road and Interstate Construction: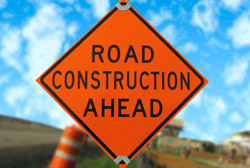 Palm Coast:
Palm Coast Parkway: Expect heavy delays on Palm Coast Parkway From 7 p.m. Tuesday, Aug. 18, to 5 a.m. Wednesday, Aug. 19: Westbound traffic will be reduced to one lane on the I-95 bridge. These lane closures are required for street light pole installations. In addition, motorists and other travelers should expect intermittent eastbound and westbound nighttime lane closures on Palm Coast Parkway between Florida Park Drive and Cypress Point Parkway / Boulder Rock Drive from 7 p.m. until 7 a.m., Sunday through Friday until the completion of the project in December 2015. One lane eastbound and one lane westbound will remain open at all times. These lane closures are required for paving and traffic signal operations.
Old Kings Road Lane Closures: On Monday and Tuesday, Aug. 17 and 18, motorists and other travelers should expect lane closures on Old Kings Road in the vicinity of the Matanzas Woods Parkway intersection. A single lane will remain open at all times. From Friday, August 21, through Sunday, August 23, motorists and other travelers should expect lane closures on Old Kings Road and Matanzas Woods Parkway in the vicinity of the Matanzas Woods/Old Kings Road intersection. A single lane will remain open at all times.
Complete Road Closure on Old Kings Road: On Wednesday and Thursday, Aug. 19 and 20, motorists and other travelers should expect a complete road closure on Old Kings Road and Matanzas Woods Parkway in the vicinity of the Matanzas Woods intersection. Matanzas Woods Parkway will be closed at Bird of Paradise allowing eastbound traffic to Matanzas High School only. Travelers heading south on Old Kings Road at the U.S. 1 intersection will be notified that Old Kings Road is open to local traffic only. Old Kings Road will be closed at the Forest Grove Drive intersection allowing northbound traffic to Matanzas High School only.
Road Closure Note: The northbound lane of S. Old Kings Road from Town Center Boulevard going north approximately 2.5 miles will have a moving lane closure starting Monday, July 27. The lane closure will be from 7 a.m. to 5 p.m. weekdays and will continue for approximately three weeks. A flagman will direct traffic.
Lane closures to begin July 27 on South Old Kings Road in Palm Coast: The northbound lane of S. Old Kings Road from Town Center Boulevard going north approximately 2.5 miles will have a moving lane closure starting Monday, July 27. The lane closure will be from 7 a.m. to 5 p.m. weekdays and will continue for approximately three weeks. A flagman will direct traffic. This lane closure is needed to allow a City contractor to clear the right-of-way along the roadway in preparation for an upcoming wastewater system project.
Flagler County Road 302 is Closed to all but local traffic as repaving began on June 7 and the roadway will be closed to all but local traffic. Others will be required to detour around County Road 302 using State Road 100. The roadway will be closed for 90 days, or until early September.
Palm Coast's Colechester Lane bridge to be closed July 7 through Sept. 4:  A detour will be established taking travelers over the Colorado Drive bridge instead. Signs will be posted directing motorists to the Colorado Drive bridge. The City of Palm Coast strives for safe construction zones. The City asks for the cooperation and patience of residents as this important bridge improvement project is completed. For more information, contact Palm Coast Customer Service at 386-986-2360.
US 92 to close overnight Tuesday for pedestrian bridge installation: The new pedestrian bridge installation is scheduled overnight Tuesday Aug. 18. Construction will run from 10 p.m. Tuesday night  to 5 a.m. Wednesday morning. During the installation, US 92 (International Speedway Boulevard) will be closed – eastbound and westbound – between Daytona Boulevard and Bill France Boulevard. Well-marked detours will be in place.
Detours:
Traffic going eastbound on US 92 will turn left on to Daytona Boulevard, right on to Avenue B, and then right on to Bill France Boulevard, where US 92 eastbound can be accessed.
Traffic going westbound on US 92 will turn right on to Bill France Boulevard, left on to Avenue B, left on to Industrial Parkway, right on to Avenue A, and left on to West Road, where US 92westbound can be accessed
This pedestrian bridge will be 750 feet west of Bill France Boulevard, and will include landscaping, lighting, fencing and bridge treatments. The bridge is part of the ongoing pedestrian improvements on US 92, which include upgrading the Williamson Boulevard intersection with new mast arms and other improvements, and replacing existing sidewalk and ditches with 12-foot sidewalks and closed drainage system. All businesses within the construction zone will be accessible during the instillation of the pedestrian bridge. For more information about this, and all Central Florida state roadway projects, visit www.cflroads.com.
Volusia: I-4 Widening from SR 44 to east of I-95, Monday and Friday, 7:00 a.m. – 5:00 p.m., Eastbound/Westbound shoulder closing. Sunday through Thursday, Eastbound and Westbound lane closures as needed from 8 p.m. to 6 a.m. Thursday, 9:00 p.m. – 5:30 a.m. EB road closure between Canal St./SR 44 and I-95 with detour at US 92 exit ramp.Motorists should be aware of traffic shifts near Canal St./SR 44.
County Road 304 Project Map and Description

Comment of the Day (From the Comment Section):
Johnny Taxpayer in "Permitted Hunters Outnumber Florida Black Bears 6-to-1 as Killing Season Nears": "I'm curious to know what the commentators above would offer as a viable solution to the bear problem many in our part of Florida are currently experiencing? In many parts of West Volusia there are daily bear intrusions, not just into rural homes, but sub-divisions surrounded for miles by other subdivisions. I suppose I can understand the "we built in their habitat" argument (perhaps 30 years ago), but what is your solution? Demolish thousands of houses and institute mandatory relocation of the families that live there to other parts of the state or country? The simple fact is parts of Florida are over crowded with Bears, catch and relocate is not a feasible solution, a very limited and controlled hunt is." Reply to Johnny Taxpayer here.

Cultural Coda:
The Risks of Everyday Life: Jared Diamond
Jared Diamond shares what he learnt about risk and everyday life from the tribes of Papua New Guinea. This was taken from a 2013 conversation, 'The world until yesterday'. Watch the full discussion here. Pulitzer Prize-winner Diamond discusses how insights from the lifestyles of far-removed cultures can impact the way we think about our own lives. Is it worth worrying about the risk of everyday actions like falling in the shower or tripping on the street? Each time you do these things, the risk of mishap is low, but we do them every single day. Over time, does that mean these tiny risks accumulate to become almost inevitable? This animation was produced by Andrew Khosravani, thanks to generous support from the Sfumato Foundation.
The Risks of The Everyday – with Jared Diamond from The Royal Institution on Vimeo.