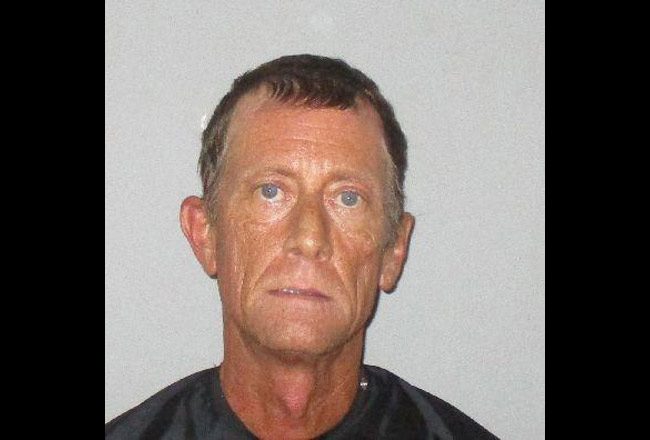 Nine days ago Timothy L. Beamer, a 50-year-old resident of Burning Ember Lane in Palm Coast, signed a deferred-prosecution agreement to avoid conviction on a domestic battery charge. The agreement is conditional: he had to get anger management classes and a substance abuse evaluation, and have no violent contact with his wife of three years, with whom he is in the process of divorcing.
If he had met the conditions, the charge would have been dropped.
On Wednesday, Beamer was back at the Flagler County jail, this time on a more serious, felony charge of aggravated assault after he allegedly held a foot-long "buck knife" to his 55-year-old wife's throat allegedly saying, "If I can't have you, no one will." He also allegedly threatened to harm his wife's daughter and her boyfriend, who had previously intervened in the couple's dispute.
Beamer after his arrest complained to the arresting deputy that he'd done nothing wrong, and that in Florida cops always side with the woman. To prove that he'd done nothing wrong, Beamer claimed, he'd met with his probation officer that very day. The deputy told him that was no indication that he had not violated the law.
The alleged confrontation was the continuation of a string of unwanted contact between Beamer and his wife.
Seven weeks ago Beamer pulled out his revolver, placed it under his chin, and said he was going to kill himself, pulling the trigger as if he were playing Russian roulette. He then tried to place the gun in his wife's hands and have her shoot him. She refused. He threw the gun at her.
She got angry, removed his belongings from a back bedroom dresser, and the couple fought, with Beamer, according to his wife's account to police, pushing her, punching her, and allegedly threatening her: "I'm going to get you while you're not looking." (The words were eerily similar to those spoken in an unrelated case by a man to his girlfriend, before a shooting in an attempted murder case in Bunnell: that case ended with the conviction of the man, who now faces life in prison when he is sentenced in two weeks.)
Beamer's wife got scared but didn't call 911 because she was worried about what he might do. Weeks earlier he'd left her a note with a bullet attached to it, saying he was going to kill all the dogs. The next day, her daughter's boyfriend sent Beamer a text message, advising him to be out of the residence within a given time period because of what had happened the night before. Beamer took it as a threat and called police. Deputies read the message and saw no threat in it.
He admitted to placing the gun on his chin the night before but said he was only trying to make a point, and never attempted to have her shoot him. He described his wife as the aggressor in the fight the that ensued.
Deputies arrested Beamer and charged him with domestic violence battery. A judge ordered him to have no contact with his wife once he posted bail. His wife meanwhile filed for an injunction. But within hours of his release from jail, he'd texted her six times in less than an hour. ("We could have worked this out like people, I just wanted to get my stuff," he texted.) The sheriff's office filed a new charge but could not arrest Beamer since he was at an unknown hotel in the area. The charge was eventually dropped, and his wife agreed to have him return to the house they share. Beamer was still under a judge's order to have no violent contact–and to have a substance abuse evaluation and anger management classes.
Since he has again violated the deferred prosecution agreement, that earlier misdemeanor case is back on the docket, coupled with the third degree felony charge he now faces. He was booked at the county jail late Wednesday night. He remains there today.