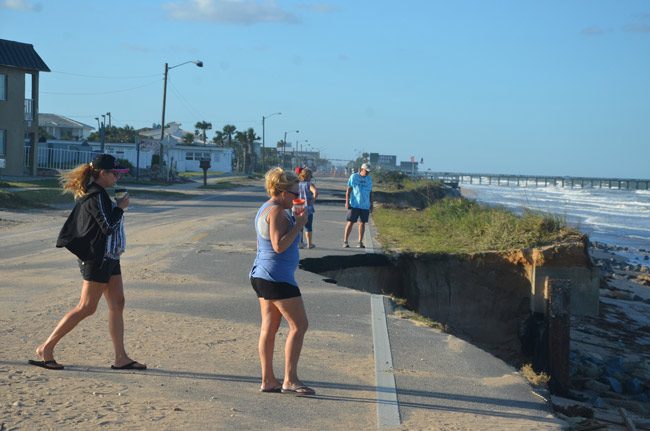 Going on faith more than facts, and relying more on hopeful projections than answered questions, Flagler Beach City commissioners and county commissioners Tuesday gave their joint go-ahead to a massive beach-renourishment project 11 years in the works and deemed all but dead just two years ago, until a congressional appropriation revived it.
But Flagler County will be on the hook for nearly half the almost $100-million cost of the project over its 50-year span. The county intends to combine local and state dollars to pay that bill, but few of the dollars have been lined up, and questions about future funding loom.
Potentially 24/7 construction would take place between mid-May and early October 2020, after the completion of an independent project by the state Department of Transportation to rebuild State Road A1A at the south end of town. There will be public hearings to further prepare residents.
The scope of the project is massive, sizeably but not aesthetically different from what the county has been doing–rebuilding dunes–since January, along 11 miles of beach starting south from Washington Oaks Gardens State Park. Still, the majority of the county's project is along unincorporated and lesser-used beaches. The Corps project will be affecting the busiest part of the county's beaches.
Corps officials presented the plan to a joint workshop of the Flagler Beach City Commission and the County Commission in Bunnell Tuesday afternoon.
Coffey, trying to impress on them the importance of signing on to the project, told commissioners that "once you turn away Corps money like this, you probably won't see another thing." It was an audaciously inaccurate statement: Coffey himself, starting in 2016, proposed turning away from the Corps' project, first proposing its own approach then explicitly going that route, blaming the Corps for abandoning Flagler. Months later, Congress approved funding for the Corps' project.
Initially the project stretched much further, to Painter's Hill and Beverly Beach. It was narrowed down to 2.6 miles of Flagler Beach shoreline, "what we consider to be some of the most vulnerable areas," stretching from 7th Street South to 28th Street South, pretty much in conjunction with the area of State Road A1A the Department of Transportation is rebuilding–the area Hurricane Matthew devastated, chopping up almost half the roadway in parts.
The existing dune system will be widened from its current side of 10 feet to between 40 and 100 feet. The height of the dunes will reach 19 feet. Some 330,000 cubic yards of sand will be dumped in that 2.6-mile stretch. That compares to half a million cubic yards of sand the county is currently dumping over 11 miles to rebuild dunes further north.
The project is funded for 50 years, anticipating four re-nourishments, or more sand-dumping, over that stretch, likely every 11 years. But the Corps will monitor the beach and dump more sand as needed, without being held to the 11-year average. The sand will come from the ocean floor seven miles offshore, in federal waters. "It is compatible with the beach," Harrah said. But the color will not be the same, and it will not necessarily be coquina-sand-like. The Corps is little concerned about the incompatibility, calling it "a local issue." Previously, Flagler Beach commissioners were not pleased with the in compatibility. They're still not enthusiastic. But trucking in more compatible sand from quarries inland is not in the Corps' plans.
"We've got to get unified now and make a decision, are we moving forward, we don't want to be stopping in the middle of the project," County Administrator Craig Coffey said. "We all want to be working together throughout the whole thing. This isn't ideal for us, I will tell you up north wasn't idea, but I've got to tell you, sand complaints have been minimal. In fact I don't know of any we really received on the type of sand. It was different, but everyone seemed to like it as far as a beach sand, and was really more happy with protection and the fact that the dunes were back to life."
The long-term project has had its ups and downs over the past dozen years, between studies and finding sand and finding its federal funding. It was then off the funding table for a few years, but soon after Hurricane Irma Congress reversed course. Congress' spring 2018 supplemental budget act, passed as part of a compromise to avoid a government shutdown, provided nearly $6 billion in disaster relief nationwide. $17.5 million was appropriated for Flagler County. "So Congress has allowed us to fund this project upfront with Flagler County having the opportunity to pay back their non-federal portion over 30 years, with interest, to Treasury," Jason Harrah, project manager for the Corps' Flagler County Shore Protection project.
The total cost of the project over its 50 years is projected to be $99 million in today's dollars, with the initial phase costing $17.5 million. The four periodic renourishments are expected to cost a combined $81 million. Expect that figure to rise, as it has since the project was first conceptualized 11 years ago.
The federal share of the initial project cost of $17.5 million is $11.3 million. That means Flagler County has to come up with $6.1 million. The federal government will front that money. But the county must pay it back, with interest (the current interest rate is 2.875 percent. The rate "is projected to fluctuate every five years," according to Harrah). The county may also lessen its share through credits: the federal government allows Flagler to county up to $3.6 million of its share as part of right-of-way acquisition costs and the cost of acquiring easements. In effect, Flagler could lower its costs for the initial phase of the project to $2.5 million–not including interest.
Stretched over 50 years, that sum alone amounts to a significant mortgage of 2.5 million in principal and $2.2 million in interest. But even those numbers are not clear.
"Payback actually starts until after construction," Harrah said. "Why that is? I need to see this final accounting right here to tell you how much the payback is," he said, referring to the amount of credit the county will have been eligible for. "That number could be $2 million or it could be $4 million, and whatever that number is, this number here will fluctuate slightly as well."
Then there's future costs. "That's a big thing to churn out and pay for over time," Coffey said of the future renourishments, each of which will cost the county $10 million. But he had no current plan for how to pay for that, citing only possibilities of money from the Florida Department of Environmental Protection and the state transportation department. Local tourism sales tax revenue dollars, he said, is "by and large what we're using" for local matches.
Ensuring that future renourishment costs can be paid is more iffy: the federal government will pay only half the projected $81 million cost, not counting almost certain increases in costs. That leaves Flagler responsible for coming up with the rest, whether through local or state funding, or a combination of both, a huge burden. "That's a lot of money," Harrah said, but "the key here is, can I get enough benefits for the project to outweigh that cost that's being proposed there, and the answer is yes, because of we didn't the project would not have been authorized by Congress. If you're not getting a dollar back for every dollar you spend, Congress will not authorize this project. So it is a benefit to the nation and the taxpayers of Ohio, Nebraska, Flagler County, everywhere, to move forward with this project."
Harrah's sweeping statement, however, was based more on speculation than substantiated evidence: there is no actual cost-benefit analysis conducted over 50 years that takes into account the severity of future storms and rising sea levels–which are projected to rise from 14 to 34 inches by 2060, and from 31 to 81 inches by the end of the century at the south end of the state.
And if the county is not lining up money in the future for re-nourishments, the federal government will simply not advertise the bids: the project will in essence stall or die.
But there is a beneficial caveat in that regard for Flagler: once the initial construction is completed, "the project is eligible to receive federal money for emergency repairs to the beach," Harrah said. "That can happen any time during the 50-year life and does not count toward any of the costs shown here. So if we complete this project in the next year and a half, two years, god forbid another storm comes in in 2022, 23, once that storm is named, and once it's declared as a disaster, the federal government provides us money to move forward with design and construction of repair of that beach at 100 percent federal cost." That's assuming the Corps's criteria are met for such emergency renourishment. It's not clear what happens if in the future the county has stopped funding its share, the project has stalled, but the beach has been struck by a disaster.
"This is a big deal, when we sign on that we are now committing to a bunch of financial obligations and responsibilities, and we've got to go gung-ho on the easements and things like that," Coffey said.
Property owners along the length of the project will have to grant easements to allow for construction, and they may not put an expiration date on the easement. The easements are perpetual because the federalized beach must ensure public access. Close to 200 individual properties, not all of them necessarily privately owned, are affected.
Some 42 walkovers are affected by the project, half of them public, half private. Their fate has not been determined, though the Corps is outlining options–from removing them during construction and crediting the county for the cost of reinstalling them, leaving them in place and dropping sand around them, leaving vulnerable spots around each walkway, or even partially burying the walkovers and letting them "reappear" as sand erodes: that's actually the option the Corps recommends.
Construction would be conducted in segments, with narrow segments of beach fenced off during construction.
"We are feverishly moving forward with design as we speak," Harrah said. "However I will tell you it takes two to tango. You have every right as a county and a city to not move forward with the project. We were very fortunate to receive the $17.5 million for the project. There were a lot of counties and a lot of states, Texas, Alabama etc. that wanted projects in these areas that did not receive funding, and they would be more than happy to take the $17.5 million off our hands if you guys would elect to do so. So this is not a done deal. We certainly want to move forward and be partners with the county and the city, but if you would elect not to move forward, that's also a possibility."
Toward the end of the two-hour workshop, after several questions, mostly by Flagler Beach commissioners, about the mechanics of the project, Flagler Beach Commission Chairman Rick Belhumeur asked: "How are we paying for all this? Are we going to defer our payments?"
"We don't have to solve that today." Coffey said, "We'll start incurring some expenses. It's something that we have to sit down and calculate and go over with the board again. If there was not buy-in from both parties, he says two to tango, I really say three to tango in our case. We don't want to proceed or even go down that road. The second thing I would say is, there's a lot of different avenues and grants and different things that we've got to apply for."
The Corps has until February 2020 before bidding out the project. But there are numerous steps between now and then to make the project stick.

U.S. Army Corps of Engineers Project Background: