Some time back Shauna Ordonez and her fiancée Raymond Surdam discovered Bulow Plantation State Park, the 150-acre preserve of an old sugar plantation ruin surrounded by trails and marshes. On Tuesday, they had some time off in the afternoon and decided to take a quick family hike that way. Shauna had her four boys with her—Barak, who is 12, and his three brothers: Alex, 15, Keenan, 14, and Victor, 10.
"We were planning 40 minutes in and 40 minutes to hike out," Shauna said. "I had to be home by 5 because I had a nanny watching my baby." That would be the boys' 2-year-old sister Paisley, back home in Palm Coast's P section, where the family has lived since 2007.
The family got to the park at 3 p.m. The hike in was uneventful (relatively speaking). All four boys had run ahead of Shauna and Raymond, doing what boys do: exploring, adventuring, outracing each other. Alex, the oldest, had a cell phone. Periodically, Shauna would call him and have the quartet stop and wait until she and Raymond caught up. Then it was time to turn around and head back.
Three of the boys—Alex, Barak and Victor—started racing down the trail, back to the parking lot, "which we didn't think anything of," Shauna said: they were familiar with the trail by now.
"We walked that entire 40 minutes back to the parking lot, and when I get there only two of my sons were there," Shauna said. "I thought they were joking when they said at first that Barak wasn't there. I kept expecting him to pop out from behind the brush."
He didn't. "I really worried. He had no medical condition, he's a strong fit boy, I expected him to show up at the end of the clearing. When that didn't happen, I was really concerned."
It was 4 p.m. the last time anyone had seen Barak.  Shauna sent her fiancé and the boys back to the house and called the sheriff's office. A helicopter was overhead within 10 minutes. The search began, with fire-rescue personnel from the Flagler Beach Fire Department and deputies from the sheriff's office. Bulow Plantation isn't a dangerous place, crime-wise. But it can be a hazardous place off the beaten path. It's marshy, swampy and scratchy: the palmetto is unforgiving, and with nightfall, you never know what critters and quadrupeds might be lurking around the unseen bend.
A Code Red was sent to homes in the area—an automatic call from Flagler County Emergency Services telling residents to be on the lookout for the boy. The sun set. Bulow went dark.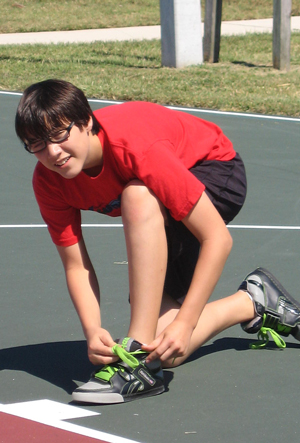 But it wasn't long before Barak was located: at 6 p.m., 15 miles into the marsh, between the helicopter and deputies on the ground, they found him. He'd heard the helicopter much earlier: he knew they were looking for him, which eased his anxiety. He'd taken off his brownish shirt and had been waving it. But there was no way for the rescuers to get to him immediately. It was too watery, too marshy. So rescuers mapped out a plan to airlift him out. "The two officers who'd hiked in to the trail with me, after taking me back to the command center, heard Barak's response when they yelled his name," Shauna said. "He was far out into the marsh. They could barely hear him
Meanwhile, Flagler County Sheriff Cpl. Jamie Roster waded in and reached Barak, to keep him safe and ease his mind, until the helicopter could reach him.
"It took an hour and a half between the helicopter and those officers to figure out a path for an officer to get back to him, because apparently Barack had traveled through a good portion of the palmetto," Shauna said, "and he'd gotten to a dry spot right on the side of the marsh where the officers could get to him."
That took a while, but it happened at 8 p.m., when the helicopter reached Barak and Roster and hovered above them as Roster lifted the boy aboard, and flew him back to the Flagler County Airport, where his mother was waiting. "I was filled with relief," she said. "He was sitting on a stretcher shivering, but they had cleaned up his wounds and they were feeding pizza."
Talk about a Thanksgiving eve.
"I can't emphasize enough all the credit due to the Flagler Sheriff and Fire Department," Shauna said. "It's my understanding that the officer who finally did attempt (and succeed) at reaching Barak in the precarious spot he was in, was not airlifted out by helicopter, and had to trek back through the marsh and palmettos – and without the assistance of the helicopter's spotlight and having no radio contact, as his radio died soon after Barak was airborne." Roster waded out from the marsh where he was picked up by an all-terrain vehicle the Flagler Beach Fire Department had brought in.
To keep up his spirits before he'd been reached by the deputy, Barak prayed. "I asked him what he'd have done if we'd hadn't found him that night," his mother said. "He said he would have waited till the morning to find his way home."