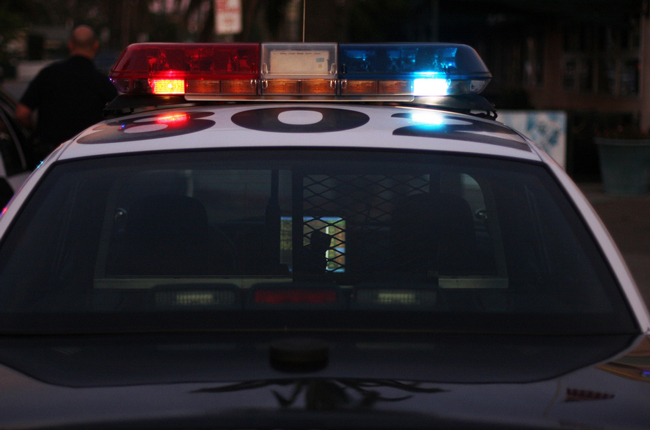 As more attention has focused on the intersection of mental health and policing in Flagler County—with the sheriff speaking a growing crisis and a spate of news reports illustrating the use of Florida's Baker Act with elementary-age children—the school board on Tuesday heard a report and discussed the extent and purpose of such Baker Act incidents in Flagler schools.
The numbers were startling: The cases of Baker Acts involving children in schools has reached 32 so far this year, three times more than last year. Twelve of those Baker Acts took place in elementary schools, 10 in middle schools and eight in the two high schools. Two cases took place at Imagine, the K-8 charter school.
"It's more surprising and shocking than I was anticipating," School Board member Colleen Conklin said. "I didn't realize or think that the numbers were going to be as high, and the incidents as high."
A Baker Act entails an arrest-like removal by deputies, in handcuffs if necessary and always in a police cruiser, of an individual deemed by be a potential or actual harm to self or others. The individual is taken to a psychiatric ward at Halifax hospital in Daytona Beach and held against his or her will, usually for a 72-hour evaluation, and with restricted interaction with family.
In early March, a 7-year-old girl was Baker Acted from Belle Terre Elementary, and a 6-year-old girl was Baker Acted from Old Kings Elementary, drawing particular attention to how the school district and the Flagler County Sheriff's Office handle such incidents. The stories, along with a parent describing to the school board his experience with a threatened Baker Act against his kindergartener at Bunnell Elementary, provoked strong public reactions, including some outrage, and led the school administration to schedule a presentation for the board on Tuesday to explain how school staff and school-based deputies handle Baker Acts.
---
An analogy between asthma attacks and Baker Acts is heatedly rejected as inapplicable, given police's role in Baker Acts.
---
The presentation was made by Katrina Townsend, the district's director of student services. "I have also sat on both sides of the table at Halifax as the parent of a patient, and as a representative of you, the school board," Twonsend told the board members, "so I like to think I knew a little bit about it as well. And having gone through the process as a parent, I feel confident in the services that they provide to us."
Townsend described the process of Baker Acting a child as driven by a set of elaborate guidelines and state law. But she acknowledged that the sort of tracking data that could provide a clear analytical picture of Baker Act trends may not be available: Baker Acts resulting from a medical or mental health issue—Townsend gave schizophrenia as an example—will not be attached to the student's records because of confidentiality rules. Those may be the majority of cases.
"These aren't decisions that are made because a student is 5 years old and doesn't get what they wanted for lunch or something like that and has a moment of tantrum," Townsend said. "These are situations that are genuinely a mental health issue. They are often documented over time before the critical incident, and the Baker Act is an intervention to gets services for that individual and their family."
But it is not a matter of discipline. "A Baker Act is absolutely not a discipline consequence," Tonsend said. "It is actually the same way it's written in the statute, which is that it's for the purpose of protecting the health, safety and well-being of the person who is being examined, and it is an intervention for that purpose. Now, sometimes, when we are having a discipline issue, a Baker Act might be one of the interventions that we use, for example if we have a student that, just as an example, does a bomb threat. A Baker Act might come out of that, because when the student is interviewed, a lot of other issues might come up that were driving that behavior. But it's not the discipline consequence. It's an intervention to figure out what happened, and there is a protocol in place before a student can be Baker Acted."
Board members John Fischer and Sue Dickinson were critical of "the press" reporting on Baker Act incidents. "I realize that the numbers are soaring," Dickinson said. "But if we look in our society, unfortunately mental health is soaring everywhere, in every age bracket, in every lifestyle, in every home, for that matter. Again, we have to remember we're not dealing with the same type of population or people or whatever that we've been dealing with 40 years ago. Life is changing, and it's unfortunate."
To lessen the impression that Baker Acts were somehow disciplinary or law enforcement matters, Townsend offered an analogy between Baker Acts and an asthma attack. "Mental health, just like asthma can have a critical issue or an event that requires emergency care," Townsend said, "and in mental health, that emergency care is often a Baker Act. As with a student with asthma, we would not identify that a student was having a crisis and send them home to sort it out. We would transport them for emergency care. So once I heard that analogy it kind of helped me wrap my head a round it a little bit."
But the analogy did not sit well with Conklin.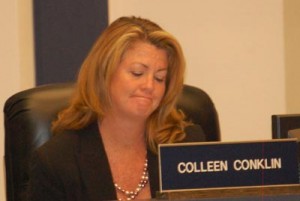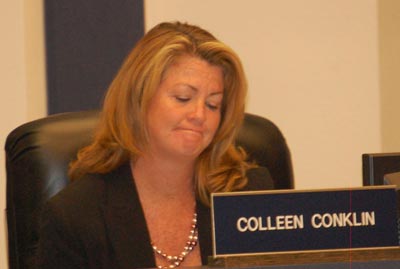 "A Baker Acting of a child is traumatically different than what was just described in the analogy of an asthma attack," Conklin said, "The reason that you have the media and that you have some become so outraged, if you will, is because it goes against all of our senses, at the thought of a child receiving help by being placed in either handcuffs or put in the back of a patrol car. That is not dealing in the same manner as you do with somebody who has an asthma attack. So I appreciate the analogy. But we are an educational system. We should be a child-centered, focused, educational system, and it is not the fault of the folks who are in our schools. I take responsibility for us because we need to do something in regards to training, professional development, something needs to be different. I have a hard time thinking that the response to the crisis is putting a kid in handcuff and putting him in the back of a patrol car. That to me exasperates the situation and is more traumatizing to a child."
Conklin had no issues with providing services to students who need mental health intervention. But she objects to the manner of getting the students there. "Good God, is there not another way to have them access services?" Conklin asked. "Take your analogy, and yes, get that child services that they need in that crisis moment but exasperating the situation by putting them either in handcuffs or in the back of a patrol car? That's why I think you have the public get outraged. I know that's what outrages me. It's not so much accessing the services and getting them the services, but it's the manner in which it's happening."
Cmdr. Steve Cole, who oversees school cops for the sheriff's office, said it's sheriff's protocol to use handcuffs only when necessary—when the individual is fighting or combative.
The Baker Acting of children, of course, is not particular to Flagler County. St. Johns County schools, which number some 27,000 students—only a little more than twice the number in Flagler—had 147 cases of children being Baker Acted so far this year, Townsend said.
Jacob Oliva, the Flagler school superintendent, was at a meeting of the state association of school superintendents recently. "This is one of the topics we discussed," Oliva said. "I did hear from just about every superintendent how they're seeing a lot more concern in the severe needs of our students, and they're seeing a high increase in the array of services that they're having to provide."
Oliva noted that legislators are now telling school officials to focus their lobbying for money related to mental health matters outside of pots devoted to education. "Because we're saying we're having to appropriate more and more of our dollars that are categorized to education to provide mental health services, Oliva said, "and they say, well, you should be lobbying for more mental health dollars."
The discussion took place during a school board workshop, so public comment was not part of the item, and the discussion had to end so the regular board meeting could start.
"I think this is an opening dialogue," Board Chairman Andy Dance said. "We can definitely come back with some follow-up information, continue the discussion." In an emailed comment Wednesday, Dance added: "I think it's an important discussion to have in light of the press coverage that Baker Acts on students have received recently. This workshop discussion allows us to clarify some of the misinformation in the community about the process."