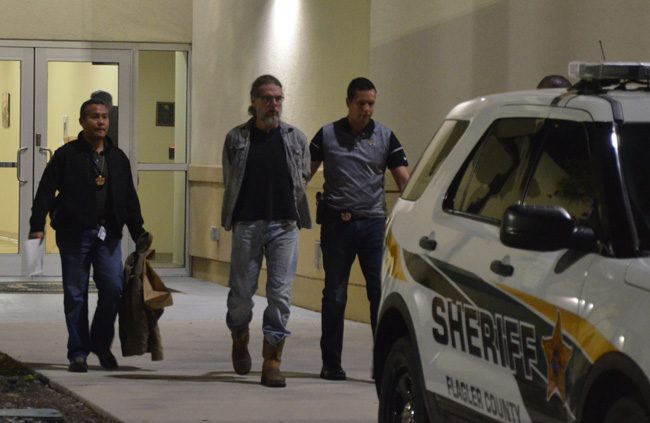 6:59 p.m. update
Michael Cummings this evening was placed under arrest on a second-degree murder charge in the death of his wife at their Point Pleasant home in Palm Coast last Thursday.
He was transferred from the sheriff's operation center to the Flagler County jail at 6:30 p.m.
Michael Cummings and Faith Cummings were divorced in 2013, they rekindled their relationship and started living together again. Michael Cummings has a history of domestic violence, though none locally. "This case shows just how fast a domestic argument can spiral out of control and into a murder," Sheriff Rick Staly said in a news conference immediately following Cummings's arrest.
"There'd been an obvious attempt to clean up the crime scene and reposition the body," Staly said about the evidence deputies and detectives uncovered at the house Thursday morning.
The times of the injury were consistent with a homicide, the medical examiner concluded after an autopsy. Faith had been dead "a few hours" by the time deputies saw her.
An argument started in the garage over infidelity, Faith Cummings fled into the bathroom, Michael followed her and "brutally attacked her." Faith had numerous bone fractures, including all her ribs. There were injuries on Michael as well.
The sheriff explained why it's a second degree charge: "For first degree you have to have premeditation, we think this started as a domestic, it spiraled out of control," Staly said.
There are children–one between them, "and then some others," the sheriff said.
"He didn't own up to much of anything," Staly said. Cummings instead tried to piece together what sort of answers he'd provide based on what questions he was asked.
Cummings came to the sheriff's office's operations center on his own after reading an update on this story earlier today. He was seeking to know what detectives knew. He was questioned in turn, and the arrest evolved from that.
***
Earlier today: The Flagler County Sheriff's investigation of a 44-year-old woman's death at her home on Point Pleasant Drive in Palm Coast last week initially saw the death as suspicious. The sheriff later deemed it more of a "death investigation. But today, with the results of an autopsy, the Sheriff's Office is again considering Faith Cummings's death very much suspicious.
"It's going from an unintended death investigation to a suspicious death investigation, with direction pointing to people of interest," a sheriff's spokesman said this afternoon. The Sheriff's Office was working toward a probable news conference later today to shed more details on the case and, presumably, reveal the results of the autopsy.
Last Thursday Michael Cummings, Faith's 46-year-old husband, called authorities after reporting that he'd been giving his wife CPR for hours, in his words, after she may have fallen in the shower. But when authorities arrived at the house at 6 Point Pleasant Drive, they found Michael with blood on his clothes and used syringes strewn on the ground in the house, and Faith Cummings dead on a bed in a room. It was unclear why, if she had been facing a medical emergency for hours, her husband had not contacted authorities earlier.
The case would take an additional strange twist when Michael refused to leave the house and was arrested on an obstruction of justice charge, though he posted bail within hours and was released.
The autopsy, the Sheriff's Mark Strobridge said, confirmed a cause of death. He was not prepared to provide those details just yet, but said "we do have a direction the investigation is going in at this point," a strong suggestion that an arrest, if not arrests, are likely, with additional twists. "There's a lot of interesting things in the case." Asked if there would be more than one person of interest, the spokesman said: "There's extenuating circumstances in the particular case."
[This is a developing story. More soon.]