Joseph Siano had been convicted of drunk driving twice in the last 10 years. He kept drinking and driving.
"I'm willing to bet somewhere along the way a friend or family member said to him: You're gonna kill somebody if you don't stop that. You're gonna kill somebody," Circuit Judge Terence Perkins said today.
Siano, now 64, did not stop.




Last December 16, Siano was drinking at Pine Lakes Golf Club, where he was a regular. He was drinking so heavily that his server finally cut him off and cashed him out around 6:30 to 7 p.m. Siano cussed her out and left, got in his Dodge Ram pick-up truck, and drove off.
It's not clear what he did between the time he was cashed out and the crash, a period of over two hours. Around 9 p.m. At Whiteview Parkway, he turned right onto U.S. 1, going north. But instead of taking the northbound lanes, he took the southbound lanes, against traffic.
He drove on as cars going south passed him. At least two separate drivers who were going south told a Florida Highway Patrol trooper that they were certain something terrible would happen. It did. Siano crashed head-on into the Chevy Malibu Lee-Ann Daley was driving. The 46-year-old mother of three was killed.
Siano was injured but survived. When a paramedic put him on a stretcher to take him to an ambulance, the paramedic "got hit by a tidal wave of alcohol smell," according to FHP's Randy Slocum, the traffic homicide investigator who was assigned the case.




Last week, the investigation completed, Perkins signed a warrant for Siano's arrest on a DIU manslaughter charge, a second degree felony, a charge of DUI causing a crash with property damage, also a third degree felony, and a citation for driving on the wrong side of a road. Siano turned himself in at the county jail on July 14, thinking that, like all defendants similarly charged in the past decade and a half, he could post bond and go home.
But Perkins had signed a no-bond warrant. And today, after a bond hearing where Siano's attorney argued that he should be allowed to post bond and be supervised away from the jail, Perkins in an extremely rare ruling upheld his original decision: Siano, who is on oxygen, walking with a walker and is facing cancer surgery for the removal of a lung, will remain at the county jail on no bond until his trial, which could be in another year. Several members of Daley's family were in the courtroom.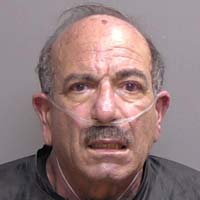 Perkins acknowledged the extraordinary nature of the case.
"In every circumstance that I'm aware of, the court has set bond on charges just like this," the judge told the attorneys. "I can't think of a single case since I've been in Flagler where I issued no-bond warrant for these types of charges. Nor can I think of a circumstance when I was in the felony division in Daytona. These kinds of charges were much more common. I can't think of a single one where I entered a no-bond warrant. The point is, on these, this is case specific. So the question for the court is, does the defendant under these circumstances either present a flight risk or presented danger to the community?"
Perkins found that Siano did not present a flight risk, but that he is a danger to the community. The reason: the two prior convictions for drunk driving–one in Volusia County, for which he served probation, and one in Flagler County, for which he served 10 days in jail and a year's probation. The circumstances of the fatal crash also weighed heavily against him, because he was aware, as he told a sheriff's deputy, that he shouldn't have been driving, that he was scheduled for cataract surgery and "shouldn't have been out driving at night," according to Slocum's account to the court. He was also confused.




His blood-alcohol level was at 0.238. The legal limit in Florida is 0.08. In 2022, there were 268 fatalities due to alcohol impairment, accounting for 7.8 percent of the 3,411 deaths resulting from crashes on Florida roads, according to FHP.
Patrick McGeehan, the attorney representing Siano, questioned Slocum about the seven months between the time of the crash and Siano's arrest. "Did you take any steps during that seven-month period to safeguard the community against Mr. Siano?" the attorney asked the trooper.
"I did not," the trooper said, later clarifying that it's common practice for FHP to spend many months completing the investigation, including getting all toxicology reports, before making an arrest. Still, McGeehan said Siano had never before skipped on court hearings, and should be allowed to post bond, be under house arrest, or be monitored in other ways. "The state had to go back 10 years to look for something in this particular case," he said.
Assistant State Attorney Jason Lewis argued to the court that Siano knew what he was doing. "He obviously showed exactly what happens when someone under the influence of alcohol drives a vehicle," Lewis said, noting that as soon as his probation ended on the first DUI case, he was charged with his second DUI less than a month afterward. Siano still owns a vehicle.
Lewis noted one no-bond case following a DUI crash with fatalities in recent Flagler history: the March 2016 killing of Kathleen J. Boos, 66, and Carl Boos, 67, on State Road A1A by William G. Schwarz, 52 at the time. Schwarz had also two cocaine convictions, a burglary, multiple drunk driving convictions, a hit and run, and driving on a suspended license. And he was in possession of cocaine at the time of the crash. The case was handled by other judges until Schwarz's sentencing by Perkins–to life in prison. (His first-appearance bond documentation is listed as $400,000. He never left jail once he was arrested.)




"Let's cut to the chase here. The issue in this case is, this isn't the first DUI, this the third DUI," Perkins said. "This is not about a flight risk. This is about safety to the community."
Explaining is ruling, the judge said that Siano "didn't learn on those two prior occasions, when he faced the court, went on probation went through all of that. It's not just probation. It's all of the treatment, training, education, all of that stuff that goes with all of those dry conditions. He didn't learn them."
Siano did not address the court. He faces up to 20 years in prison if convicted. His first pre-trial hearing is in September.