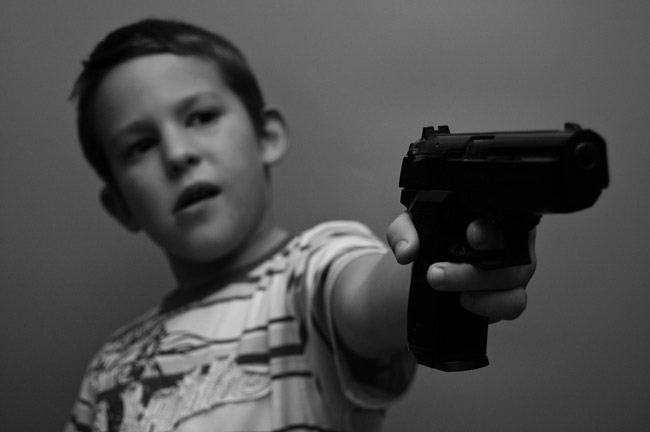 I've been listening to Waye LaPierre, the National Rifle Association vice president,  talk about how to protect our children from the next school massacre, and I have to say: he makes some sense. The only thing that can keep guns out of schools is more guns in school.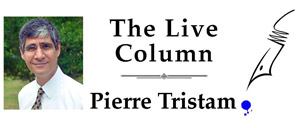 We have about 70,000 public schools in America, only 23,000 of which have armed security of one type or another. That's insane. LaPierre is proposing having an armed guard in every school. That, too, is insane, because it's not enough. There was an armed guard at Columbine. Look how much good that did. It's not just about the armed guards. It's about the teachers, the principals, the librarians, the counselors, the bus drivers, the custodians. All those guys should be armed. And have a rifle at the ready, above the blackboard or below the dashboard, just in case.
But even that is too timid, because we're still forgetting the children. They, too, should have the right to fire back. Considering how desensitized they are to violence, they're probably the best shots around. By the time they're 10 years old most children can torture, maim, kill and decapitate anything that moves thanks to video games inspired by 12 years of perpetual wars. Let's channel that superb energy the right way by arming the kids.
It's about education. Children should know how to wield guns responsibly as quickly as possible because, after all, guns don't kill people. People kill people. So there's absolutely no need to worry about placing guns in the hands of good people. And what child of yours isn't good people?
There's no reason to leave schools exclusively to the educators, either. That's old school. With so much talk about shrinking government and running schools like a business, mass shootings may be just the needed trigger to fresh ideas.
The National Guard have nothing much to do now that our peacenick president is bringing troops home faster than he's creating new wars. It doesn't have to end there. We should have whole squadrons of armed national guardsmen in every school, every day care center, every extended day program, in every girl and boy-scout troupe, all the way down to Sunday school.
Just as we have magnet schools, we could have magnet armories. The National Guard could park some of its hardware on the school grounds of high schools.
Roofs are terrific emplacements for the beautiful .50-caliber Barrett that could detect and make pink mist of even the hint of a school shooter a mile away. And tanks. Let's not forget what a tank could do in the parking lot of a school, to say nothing of missiles, because those school shooters will get savvy.
Not to leave law enforcement in the cold, Sheriff's and police departments could have substations at middle and elementary schools. I also keep hearing of how we could make use of retired cops and military. Great idea. Sic them on school buses, in cafeterias, on playgrounds. We could call them the assisted living platoons. These heroes' reflexes are bound to be life-savers in one mass shooting or another, assuming the geezers' duty is timed between naps and pill-popping.
And every morning of course, we can begin our blessed day with the poetry of Wayne LaPierre, lord and savior of the greatest individual right known to any of us lucky enough not to be among the 100,000 Americans shot to hell every year, and the 30,000 dumb enough to be killed that way: All together now, I pledge allegiance to the firepower of the United States of Armament, and to the NRA to which it bows, one purpose, unholstered, with guns and ammo for all.

Pierre Tristam is FlaglerLive's editor. Reach him by email here or follow him on Twitter. This column is also syndicated through Florida Voices