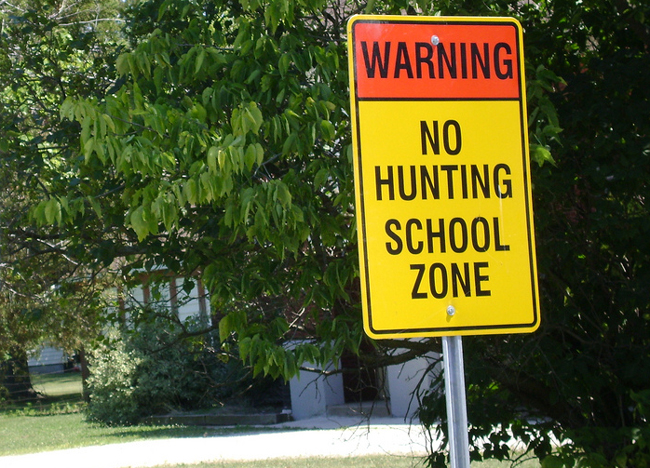 Military veterans or retired law-enforcement officers with concealed weapons permits and special training could be designated to bring guns into elementary, middle and high schools under a proposal moving through the Florida Legislature.
The Senate Criminal Justice Committee approved the controversial proposal (SB 968) by a 5-2 vote on Monday over the objections of the Florida School Boards Association and members of the public, many of whom had participated in a march earlier in the day led by civil-rights leader Al Sharpton. The group was protesting the state's "stand your ground" law. Florida parent groups and the state teachers' union also oppose the measure.
The measure is similar to one pushed by the National Rifle Association in the aftermath of the shooting at Sandy Hook Elementary School in Newtown, Conn. Adam Lanza fatally shot 20 students and six school staff.
Under the bill, principals and school superintendents could appoint staff members or volunteers who are military veterans with honorable discharges, active military or retired law enforcement officials as gun-toting "designees." They would be required to carry concealed weapons with them at all times on school property. The designees would have to undergo 40 hours of school-safety training and an additional 12 hours of special training annually, comprised of eight hours of active shooter training and four hours of firearm-proficiency training.
The measure is intended to prevent another Sandy Hook or Columbine in Florida and would be optional, said bill sponsor Alan Hays, R-Umatilla.
"Part of our tactics here is to not let those perpetrators of evil, for them to think there's no weapons at a school so I can go in there and not have any resistance. They don't know that there are going to be weapons there but neither do they know that there are not," Hays said.
But Florida School Boards Association Executive Director Wayne Blanton said that many schools already have school resource officers, who are active law-enforcement officers, and that the goal is to have such an officer in each school.
"Uniformed, trained, police officers in every school… That's what we really need," Blanton said. "We do not need teachers, or in this case, volunteers, in our schools, carrying weapons."
The proposal now leaves decisions about whether to have an armed "designee" up to school principals. Hays said he would amend the measure to allow school boards to decide whether they want such a program, instead of leaving it up to principals.
–Dara Kam, News Service of Florida