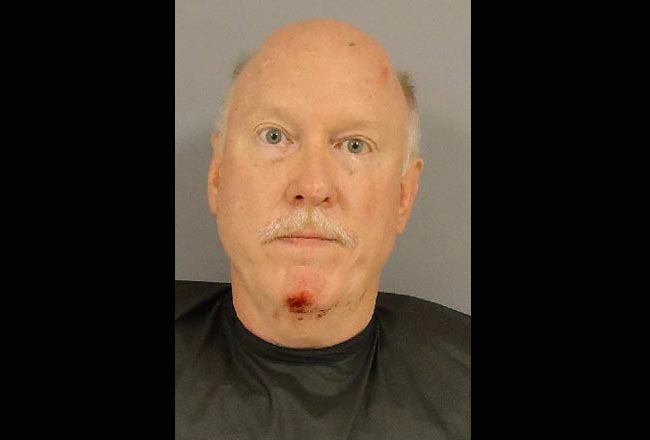 It was between 3 and 4 a.m. this morning. Peter Bauer, a 61-year-old resident of 7 Peppercorn Lane in Palm Coast–a house he's owned since 2008–panicked. Croatians, he later told police, were attacking him at his house.
When the Croatians chased him, Bauer armed himself with a .380-caliber handgun and fired several shots. Cops would later find a bullet hole in the wall, several picture frames smashed around the house, and "a pile of white powder with a straw lying beside it" in the bathroom.
Bauer conceded to police that he'd snorted about eight to nine lines of cocaine the previous evening, at about 6 p.m. Cocaine is a powerful stimulant that can induce psychotic delusions. As it turns out, there were no Croatians, and the Flagler County Sheriff's Office said that Bauer "appeared to be mentally ill." But the episode didn't end in Bauer's house.
In the earliest hours of Tuesday morning Bauer was a few doors down from his house, banging on the sliding glass door inside the enclosed porch of the property at 28 Peppercorn Lane, a house inhabited by two teens. "Help me, help me," Bauer was yelling repeatedly, according to the residents. Bauer was shirtless, and in shorts. The teens ran and hid in a bedroom closet as Bauer kept banging on the door and trying to open it for several minutes. He then left, and hid between two cars at 40 Peppercorn Lane, according to his arrest report.
When Flagler County Sheriff's deputies arrived at the scene, Bauer tried to elude them, but he was caught with little resistance at 32 Peppercorn. It was then that he told cops he was trying run from Croatians. When deputies went to his house, they saw Bauer's door wide open, and noticed the smell of gunpowder inside, as well as the damage done by the shooting.
Bauer had a cut on his chin. He claimed the cut was the result of falling as he was being chased. He was treated at the scene by Flagler County Fire Rescue paramedics, but he refused further treatment at a hospital, and was taken to the Flagler County jail, where he was booked on an armed burglary charge, and where he's been held since on $1,500 bond.