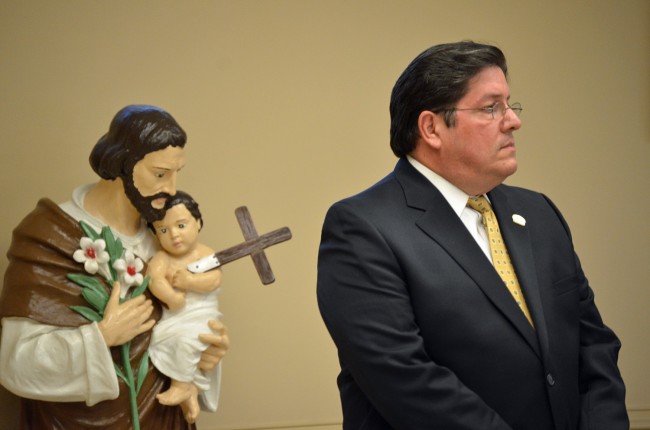 You could tell Armando Martinez was on pins and needles.
Thursday evening, as the Satellite Beach City Council was to decide whether to hire the Bunnell city manager as its own, Martinez was one of the three headliners at a town hall meeting on Bunnell's and Flagler County's acquisition of the controversial Plantation Bay utility. The meeting hall at St. Mary's Catholic Church in Kornona was packed. Martinez stood next to County Administrator Craig Coffey and County Commission Chairman Nate McLaughlin.
McLaughlin was comfortable, fielding questions, listening to answers. Coffey was perhaps a tad less at ease, knowing he had his son's baseball game to get to later. Martinez was on pins and needles, shifting from foot to foot, pursing his lips, standing on tiptoes, incapable of standing still at any moment, and on the approach of 7 p.m. (the start time of the special meeting in Satellite Beach), he was oblivious to the crowd: he riffled through his smartphone and even texted, right there, as Coffey and McLaughlin held the microphone. The meeting over, he nearly ran out and walked down a ways to the side of the church hall to make a phone call before returning and graciously speaking with a few people and even taking questions from a reporter.
He did not know then what he would find out soon—that by 7:30 p.m., the Satellite Beach City Council had voted 4-1 to hire Courtney Harris-Barker, a Satellite Beach resident as its next city manager. "They just appointed me," Harris said in a brief interview following the meeting.
Discussion during the meeting was very brief. Martinez had been among four finalists. But discussion had focused on Harris-Barker and the runner-up, Paul Stewart, the current town manager in Dundee in Polk County.
But Martinez appeared in good spirits and at ease, whatever Satellite Beach was to decide.
"I made it clear to my bosses a long time ago that I love working in Bunnell. I like the people here. I've got a great job. It's not like I'm applying all over the state of Florida, all over the nation for a job," Martinez said. True, he has a 200-mile commute every day (roundtrip), but he says it's not that difficult, consi9dering the hour-and-a-half commute he had in Miami for 25 years.
"It's just a matter of being closer to my family. My wife wants me to be closer to home. You know, I had a career of 25 years, and I want to please her. She's a good wife, and my kids want me to be closer to home. My wife is the one that's concerned about the hour-and-a-half drive every day, not me. The truth is that, you know, I'm only applying if a job opens in the vicinity where my family is at. I'm not, like, all over the place, job-hunting, because, you know, the way I look at it is, if it's meant to be, and if not I'll be here as long as they want me."
He was happy either way, he said, without diminishing the "great opportunity" that Satellite Beach would have represented. "I've got a great boss, I've got a great community, I think we've done a lot here, I think I've contributed as a team." As always, he credited his staff—most of its directors being at the community meeting Thursday evening.
Martinez had not planned on being at the meeting in Satellite Beach. Barker was at the meeting, and confirmed her appointment in a brief interview.
Martinez had applied to be a police chief in Melbourne in 2011. He may have had an extra motive to apply for the Satellite Beach job after the last Bunnell City Commission election earlier this month lost him an ally on the commission (Daisy Henry, who lost her seat to Bill Baxley), and possibly a secure majority to keep him in Bunnell. But Martinez's application for the Satellite Beach job predated the election, and he's never made a secret of his desire to move closer to home, if the opportunity presented itself. He is likely to apply again for such a job, if one opens further south.