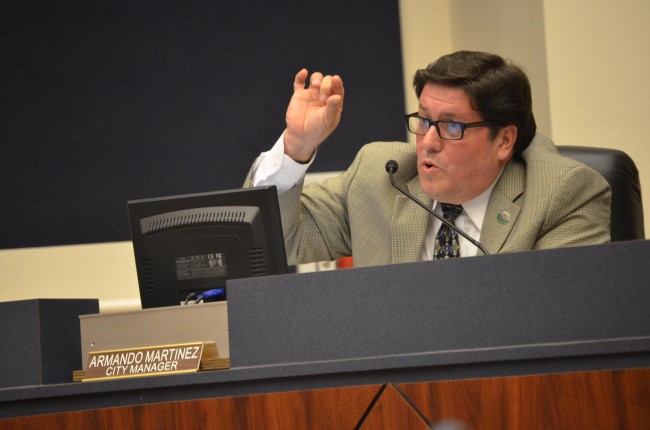 In one of the ugliest local government meetings in recent memory, Bunnell City Manager Armando Martinez came close to getting fired Monday evening but survived on a 3-2 vote, with the unexpected support of one of his harshest former critics: Commissioner Bill Baxley, who was sworn-in earlier this month on a promise of change.
The motion to fire Martinez was made just after 9 p.m. by Commissioner John Rogers, and seconded by Commissioner Elbert Tucker. The matter was not on the agenda. But it capped a meeting that had been building tension until then, as Baxley had previously raised a serious issue with the administration's adherence to the city charter, Tucker had raised questions about the city's finances and Martinez's contract, and Rogers had called for a "vote of confidence" in the manager—a motion he withdrew to substitute his motion to fire Martinez.
The motion failed, with Rogers and Tucker in dissent, and Mayor Catherine Robinson and Commissioner Jenny Crain-Brady joining Baxley in support of Martinez.
"Now we have some fence-mending to do, because we have a diversified board, and I hope we can go forward and do the business of the city," Robinson said around 9:30 p.m., "and do what's right for the best interest of the city."
But it wasn't over. When Robinson broached the "reports" segment of the meeting, when the city clerk, the attorney and the manager present their reports, City Clerk Dan Davis stunned the audience.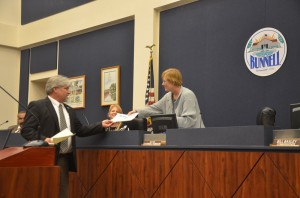 "My report is I'm giving my two weeks' notice. I can't work for this man. You guys can find somebody else to do this. Any city manager that's going to ignore the code of conduct and allow his chief of police and his finance director to have a marital affair [sic.] and say he can't do anything about it, and yet he calls himself a Christian."
"Is this a part of your city clerk's report?" Robinson interrupted.
"Yes this is part of my city clerk report. I'm reporting right now that I can't work for this man, and I'm giving my two weeks' notice."
Robinson shuffled papers, called on the city manager and the attorney, asking them if they had any reports, but the chamber had been thrown into a scratchy silence, with murmurs here and there, and Police Chief Jeff Hoffman, who marks his first-year anniversary on the job Tuesday, in his seat in back of the room, a few feet away from Finance Director Cissy Bertha, both looking as non-plussed as many people in the room. Martinez had consulted two attorneys about the allegation, including City Attorney Sid Nowell, who advised him that the matter was private, and not an issue for the city. Commissioners had been appraised of it, too. Robinson said it was not an issue for the city as long as it did not affect city matters.
Martinez, beet-red, exchanged brief words with Davis as the meeting was breaking up. It wasn't clear what was said. It did not appear to be kind parting words. Moments earlier, Martinez had said, just before the meeting ended: "I'd like to formally tell the clerk I accept his resignation." The scene had taken place in front of Davis's wife and mother, who were in the audience.
It was by then only the culmination of an hour and a half that had slouched progressively toward the inelegant and the personal as Baxley, Tucker and Rogers, each in turn, brought up their issues. Baxley's hadn't been personal but procedural, focusing on an interpretation of the charter and what it said about the order of succession when the manager was out of town. The commission had voted last year to formalize Martinez's habit of appointing a department head of his choosing as acting city manager in his absence, a decision that didn't sit well with Rogers and Tucker. With Baxter alongside them, they were able to reverse that vote and require that, as by the strict wording of the charter, the city clerk be appointed acting manager in Martinez's absence. That vote carried unanimously, and through bitter sniping between Rogers and Robinson.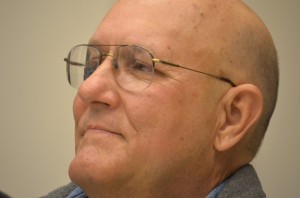 An unusually disorganized Tucker then made a motion to add a discussion of Martinez's contract on the agenda, a motion Robinson and Crain-Brady tried unsuccessfully to fight. It was downhill from there, even after Tucker withdrew the motion when he declared that his discussion points were "getting nowhere." Only then Rogers floated the idea of a vote of no confidence, and when that appeared ill-fated, the motion to outright fire Martinez. But unlike, say, Milissa Holland's attempt in 2010 to fire County Manager Craig Coffey, which was preceded by a long, careful and point-by-point enumerations and documentations of issues Holland raised about Coffey's tenure, Rogers had nothing against Martinez other than obliging the city manager in his desire to look for work closer to his family.
Along the way, Martinez mostly reclined in his seat on the dais, to the right of City Attorney Sid Nowell, intervening on several occasions in his defense, including a long defense of his administrative record and his staff's achievements that drew on detailed accounts of grant dollars secured, departments revamped or created, and tax rates kept low.
Robinson and Crain-Brady, besides criticizing what Crain-Brady had called Rogers's "hostility," came to Martinez's defense with impassioned words that—as Robinson described it—recalled managers who had moral issues, drinking issues, managerial issues, while Martinez had "none of those." Robinson was especially forceful in rejecting the manner in which the matter was brought.
"That's not how we do it in the city of Bunnell," she said. "I'm embarrassed that I'm a part of that process." She would repeat similar words after the meeting as she directly apologized to Martinez before he left.
"Every day that we have him is in our favor," Crain-Brady said.
A stream of people eventually adding up to a dozen addressed the board as Langello did, all of them, including supporters of Rogers and Tucker, adamantly opposing the motion, and the way it arose. The speakers included former City Commissioner Daisy Henry.
"I'm losing respect, I'm losing respect, because you're not truthful, because you're saying one thing and doing another," Henry said in the culmination of a lecturing declaration to the whole board, but one clearly aimed at Rogers, who had joined the rest of the board in endorsing the mayor's glowing job performance review of the manager last year.
"I'm upset about your motion," Mark Langello, the local developer, said, addressing Rogers directly. "We've had some bad city managers here. I've sat through five of them. We have a good one now." Langello asked Rogers directly: what, precisely, was the problem, other than Martinez looking for work to be closer to his family? "This is ruining the harmony of the city," Langello said. "You don't have a good reason to do it," he added. "This sounds like a personal thing, John."
One voter told Rogers and Tucker that he'd voted for them, but that this motion was not in the city's favor, and that the motion also sounded personal to him. "We are blessed to have him, and you need to keep that in mind. This can't be personal, this can't be special interest, it can't be any of that," he said. "It really stinks of that. I'm sorry. No offense, but I'm very upset about it."
Even Jim Brown, a member of the city's charter review commission who had spoken to the board earlier in support of Baxley's successful motion to more strictly adhere to the charter's wording, was critical of the Rogers motion, asking him to re-think it and concede that it had not been thought through.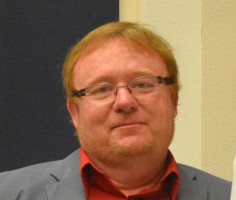 As speaker after speaker addressed the board in defense of Martinez, the city manager's chair straightened, as he did, his scowl was replaced with an occasional smile, a nod of the head, a discernible acknowledgement, while it was Rogers who sank further back.
Only one public speaker appeared more supportive of the Rogers-Tucker decision to bring up issues that hadn't been placed on the agenda: Hutch King, the former Flagler County Commissioner, who was in the audience, he said, "to remember not to run again." But it was King who had orchestrated the surprise firing of former County Administrator David Haas four days before Christmas in 2005. The matter, of course, had not been on the agenda, and carried in a 3-2 vote.
Whether to pick up pointers on what to do or what not to do, there was one Flagler County Commissioner in the audience at Monday's meeting: Charlie Ericksen, though he'd left by the time the commission veered afoul of its agenda.
Toward the end of the public comment period Monday in Bunnell, William Patrick Rogers, who is blind, stood up, looking to speak. The microphone was brought to him–by John Rogers's wife. William Patrick Rogers said: "I do not want Mr. Martinez to leave, I think he's done a good job, and it hurts my feelings to know, it seems to me, I don't know, he's just a good man, and I do not want him to go. I'm just like that other man, I just can't believe this board is throwing him under the bus."
Martinez said: "Before the vote, regardless of what happens here, that's the second time the citizens of Bunnell have come in my favor, once when I was the chief of police and now, so whatever happens, thank you and god bless you, and I love you all."
Martinez survived the vote, and got a standing ovation from the three dozen or so people gathered in the chamber when the vote to fire him failed. It was then that Davis tendered his resignation. Earlier in the meeting, commissioners and public had applauded when Davis was awarded a certificate of appreciation.
The chamber quickly emptied as soon as the meeting was over.
Rogers, in the parking lot, would not address the way the evening had unfolded, saying he had to "process" it first. In a brief phone interview an hour later, he said: "Mr. Martinez is actively looking for a job. I think we should be proactive, and we should be looking for a new city manager to replace him." Citizens are not totally happy or satisfied with the direction of the city, Rogers said, without specifying. "There's concerns out there that are not being addressed. I've personally addressed Mr. Martinez with concerns that citizens have brought to me, and I feel as though they're falling on deaf ears. I think I've taken the high road. There's other issues going on. You heard the clerk resign tonight, and I believe his quote was I cannot work for this man."
"I for one think that one of the department heads has too much responsibility, that he needs to lighten his load some, especially with the acquisition of Plantation Bay Utility. I brought it to Mr. Martinez's attention several times, and he has to respond to it," Rogers said, though that relates to managerial and administrative issues, in which commissioners are not supposed to get involved. "I just give him suggestions, he runs the day to day."
Asked for an example of citizens' concerns, Rogers said he would end his statement for now, describing his mind as "scrambled" after a difficult evening.
At 11:07 p.m., Davis, who is also Bunnell's public information officer, disseminated the following statement to his media contacts, through his Bunnell city email: "I resigned as City Clerk of the City of Bunnell tonight, because I can no longer work for a man like our City Manager Armando Martinez. The citizens of Bunnell need to know that Armando was approached a couple weeks ago by our Police Chief Jeff Hoffman who admitted to having a marital affair with the Finance Director Cissy Bertha since last August. Hoffman stated they were leaving their families and were serious. Armando's response is that it's a personal private matter and theirs nothing he can do about it. Now think about this, your Chief of Police, who is responsible for [the] safety of our city and the Finance Director, who by the way, is in charge of millions of the cities dollars have lied to and cheated on their spouses for 8 months, yet the City Manager 'trusts' them in their jobs. No discipline, no demotion, no nothing. He also briefed the city commissioners on this saying he couldn't do anything about it. Folks, the truth is, he chooses not to do anything about it.
"Make up your own minds. Do you think it's okay for two people in leadership and decision making [positions] such as chief of police and finance director should be able to keep their jobs? Each employee is held to the employee code of conduct which states that any behavior, on or off duty that brings discredit or [embarrassment] to the City is in violation of the Code of Conduct. I ask you, if lying, cheating, and being dishonest isn't a violation of the code, than what is? Integrity is required to handle the [city's] finances and to lead police officers. You can't have personal integrity and professional integrity. You either have integrity or you don't. Yet, our city manager says "it's a private matter." Is that who you want as a city manager? Someone who doesn't think their is anything wrong with two department heads having an affair. I would think the bunnell tax payers would expect better from their city manager, and from their city commission."
It was signed Dan Davis, "Former City Clerk."
At 6:33 the next morning, yet another email: "Davis, Dan would like to recall the message, 'What the Citizen's of Bunnell Need to Know'." But it wasn't clear if Davis himself had sent that recall, or if the Bunnell administration asked for it to be sent: the routing email was no longer the Bunnell administration's, as it had been the previous evening, but the sheriff's, where Bunnell has its server, and whose IT department networks its computer system.