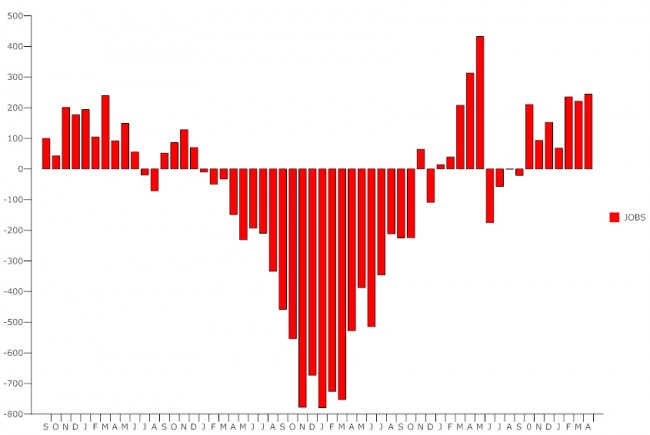 Last Updated: 9:08 a.m.
The national economy added 244,000 jobs in April, defying economists' expectations of a much weaker month as the economy ground to a crawl in the last three months. The job gains are the largest in a year. But the unemployment rate was back up to 9 percent, the first rise in five months.
While overall jobs increased, there was also a considerable surge in the number of people unemployed for less than five weeks: that figure increased by 242,000, evidence of the economy's slowdown. Preliminary GDP figures released last week showed an economy growing at just 1.8 percent from January through March, as consumers spent less and government spending fell by a dramatic 5.2 percent as stimulus dollars have run out and federal, state and local governments have been retrenching.
The decline in the jobless rate has been somewhat misleading, however, as it masks a large share of the unemployed who have dropped out of the workforce altogether. Their numbers are no longer counted as part of the unemployment figures. There were almost 1 million workers who'd quit looking for work altogether, and 1.5 million workers who hadn't looked for work in the previous four weeks. On the other hand, the rise in the unemployment rate may also be signaling a larger share of the long-term unemployed returning to the job hunt.
In all, 46 percent of the jobless have been out of work for six months or more. In addition, 8.6 million people were working part-time involuntarily–either because their hours were cut back or because they couldn't find full-time work.
Those figures point to the possibility that the American economy may be experiencing structural unemployment–that is, a permanent jobless class.
Job creation figures for February and March were revised upward by a combined 46,000 jobs (from 410,000 for the two months to 456,000).
Job creation and losses highlights for April:
Retail trade rose by 57,000. Employment in professional and business services added 51,000 jobs, with gains in management and technical consulting services. Health care added 37,000 jobs, including 22,000 in ambulatory care and 10,000 in hospitals. Tourism, leisure and hospitality added 46,000 jobs for a combined 151,000 over the past three months. Keep in mind, those jobs are among the lowest paid and often mean the person employed is not making a living wage, particularly since two-thirds of the new jobs were created in food services and bars.
Manufacturing, continuing its steady rise, added 29,000 jobs, for a total of 250,000 new jobs since December 2009. Mining added 11,000 jobs for a total of 107,000 new jobs since October 2009. Construction employment, however, remains flat.
The average workweek for all employees remained at 34.3 hours in April. The manufacturing workweek was unchanged at 40.4 hours. Average hourly earnings increased by 3 cents, or 0.1 percent, to $22.95. Over the past 12 months, average hourly earnings increased by 1.9 percent, about in line with inflation, which means workers are not improving their standard of living.