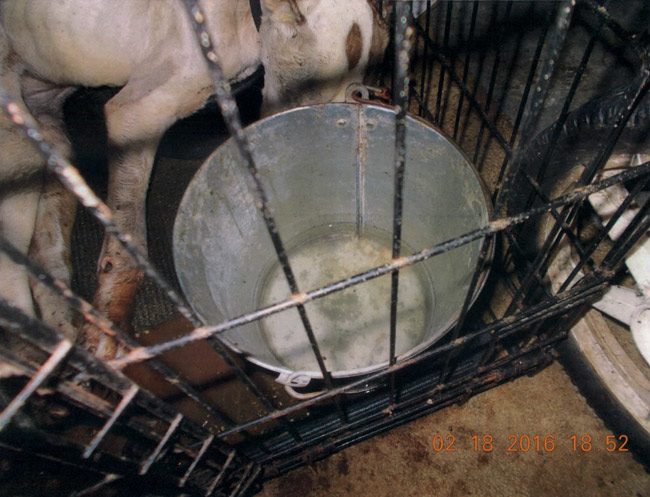 Georgia A. Rose, 39, of 16 Princess Luise Lane in Palm Coast, was arrested on a charge of cruelty to animals following the death of a young dog she had been caring for, and persistently neglectful conditions surrounding a second dog that survived.
Rose was arrested and booked at the Flagler County jail on July 14, though the initial charge on the same incident had been filed more than a year ago, dropped, then re-opened last week. The case was investigated by Agricultural and Ranch Deputy Steve Williams and Palm Coast Animal Control officer William Doonan and included repeat follow-up inspections at the house by Doonan, though the officer more often than not ran into resistance from Rose or her family at the time of each inspection.
The incident is the latest at a property with a history of troubled dogs. In September 2014, deputies had to Tase a pit bull that was attacking Lloyd Rose after attacking Georgia and her mother, Thelma. The full details were reported, with video, at the time, which suggests why authorities took particular care in the more recent investigation.
The more recent case focuses on two dogs, Asher and Remi, both young pit bull mixes. Remi survived. Asher did not. Well before more recent issues emerged, Rose had surrendered Asher and Remi to the Flagler Humane Society in 2014 but then had reclaimed them.
On Feb. 19, 2016, Flagler Animal Hospital contacted law enforcement to report that a dog at a house on Princess Luise Lane in Palm Coast was either in dire need of medical attention or was already dead. Williams and Doonan went to the house.
Rose led them into the garage. There was a pile of food, cardboard and swept in a pile next to a kennel. It smelled of ammonia, usually the smell of urine. There was no ventilation. Clutter made it difficult to move around. A brown and white pit bull mix dog—Remi–was in one kennel, alive, but its toe nails were long and looked neglected. Remi had a bowl of dirty water. Mixed fruit was in another bowl, next to wet cardboard and dog feces. When asked why the dog didn't have normal dog food, Rose said she didn't have any just then.
In a kennel nearby, a white dog wearing a black collar looked dead. That was Asher. The dog was in a small kennel full of feces, lying on its side on a soaked rug. Next to Asher's black-metal wire "crate," as Doonan described it, were some furniture, old tires, and piles of trash. The dog was "extremely emaciated," Doonan reported. "You could see its ribs, vertebra and hind quarter/hip bones, along with some flies around the animal."
Rose kept telling the officers the dog had died that afternoon, and even gave a precise time: 4:12 p.m. She told them it had been sick for a long time. She reported asking Flagler Animal Hospital if she could bring the dog to be euthanized, but was told that because of Asher's age, an exam would have to be conducted to determine whether euthanizing was in order. But then the animal would have to be sent to the University of Florida for a necropsy, which would be costly.
She had called on Feb. 10, when she said she'd have to figure out how to get a ride and the money. She did not call the hospital again until Feb. 18, again asking of she could bring in the dog because Asher was acting funny, according to what she told Doonan, "kicking and trying to get out of the crate."
Both Doonan and Williams had to walk out of the garage to continue their investigation, because the stench got so overpowering. By then Rose, the two officers reported, had changed her story about dog food and said she cooked the dogs chicken and rice and other foods. Though both she and her brother, Kayon Rose, 42, own the dogs, she said she's responsible for feeding them.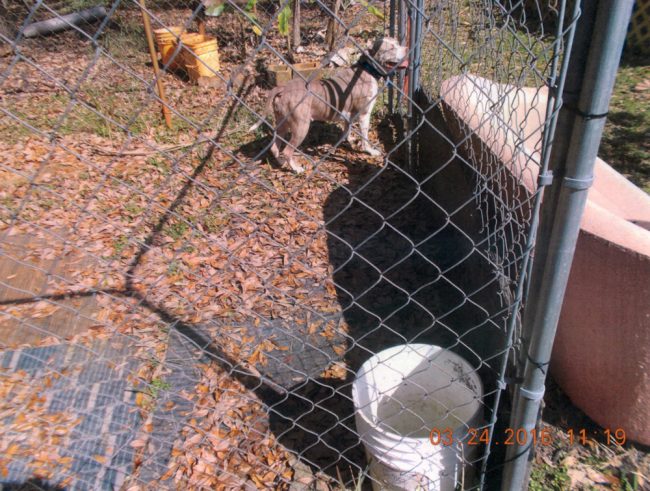 The backyard, where Rose said the dogs are taken for exercise, was also cluttered. She was adamant that she did not want the dead dog taken away. She wanted to bury it in the backyard.
When Williams and Doonan talked, Williams was initially of two minds about arresting her, thinking the State Attorney—who files the actual charges—will note that Rose had made an effort to take the dog to the hospital, while the other dog was in relatively good shape. But Williams's investigation was not done, and he would subsequently change his mind.
Doonan warned Rose that he would be checking on the dog's condition once a week to ensure that Remi has food and is kept in sanitary conditions, or else she would be arrested. She agreed. Later, Rose's father told the officers that he wishes she gave Remi away, as he did not want any dogs in the house.
Doonan later secured a 5-lb. bag of dog food for Rose's dog from the Humane Society. But when he went back to her house, he was met at the door by Stanford Rose, 36, also a resident at the house, who told Doonan he was in charge of the dog "and who are we to say that his dog was not fed and mistreated," according to Doonan's report.
When Doonan asked him why he hadn't taken Asher to the vet with his truck, Stanford Rose replied that he was "not going to miss a day of work for the dog." He declined to provide his phone number, and when told that someone would have to be at the house for the next inspection, Sanford Rose essentially told the officer that he would have to try his luck: if no one was there, he'd have to come back later.
That's not how it's going to work, Doonan informed him: there had to be someone present at the house for an inspection.
That second inspection revealed a somewhat better-kept garage, but there were still issues with smells, lack of ventilation, and a backyard in the same condition as before. Officials at the State Attorney's office informed him to keep monitoring the situation. Over the next several weeks, a pattern developed: Georgia Rose would not answer her phone, officers would show up at her house, either she or others would be there, the inspection would be carried out, but little progress would be seen. Remi's surroundings stayed dirty and lacked sanitation.
Four weeks ago, during another inspection, Georgia Rose refused to let Doonan see the dog and said all was well with Remi. Georgia's mother shouted from the kitchen to tell Doonan to leave the property.
On July 13, an arrest warrant was signed for Georgia Rose. "Based on my investigation, I believe the criteria for felony Animal Abuse have been met," Williams, the sheriff's agricultural deputy, had concluded. "The Roses had weeks to make arrangements to get the dog named Asher to the Animal Hospital but refused to do so. They allowed the dog to suffer a horrible death which could have been prevented."
Rose was arrested on July 13. Doonan tried to check on Remi and any other animals in the house. Rose's mother, Thelma, forbade entry.
Rose posted bail on $5,000 bond on July 14 and was released. She faces a third-degree felony. Her arraignment is on July 27.