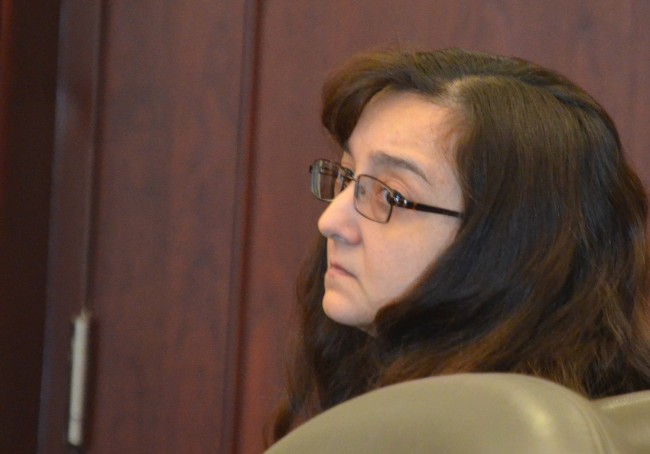 It's not unusual for a defendant to be shocked by a verdict—or, in Angela Wray's case, a prison sentence—she never thought she'd face, for a crime she never once admitted committing, triggering appalling consequences she never once showed remorse over.
But when Flagler County Circuit Judge J. David Walsh sentenced Wray to three years in state prison and 15 years on probation for defrauding Carlo Celico and his auto body shop in Bunnell of $59,000, she collapsed.
Wray, 36, was awake and aware, but she seemed to have lost power in her legs. Walsh suggested that the bailiffs get her head between her knees to breathe. Then the bailiffs laid her on the floor and called paramedics as Walsh cleared the courtroom of all but Wray's family members. The sentencing hearing was over, anyway: Walsh had been going over details about the $59,000 in restitution Wray would have to pay, and how she could cut her probation term in half if she were to avoid any violations, and pay back the full $59,000 in less than eight years after she is released from prison.
Moments earlier, Wray, the mother of three children—an 11-year-old girl, a 15-year-old boy and a grown daughter, the latter adopted—had been at the defendant's table, listening, at times smiling at something one of her family members or friends would say as each was brought to testify on her behalf in attempts to lessen the sentence.
But when Walsh asked her if she had anything to say on her own behalf, she declined. She did testify during the trial earlier this month, but only to parallel her attorney's strategy of turning the tables on Celico, whom she accused of running a poor business and messy books, eventually calling the 120-some checks she wrote to herself, off of the company's accounts, loans Celico was aware of. Celico denied making such loans, and a jury convicted Wray in less than 12 minutes.
One member of Wray's group—a friend who'd testified on her behalf—was sitting outside the courtroom with others after it'd been cleared, and called Celico a "thief" and a "liar" as he stood within a few feet of her, speaking to reporters. Celico told her that she should go to church, and walked away.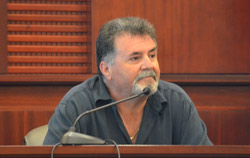 "It should have been a little longer, but it's OK," Celico said of the sentence before describing himself as bewildered by Wray's family and friends who spoke of her "family values" and her church-going. "I don't know what church she goes to," he said, also casting doubt on her husband's claim that he did not know—despite frequent trips to Disney and his wife's extensive shopping sprees—that there had been a vast increase in cash flow in the family. The prosecution said the Wray household was living on twice its normal income of around $4,000 a month, though Wray's husband, Chris, a deputy with the Flagler County Sheriff's Office, said he never noticed anything different. At times, he said, the fridge was bare and he ate peanut butter and jelly sandwiches, waiting for the next paycheck.
Celico, whose son is a Flagler County Sheriff's deputy, said he didn't believe the husband. Chris Wray, for his part, was intent on leaving his association with the sheriff's office unspoken: when the prosecutor, Jennifer Dunton, called him "Deputy Wray," he immediately cut her off and asked her to "call me Chris." She called him "Mr. Wray." He had come to the courtroom in civilian clothes.
Regina Nunnally, the defense attorney and assistant public defender, crafted her sentencing strategy around the sympathies Wray's family could elicit, and the hardships her absence would inflict on the people she would leave behind. Beside the Wrays' two young children, Chris Wray had invited his mother-in-law to move in with the family, from New Jersey (where Chris and Angela had met and married 17 years earlier), after her husband died. The mother-in-law was herself called to the stand to describe her various ailments, including seizures, which the two young children cannot always tend to. Chris Wray's night shifts (6 p.m. to 6 a.m.) at the sheriff's office make it difficult for him to be present as well when needed.
"The hardship, I mean—it's incredible," Chris Wray said, describing the circumstances at home and pleading with the court to impose a sentence of time served and a long probation–not prison.
In a strange twist during the hearing, Nunnally asked Wray why he hadn't testified at trial. Angela, he said, had asked him not to. She feared that there might be "retaliation" from the sheriff's office. She didn't want "the sheriff coming after me in some way shape or form."
Maggie Wray, the oldest of the Wray children, also pleaded with the court, calling her adoptive mother "a woman of god" and describing how detrimental her absence would be. "We don't want to lose a member of our family over something so silly."
Both the prosecution and the judge would pounce on that word—"silly"—by describing the offenses Wray was guilty of as nowhere near silly.
Only Celico testified for the prosecution, asking for what the prosecution was asking for: at least five years in prison, if not more. Before trial, the prosecution had offered Wray a five-year prison deal, which Wray turned down. (Nunnally told the judge that she did not recall such a deal, and that if any had been proposed, it was limited to two years. But Nunnally had to back down later when Dunton produced notes indicating that the five-year proposal had been made on the record.)
The prosecutor then again turned the blame on Wray. "I feel for her family but shame on her because she is the only person who has done this," she said, calling it a "horrible position for her family to be in, but that's on her." The prosecutor repeatedly referred to Wray's felony conviction in New Jersey on an almost identical charge: embezzling an employer, a case for which she is facing a $300,000 lawsuit (and another reason Celico doesn't believe he'll see a dime of the money she took from him).
"Having sat through a lengthy trial, having heard the evidence, I must say that I do not find personally this to be a silly charge, nor a ridiculous charge," Walsh said before handing down the sentence.