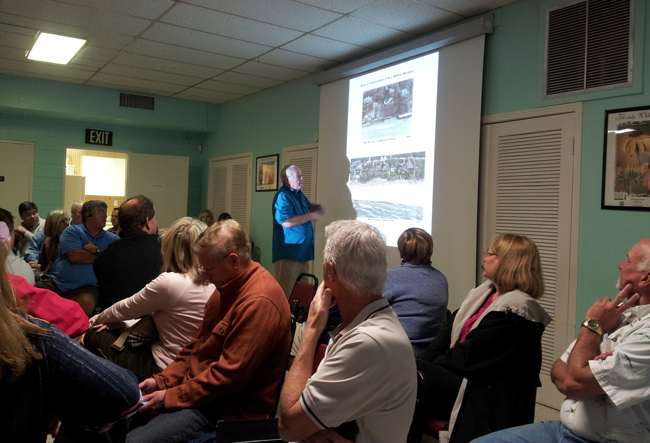 Dick Holmberg delivered a breathless, rambling, emotional defense on Valentine's Day of his plan to save the beach to a Flagler Beach City Commission heartbroken by his failure to prove his point in a meaningful way.
Holmberg, owner of Holmberg Technologies, is popular for his ideas, and championed by local residents, including the Save Flagler Beach non-profit group that was largely instrumental in bringing him to city officials' attention. The County Council approved $50,000 for Holmberg to provide a "shoreline analysis" to implement his ideas–a plan to rebuild the beach's sands and ward off erosion. The Flagler County Commission provided the money with tourism bed-tax dollars. But after Holmberg presented his analysis to the Flagler Beach City Commission Thursday evening, commissioners said his work lacked the detail and proof  needed to request permits and grants.
Mayor Linda Provencher said she was insulted by Holmberg's analysis. "You have wasted my time," Provencher said sharply. She said Holmberg failed to give the city a report she could take to Tallahassee and sell the renourishment project. "Right now, I want my $50,000 back."
"This was an analysis, it wasn't a proposal," Holmberg said as he'd begun his breathless, disorganized ramble. Holmberg defended his 44-page analysis, in which he asserted that dredging for jetties and harbors north and south of Flagler had damaged the beach. Those dredges dig holes in the ocean bottom that suck sand from offshore Flagler, sand that would otherwise come ashore here, but instead goes elsewhere, such as Brevard County, he said.
"Sand runs downhill," he said. Dredging 50 or 100 miles away draws sand from the Flagler area, he said. Holmberg's invention proposes to repair erosion of Flagler Beach's coastline. His invention basically installs concrete-slurry-filled geotextile fabric tubes perpendicular to the shore on the ocean floor, extending out into the ocean. The technology is called "undercurrent stabilizers." The "undercurrent stabilizers" slow down the current. "What happens when you slow the current down, it can't carry the sand any more. It deposits it," Holmberg said of the sand.
Holmberg is proposing two "undercurrent stabilizers" on the ocean floor opposite Flagler Beach for a cost of $10 million.
His wayward presentation–itself more rhetorically eroding than stabilizing–during which Holmberg was constantly reminded by city officials to speak into a microphone so a recording of the meeting could be made, was greeted with applause from an enthusiastic audience of 50 people hoping for an effective plan to save the beach. But city officials who must sell the plan to taxpayers and government agencies told Holmberg he missed the mark. And despite enthusiasm for Holmberg's idea, most of the audience agreed with the City Commission.
His presentation was peppered with stories, such as his mother throwing him in the water to learn how to swim, his assertions of his theory about the movement of sand on the ocean floor and mentions of success with "undercurrent stabilizers" in Michigan and the Middle East.
"I think your system sounds like it would work," City Commissioner Marshall Shupe said. "I know you passionately believe it will work. I want to believe it too, but I don't think we can take this report and get some permits and money." Shupe questioned the math in Holmberg's analysis and noted that 20 pages of the 44-page report were pictures the City Commission had already seen. He said Holmberg failed to provide reasons why he selected the locations for the "undercurrent stabilizers."
Holmberg bristled at the criticism. "I thought I explained it good," he said. He added, none too gracefully: "I guess you didn't read it well." But Holmberg's decorum has never been his strong suit. He insisted he was presenting the truth and told the City Commission to trust him. "Put me in charge and I'll take care of it. That's what I do."
Commissioners wanted to trust Holmberg, but couldn't.
"I think all of us wanted this to be the project that was going to work, to save our beach," Commissioner Joy McGrew said. She said Holmberg's report wasn't good enough to proceed with the project and wasn't worth $50,000. "The only thing we got different," she continued, comparing the work to previously heard information from Holmberg, ""was three pictures from Google Earth that I could have downloaded myself."
Kim Carney, city commissioner, said the disappointment with the analysis was "a lesson well learned." The city should have been clearer about what it wanted for an analysis rather than allowing Holmberg to write the contract for the analysis.
"I was looking at this analysis as a way we could defend our decision to the experts," Commissioner Steve Settle said. "I don't think we're able to do that with the analysis we've had."
Settle also deflected criticism he said he received in e-mails from people telling the city wasted taxpayer dollars by spending $50,000 for Holmberg's analysis. Settle said the money came from county bed tax dollars set aside for beach development. "It's a bed tax," he said. "It's not tax money." That drew a response from Hap Cameron, vice president and director of marine operations for S.E. Cline Construction. "I enjoyed that comment that it wasn't taxpayer money. If it comes from tax coffers it's tax money."
Cameron is right in every objective sense, though county commissioners and members of the Flagler County Tourist Development Council often attempt to make a distinction between the "bed tax" (essentially, a 4 percent surtax on the existing sales tax) and other forms of taxation. The bed tax is levied on all hotel and motel; room charges and all local, short-term rentals of any sort. It is, of course, tax dollars, and public dollars, even though the larger majority of the dollars are generated from visitors. Local officials are right only in so far as the bed tax is distinct from property taxes.
Most of the residents who spoke liked Holmberg's ideas, but agreed with the City Commission that the proof wasn't in the slurry of his analysis.
"Perhaps this man's project will work here, but his offensive manner in front of us today is deplorable," said Helen Kramer.
Richard Morgan said the city needed a technical expert and marketing professional to make sense of the proposal.
Diane Cline said Holmberg's analysis "was like throwing gel onto the wall. Some of it is going to stick.
Discussion and action on Holmberg's proposal will continue at the Feb. 28 City Commission meeting.
Late in the Feb. 14 meeting, Commissioner Shupe said the contract with Holmberg required a suggested plan of action as part of the analysis he prepared. "I don't believe, in my own mind, that we have plan of action. I would recommend the final payment of $5,000 to Mr. Holmberg does not occur," Shupe said. Drew Smith, city attorney, said there might be a legal battle with Holmberg about the final payment. Commissioners ended by directing City Manager Bruce Campbell to contact Holmberg and demand a course of action to satisfy the City Commission.
The commission may have another problem on its hands: the Tourist Development Council money it got to fund the analysis wasn't actually paid up: it is remitted only after the results of the analysis are produced, pending a satisfactorily fulfilled contract. That means the county may not pay up, and leave Flagler Beach liable for the $50,000.