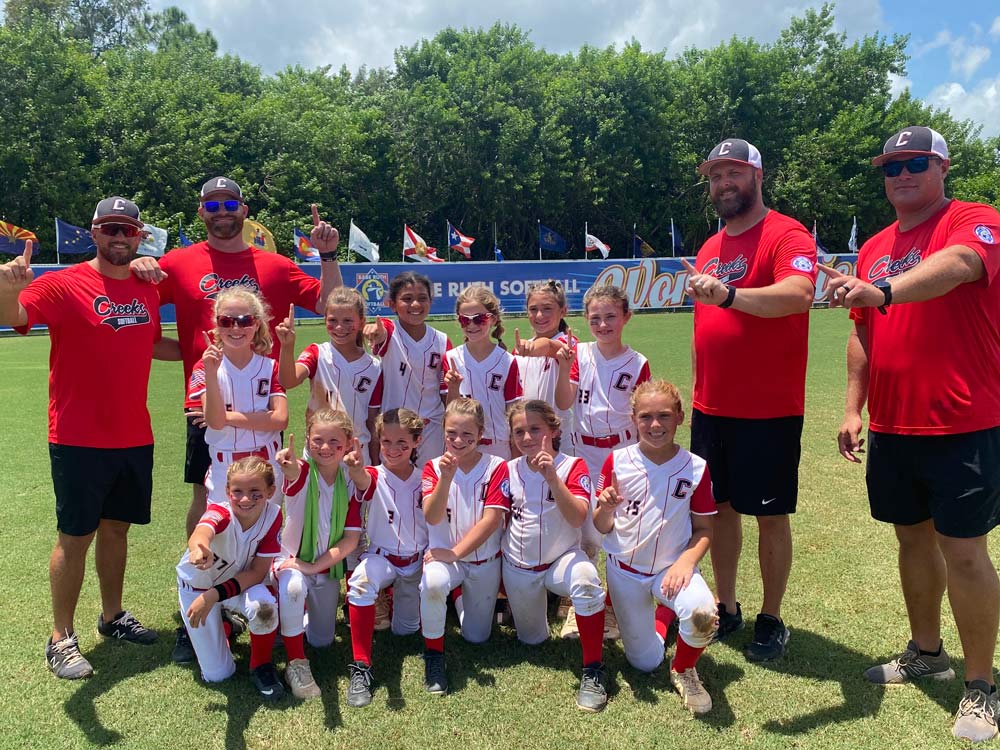 For the 8 year olds on the all-girls Creeks Softball team, softball isn't just an after-school activity. It's an opportunity to learn the game, discover camaraderie, and be a part of a team, a team that works hard to win championships.
After winning the Florida State Championship, and taking home the win for the 8U (age 8 and under) division all together, they went on to win their biggest title yet — Champions of the Babe Ruth World Series – for the second year in a row! Babe Ruth Softball is an international youth softball league, and their world series invitational invites teams from all over the country. The girls competed for the title on August 3, 2023.




"These girls beat out every team in the US, including Puerto Rico," shares their coach, Luis Cordero. "They've worked so hard this year and this win, as well as the fact that they ended their season undefeated 36-0, proves they're the best of the best." Coach Cordero has been with the Creeks Softball Association for 3 years, coaching for 7 years, and is proud to lead these ladies on and off the field. "I love coaching and teaching the game of softball," he says. "But what I love most is seeing how this team has come together and hustled to new heights, both on and off the field."
The 8U Softball World Series tournament was held in Jensen Beach, Florida, and proved exciting. The Creeks Softball team went 7-0, and their explosive offense scored 83 runs during the tournament and their defense only allowed 14 runs. Their winning streak continued to their final game against Jamesville 8U from North Carolina. "Believe in yourself. There is no one better for the job!," exclaims Georgia Griffin, short stop for the team. And that's exactly what this team did, clinching the title with a final winning score of 8-3.
"I know this is an accomplishment the girls are proud of," says Coach Cordero. "Everybody came together; the assistant coaches, the players, and the parents. The girls always came ready to practice to learn and get better. Hopefully, they will always remember the line that I would say to them at practice and before games, 'Have 100 percent focus, give 100 percent effort, and have a positive attitude. I firmly believe if you approach anything in life with this in mind, you will succeed. And wow, did the girls succeed!




The 2023 Babe Ruth World Series Champions for 8U invite you to celebrate Thursday, October 5th at 5:30pm for a ring ceremony on Field 4 at Aberdeen Park, 1401 Shetland Drive, St. Johns, FL 32259.
Creeks Softball Association (CSA) is a branch of Creeks Athletic Association, a not-for-profit focused on the advancement and development of youth athletics. CSA is the largest youth girls' softball league in Northwest St. Johns County, with over 390 girls playing recreational and advanced softball.