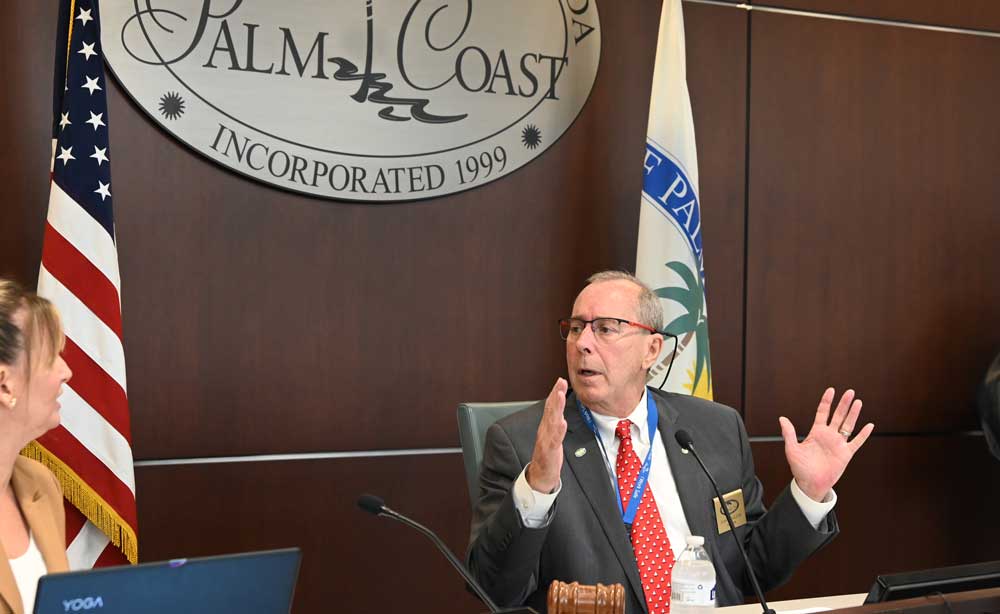 A proposal by Palm Coast Mayor David Alfin to criminally-background check all future candidates for council drew more cautions and concerns from other council members and zero support, prompting him to withdraw it "until or unless it's discussed in the future," he said.
Last June in a conversation with a reporter Alfin said he was considering floating the idea to his colleagues. He said it's done in Miramar, the city of 135,000 in Broward County.
Alfin was right. The city's ordinance makes it mandatory for all candidates, including incumbents, not only to conduct a "criminal history background information check," but to make it part of the public record–and to pay for it out of the candidate's own funds. The ordinance appears to have been in effect since the 1990s. But it is an outlier.
State law also prevents many felons–at least those who have not settled their court-ordered financial obligations–from having their voting rights restored, which would also prevent them from running for office.
On Tuesday, saying the idea was brought forward by a member of the public, Alfin finally proposed the idea to the council. He said that all city employees, when hired, undergo a criminal background check. "It was suggested to me that candidates for city council should also undergo the same background check in advance of election or becoming an elected official. The city council members have the same access to the same areas, have access to electronic communications, and I'm sure there's a list of other things."




Council member Ed Danko–who spent a career in broadcast media–raised concerns. "It sounds like a great idea, but it's up to the public, it's up to the media to really vet these candidates," he said. "And it's not up to us to produce past criminal activities or questionable activities. It's not up to us as a council to get involved in an election. I know we're looking at a situation in Congress where a certain congressman from New York now apparently everything he said was apparently not true." Danko was referring to U.S. Rep.George Santos, the New York Republican who represents parts of Queens and Long Island, and whose life history appears to be a million little fabrications.
"But again, that's up to the voters, and if they want to recall him, if they want to vote them out," Danko continued. "I just think that when government starts meddling into these affairs, it can be misconstrued by the public. It can be used as a political weapon." Danko couldn't resist: "I gotta tell you, all those Palm Coast classified documents are not in boxes behind my Corvette in my garage." But he reiterated–accurately–that elected officials are accountable only to the electorate, leaving it up to voters and media to decide the fate of an elected official–not the government on which the elected serves.




Alfin pivoted, suggesting that the candidates could voluntarily conduct the background check and provide the information–or not. "This would be a candidate undergoing their own level two security check and providing the information or not at their discretion as a public record," Alfin said, describing it as just a document, without "headlines," without "spin."
The last time the council faced a somewhat related proposal to put the city or a government agency in the role of extracting transparency from candidates, Danko had objected as well–not to the transparency, but to the government's role.
In an effort to foster more civility in campaigns that, especially in the past few years in Flagler, had trended toward the toxic, Flagler County Supervisor of Elections Kaiti Lenhart and Palm Coast City Clerk Virginia Smith last May proposed that all candidates voluntarily sign a "Statement of Ethical Campaign Practices." The document would not be enforceable. Danko suggested to "crumble it up and toss it in the garbage can," and the idea was reduced to a statement that would be included in candidates' election packets, without any signature required.
It wasn't long after that day that Alfin began discussing the criminal background check idea. He never said what prompted it. The strange and still unresolved allegation that former Palm Coast City Council member Victor Barbosa had criminal charges pending in Costa Rica aside, the council over the years has not been a den of overt criminality past traffic and DUI issues, or the occasional abjuration of citizenship to elude the IRS.
Even if the odd criminal were to run for office, it's not a given that it would make a difference at the polls one way or the other–not in an era when a twice-impeached ex-president with a lurid history of assaulting women, lying about his taxes, heading an organization indicted for fraud, and fueling a violent assault on Congress remains his party's front runner for the next presidential election (and not a minor hero for some council members).




So Alfin's proposal was as if made to "step on the slippery slope," in Danko's words. Alfin conceded that the background check carries an element of overreach. "Making the information available as a public record, in my mind was not an overreach, but not necessarily a function of of municipal government. I respect that," the mayor said.
Of course, nothing has ever stopped candidates–or sitting council members, Alfin included–from providing their own criminal background checks and making them publicly available. None have. Asked today whether he would provide one, Alfin said he would, and "make it available on request."
Neysa Borkert, the city attorney, noted that even with the criminal background check in hand, "the city doesn't determine whether or not a person is qualified to be a candidate. It would just be for informational purposes. The city couldn't do anything legally with that information."
To Danko, backgrounding candidates is media's and opponents' job. "I don't think government has any business in that type of dealing with an election," he said. "I just really don't."
Council members Teresa Pontieri and Cathy Heighter were on Danko's side. Council member Nick Klufas, who may or may not have been a member of his college's volleyball team, left the matter of candidates' background checks alone, but made a distinction with those who end up winning a seat. "Once we're actually elected, I'm curious if then maybe something like that is justified," Klufas said, "because they do have access to the building and everything like that."
The idea hasn't died in Alfin's mind. The mayor, already carrying the extra work load of a master's degree program, will add it to his research stack and possibly bring it back for another discussion. A policy in one form or another still seemed to be a possibility when he was asked today about his own background check: "If City Council does not approve a policy, I will act as an individual candidate," he said. Alfin's term runs to the end of 2024. He intends to run for re-election.
Reader Interactions