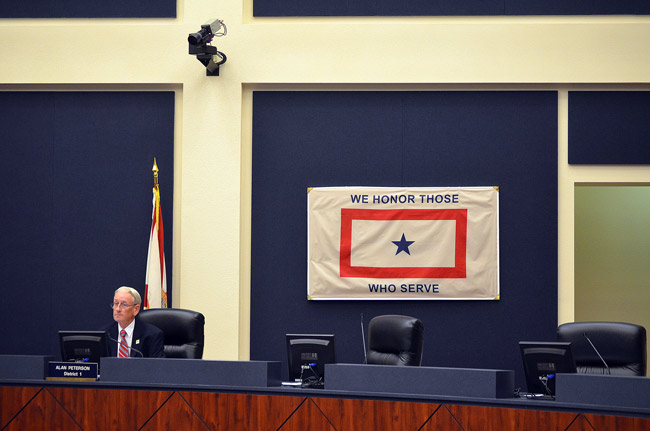 Alan Peterson, a New Englander, is not a sentimental man, at least not in public. But he's not a man without sentiment. When fellow-commissioners bid him their official farewell toward the end of a Flagler County Commission meeting this evening, Peterson furtively wiped evidence suspiciously like tears. From both eyes. His colleagues' eyes had moistened, too, making it by far the wettest commission agenda item involving Peterson, ever.
For four years, Peterson, a retired banker, had been the commission's ablest bean-counter, but also its prickliest, mercilessly detecting and tearing apart inconsistencies in budget requests, whoever was the source. He could stare down a new fire truck—and did, last summer, when he denied Flagler County Fire Rescue a new engine—with the same resolve that he denied employee raises for his entire one-term tenure.
He had memorably abrasive encounters with Kimberle Weeks, the supervisor of elections, and Gail Wadsworth, the clerk of court, over the years, whenever either sought a few dollars more. Suzanne Johnston, the tax collected, and Jay Gardner, the property appraiser, never provoked him because their budgets were always Peterson-like—lean, minimalist, unassuming. And Don Fleming, the sheriff, made sure to appear before the commission as rarely as possible, if at all, thus avoiding Peterson's line-item demolitions.
Fleming self-destructed this year, but Peterson's loss to Charlie Ericksen by an extremely narrow margin left him smarting over an electoral process that had been gamed against him: his primary election against Ericksen (both are Republicans) was supposed to be open to all voters, regardless of registration status, because they were the only two candidates in the primary or general race, making it an open primary—until someone (whose name no one remembers even now) filed as a write-in candidate. That created the false impression that there'd be a general election after all, thereby (by Florida law) closing the Peterson-Ericksen race to all but Republicans. Some 40,000 Democrats and independents were disenfranchised.
Ericksen is a conservative Republican who had the backing of the county's more right-wing factions, and the cheers of Commissioner Nate McLaughlin (whose campaign Ericksen had run two years earlier). Peterson is a moderate. He lost by 139 votes out of 8,200 cast. The write-in, of course, never bothered running in the general, the job of ensuring Ericksen's election done. Ericksen takes his oath of office on Tuesday, along with Frank Meeker, the former Palm Coast City Council member, who won the seat Milissa Holland vacated to run an unsuccessful race for a Florida House seat.
For all that, Peterson wasn't done Monday. You can always tell the lazy politicians who never read their meeting packets from those who do. With Peterson, you could almost sense the volume of marginalia that filled his meeting packets, which he read like a law student preparing for an LSAT. And Monday evening, with Wadsworth sitting in the audience—and after Peterson questioned write-offs in the county's ambulance budget—he again took out his scalpel against the clerk of court's budget when talk turned to giving all county employees a one-time bonus, at a cost of $275,000.
Curiously, neither Peterson nor his fellow commissioners questioned County Administrator Craig Coffey not placing the item of the bonuses on the agenda. Coffey brought out the matter during his portion of the meeting. The details were not included in the meeting's back-up materials. Yet Coffey had penned a letter to commissioners on Nov. 16 outlining the issue of the bonuses, and noting candidly: "Staff recognizes that this is a hypersensitive issue versus rational discussion and chose not to bring this up for clarification during the election season."
The commission had agreed in principle to some form of one-time bonus during the budget season, but had never discussed particulars. The memo provided six alternatives. But all that information about what Coffey described correctly as a "hypersensitive issue" was never publicized in the public documents in the run-up to tonight's meeting. Commissioners got that memo individually. And none of them, including Peterson, questioned the method, though Peterson had, in the past, openly criticized Coffey for slipping in items on the agenda at the last minute. In this case, nothing was slipped in until Coffey's time to speak, at the end of the meeting, even though the item entailed a considerable expenditure, and a vote by the commission.
Peterson chose to focus on a different side of the equation.
Wadsworth already gave most of her employees actual raises ranging 1 to 6 percent, with one promoted employee getting 13 percent. She did so, she said, by merging two departments into one and leaving two vacated positions unfilled. Some of her employees were slated to get the additional county-funded bonus. The moist-eyed moment had already taken place, but Peterson had no sympathy for her, though he didn't mention her by name.
"It's very disheartening," Peterson said of the clerk's raises, awarded independently of other county employees (as is every constitutional officer's right, though other constitutional officers had so far mostly refrained from awarding them). "It's very unfortunate that some people are being treated differently than others." Peterson wasn't opposed to the bonus plan. He backed one proposal that was eventually approved: a one-time, net payment of $400 to employees making $60,000 or less, and $200 for employees making $60,000 or more. And he wasn't opposed to the bonus going to Wadsworth's employees, either. But he found Wadsworth's raises unfair.
Wadsworth then turned the tables. She told commissioners that she could not accept their bonus offer—not unless all her employees received it. Some of Wadsworth's staff is paid by the state, some paid with county dollars, depending on their duties. "I would ask you to exclude the clerk's office," Wadsworth said. "I can't give to half of my staff and not the other half of my staff." But by the time her intercession was done, the commission had agreed to extend the bonuses to all her staff, assuming the law allows it.
When the meeting was over, Wadsworth walked up to Peterson, shook his hand, and told him: "I'm going to miss you."
"I'm not going anywhere," Peterson said.
He may not be. Looking a very young 74, Peterson said government service is his way of giving back. He's leaving the door open to another run at public office, either in Palm Coast or in the county. But his next chance in either jurisdiction is in four years (he was re-districted out of Palm Coast City Council member Bill Lewis's district, which is up in two years, and is now in Bill McGuire's district). Peterson said he'd welcome service on either the county's economic development council or its library board, but seats must come open on those boards first.
After each commissioner had spoken his and her piece regarding Peterson's tenure, Peterson said, with characteristic discretion: "I don't think I've done anything special that somebody else wouldn't have done." He then gave a brief state of the county address, predicting a better economy ahead, lower unemployment, and a county administration staffed capably and more efficiently than in the past. "Hopefully the new commissioners will be able to do some of the things that are needed and hopefully keep future tax rates close to the current tax rates, which all of us have worked so very hard to achieve."
He then wished everyone a happy Thanksgiving "and a very happy, healthy holiday season."