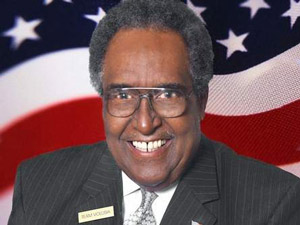 Volusia County School Board Chairman Al Williams, who'd just been re-elected to the board in August, died this morning (Oct. 1) at Halifax hospital in Daytona Beach after he fell ill last month as his health was deteriorating.
Williams, a child of the Chicago ghetto of the 1940s and 50s, was first elected to the Volusia school board in 1984, serving two terms until 1992. He won again in 2004, barely getting past Walter Fordham (a professor at Bethune-Cookman College) with 51 percent of the vote. He had just begun his fifth term. On Aug. 14, he defeated political newcomer Ida "Lucy Duncan" Wright in 52 percent of the vote. Gov. Rick Scott will appoint Williams's successor. Wright is a distant possibility.
Williams taught school and at what was then known as Daytona Beach Community College, and worked as a consultant in the Chicago public school system. Dr. Williams was executive director of the personnel department for the Austin Independent School District in Texas. He's also been a computer programmer, working for General Electrict. He earned a doctorate in education administration from Columbia University and a couple of master's degrees (from Notheastern University and Embry-Riddle Aeronautical University).
A resident of Calliope Avenue in Port Orange, Williams's District 2 covers the greater Daytona Beach area, Daytona Beach Shores, Ponce Inlet, South Daytona and a portion of Port Orange.
In an appearance on Marc Bernier's radio show on Daytona Beach's WNDB in July, when Williams had spoken about a property tax increase referendum he was backing, Bernier told the News-Journal at the time that Williams hadn't "looked well," and that he had to be corrected about some facts pertaining to the levy.
"Williams said he simply got confused on the radio and in a subsequent News-Journal interview where he said the tax money would be used for construction and then corrected himself when pressed by a reporter," the paper reported on July 16. "He brushed aside any concerns over his health, although he's undergone several surgeries in recent years and took months to recover when he broke his leg in a fall. He participated in School Board meetings through a telephone conference call while he was recuperating."