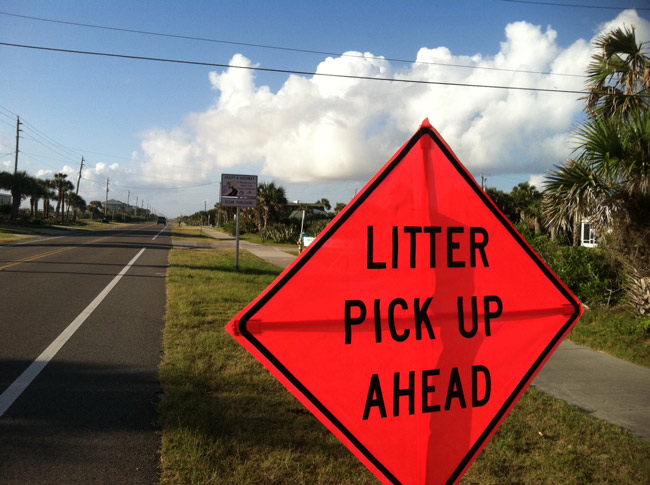 The subject for this week's column came to me last Saturday morning while I was in the middle of a litter cleanup along State Road A1A. Litter – the focus of eight Flagler County citizens on a bright Saturday morning – became my subject and I began organizing the column in my mind as I picked up trash and supervised the team.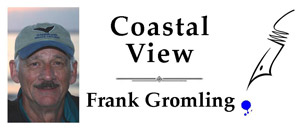 My company, Ocean Publishing, adopted two miles of the highway from North 23rd Street in Flagler Beach to Driftway Terrace in unincorporated Flagler County. With the state spending about $10 million a year to pick up trash along state highways, Florida's Adopt-a-Highway Program, whereby civic-minded businesses and organizations commit to a two-year program to help reduce trash on the roadways, makes a lot of sense. We conduct a cleanup at least four times a year. This week's campaign was scheduled to pick up the usual amounts of trash, plus whatever was left behind by thoughtless July 4th revelers.
Litter is a big problem across America, and costing almost $11.5 billion, it is an expensive one. In a time of decreased tax revenues, state and local governments are hard-pressed to provide sufficient attention to activities that do not deal directly with human life and safety. Litter just isn't high on most governments' lists of priorities, so it has become more of a focal point for volunteers, especially on the local level. Litter is found anywhere people have been – streets, highways, parks, lakes, rivers, coasts.
I don't like the word "litter" because, for me, it conjures up visions of the occasional paper or stray item that accidentally falls to the ground. In reality, the "litter" we encounter is really "Trash," with a capital T. What we find along the highway is trash, pure and simple. It's not little pieces of paper or pens or other small personal items. It's food containers (sometimes with half-eaten food), bottles (mostly beer, but also liquor), cans (99 percent beer), cigarette packs, clothing (so far without humans), broken signs, lumber, PVC pipes, metal rods, and my personal favorite to date, a Honda car wheel, complete with rim and tire (low tread wear).
The most prevalent trash along the highways? Cigarette butts. Easily a thousand of them in our two-mile stretch of A1A. Too many to pick up, but I'm looking for a scooper type tool to use in the future. If you have any suggestions of what and where to find it, and it spares me bending over to use it, email me and I'll investigate.
Right now I pick up cigarette butts when I'm reaching down for some other piece of trash and the butts are within reach. As I do this, I laughingly recall George Burns' comment: "You know you're getting old when you stoop to tie your shoelaces and wonder what else you could do while you're down there." Well, I'm not old, but laughing helps when you're bent over picking up someone else's trash, stuff that should never have been discarded along the highway in the first place. Laughing is a good way to get through the last hour of a two-hour cleanup on a hot summer morning.
According to the 2009 Keep America Beautiful National Visible Litter Survey and Litter Cost Study, tobacco products (mostly cigarette butts) represent 38 percent of all roadway trash, followed closely by paper (22 percent) and plastic (19 percent). From that same study, 52 percent of roadside trash comes from motorists and 22.8 percent from pedestrians.
You've seen it. A driver in front of you flips his cigarette out the window, even during fire bans. A beer can goes winging out a passenger window onto the dune along A1A. All kinds of food and candy wrappers, along with drink containers, lie within five feet of trash cans placed by cities in their efforts to control the mess. Have all of these people failed simple citizenship tests, along with physical education tests? They don't feel responsible enough to put the trash where it belongs and, if they attempt to do it with a jump shot, and miss, they just leave it there? As I pick it up and make my jump shot, I wonder what their homes look like, followed by the really important question: "Is anyone teaching responsibility and pride any more?"
According to Keep America Beautiful, there are four methods to prevent trash:
Education and awareness create behavior change. Programs to educate the public can make a difference.
Effective legal standards (codes, laws, or ordinances) may help, but they must be paired with the next step.
Consistent and effective enforcement of codes, laws, and ordinances by law enforcement and code enforcement can change behavior. At the very least, fines imposed may help pay for future education and awareness programs.
Tools and strategies are needed to round out a total program. Tools, such as well-placed and frequently-emptied trash receptacles, newspaper articles highlighting local trash prevention campaigns, and other public efforts, can help. Strategic programs that focus on education of younger people (studies show that the largest group of litterers is under the age of 30) about the cost of litter and its effect on property value might also produce better results.
If you are interested in changing your own or someone else's approach to litter control, here are several points that will help:
Set an example by not littering; use trash and/or recycling receptacles
Have a trash bag in your car and dispose of it properly
If you are a smoker, use a portable or pocket ashtray
Ask your local government leaders to take an active position against litter
If you see litter, pick it up.
Florida has a litter control law, Section 403.413 of the Florida State Statutes. In 2006, the state increased the fine for simple littering (less than 15 pounds) from $50 to $100 per offense. Yet based on financial records from the state, in the three-year period after the increase, the state received just $213,000 in litter fines, about $71,000 per year, from a paltry 710 fines issued statewide. Maybe this is an area that could be re-visited by the Legislature.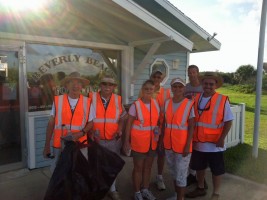 By the way, our Saturday litter cleanup team was comprised of six volunteers from the Palm Coast Astronomy Club and two Beverly Beach Town Commissioners. We collected three large garbage bags of trash and one bag of recyclables.
So, what are we going to do about trash along our roadways, beaches, rivers, lakes, and streets? The answer is up to each one of us. Do we realize that we are the answer and do something constructive? Or, do we sit back and let someone else take care of it? I know my decision. What's yours?
Until next Saturday, be well and do something special for nature. We all will be glad you did.

Frank Gromling is the owner of Ocean Publishing in Flagler Beach. Reach him by email here.