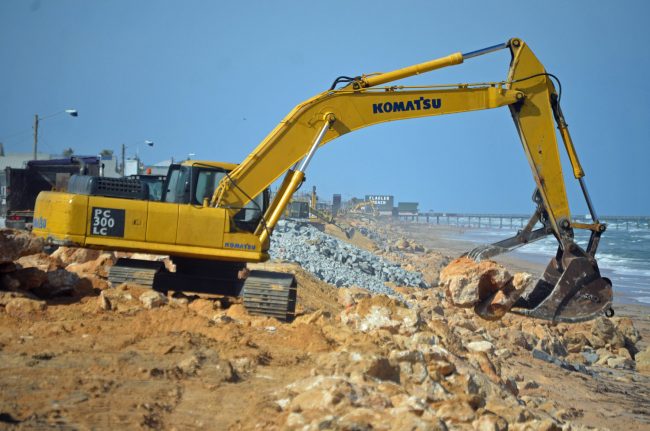 If the U.S. military could build the Alaska Highway's 1,200 miles through some of the world's most damning terrain in seven months, there was perhaps no reason Halifax Paving couldn't complete the 1.3-mile stretch of demolished State Road A1A in Flagler Beach in two weeks, 30 days ahead of schedule.
The company is about to do just that according to a Flagler Beach city commissioner who's been following the work daily. Halifax is planning to finish the work and have the road re-opened to two-way traffic by next Tuesday—Election Day, as it turns out—on an emergency $4 million contract from the Florida Department of Transportation.
There's a reason Halifax is so eager to do so: finishing the work that soon will earn it a $1 million bonus, or the equivalent of "$33,333, for each calendar day the actual open to traffic date precedes the Original Contract Time of 45 calendar days," according to the contract, obtained this week by FlaglerLive.
The bonus, like the original contract award, is paid for through the state Department of Transportation, with taxpayer dollars. (A set of questions were posed to the transportation department about the contract Wednesday afternoon. Department spokespersons were not able to immediately respond, but would do so soon.)
"Calendar days will be consecutively counted from commencement of Contract Time regardless of weather, weekends, holidays, suspensions of Contractor's operations, delays or other events as described" the document states.
To beat that 30-day deadline, Halifax was to give no excuse for any delays, even if those were caused by change orders, supplemental agreements, any disruptions, utility conflicts, design
changes or defects, right of way issues, permitting issues, supplier issues, actions by third parties,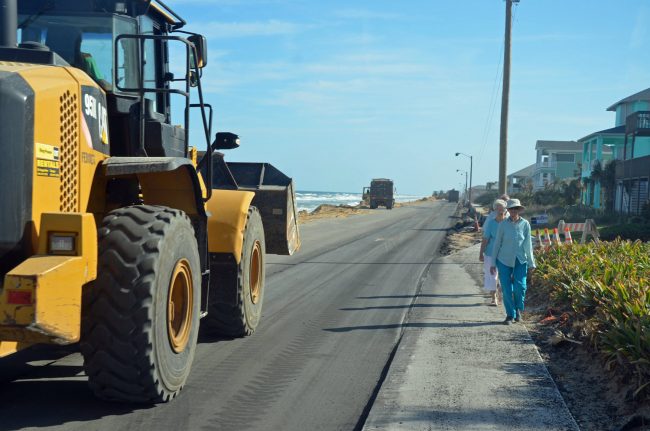 expansion of the physical limits of the project to make it functional, or any other unforeseen issues. The only acceptable exception: another hurricane and a declared state of emergency.
Neither is in the forecast. The project has coincided with a stretch of near-ideal weather, with low temperatures and little to no rain. And by next Tuesday, Flagler Beach City Commissioner Rick Belhumeur said today, the road may be open again as an emergency two-lane stretch, a bit narrower than its previous version, and at 25 mph, but open nevertheless.
"I've never run a construction business so I don't really know the real cost of all this but all these other tucks and equipment in here that I know for a fact Halifax doesn't known, they've had to lease this stuff and get other drivers," Belhumeur said, justifying the cost of the contract—and the $1 million bonus, if it comes to that. "They don't have that many people working for them. I know that to be a fact because I used to work for them myself."
Halifax, Belhumeur said, likely lowballed the contract, knowing it could recoup some of the money through the bonus. But he said much of that bonus will be paid out in the form of extra labor brought in to accelerate construction.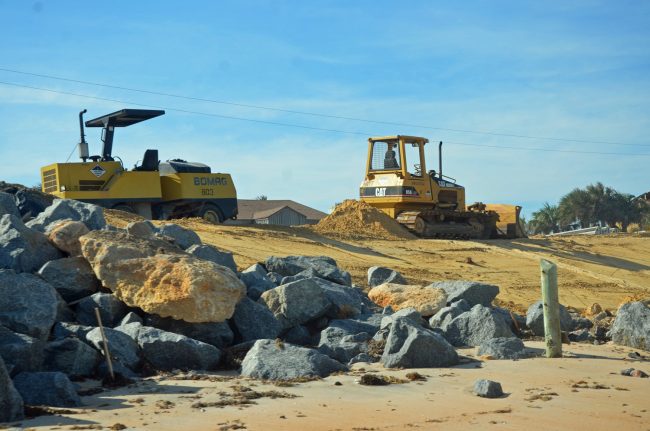 The emergency contract was the culmination of a flurry of visits by Gov. Rick Scott, Department of Transportation, Department of Environmental Protection and U.S. Army Corps of Engineers to Flagler Beach in the aftermath of the storm, and a pledge by the governor to get the road repaired quickly, pending a more permanent solution. Gradually, projections of the road re-opening went from several months to 45 days to, now, two weeks.
For businesses along the way, there could be no better news than a re-opening of the road next week.
"The last weekend, the last part of last week and this week it's been like a ghost town," Joe Rizzo, co-owner of Island Grille restaurant, which is in the construction zone off of A1A, said today. "The community support is gone, and now the people just avoid it like the plague because of the aggravation, detours, so this week has been no fun at all, and hopefully with them finishing it will eliminate all that."
Rizzo said Island Grille has been managing to make it through thanks to a core of customers who have come by, some as often as three or four times a week, just to support the business, which has had to open a back entrance from Central Avenue, where the detour has diverted all traffic that flowed down A1A.
"If those guys get that deal done on Tuesday, they deserve a big bonus," Rizzo said. "I realize I'm just one person and I have an opinion, but I imagine if they get that done by Tuesday there's a good chance they keep 90 percent of those businesses in business just because of their efficiency. Obviously I have no facts to back that up, but this Central Avenue thing is a nightmare. It'll be huge if they get it opened by Tuesday."
This afternoon, the 1.3-mile stretch of A1A, closed from South 9th to South 23rd, was a jam of trucks, tractors, excavators, steamrollers, water trucks, with each stretch of a few blocks at a different stage of construction. Trucks have been dumping load after load of enormous granite and coquina rocks that then get placed literally one by one on the rebuilt incline that will eventually form the new dunes, at the right slope, with the right mixture of rocks, sand and some vegetation. In some places the dunes look like swipes of sand, not yet covered in rocks, in others, it looks as if there'd been no storm. Just a new coating of rocks. See the video below.
All those stretches of A1A that had looked jaggedly torn and devastated by Hurricane Matthew just a few weeks ago are gone, the repaired sections seamlessly meshing with what portion of A1A had survived, and into the new lane on the west side of the road that will be part of the temporary solution. That lane runs right up against the sidewalk, with no room to spare, in many places, the fresh asphalt already congealing there.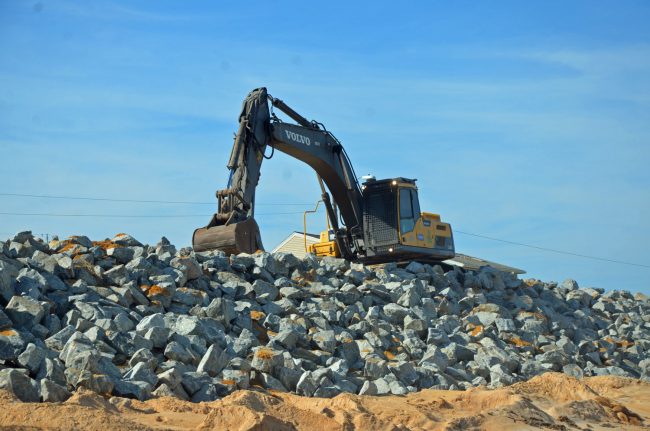 Valerie Reither, for eight years a Flagler Beach resident on Soty15th Street, had just taken a walk along the sidewalk paralleling the new road. She called the project "wonderful," she said,  "because the traffic is horrible, and we really needed this road open, and I'm glad that they went for it as a temporary solution, regardless of what it looks like, as long as it gets the road opened."
Reither was aware that the contractor stood to make a bonus, but she was not aware of the amount of the bonus. When told of the amount, she said that it was acceptable "as long as what they do meets the specs. That's the question. If the design is approved, it holds, it gets us where we need to go until the permanent solution and everybody agrees that that's what the bonus was, then good for them."
On reflection, Reither was a bit more hesitant about the size of the bonus, but not Belhumeur or Rizzo. "If they open it by Tuesday they need to name a street after those people," Rizzo said. And Belhumeur noted that from all appearances, there was no corner-cutting to get the road finished.
The Alaska Highway, incidentally, cost $138 million in 1942 dollars, or $2 billion in today's dollars, which came out to $1.67 million a mile, though that cost did not include soldiers' pay.



A video of the 1.3-mile stretch of the road project, from the beach's perspective. The voice in the background is that of Rick Belhumeur, Flagler Beach City Commissioner.