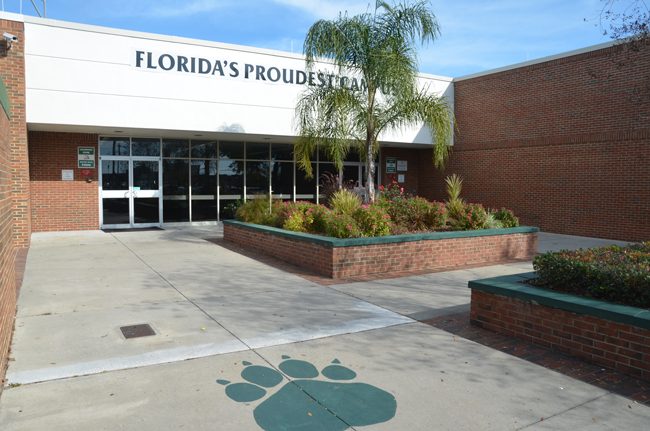 The Flagler County School Board is divided over the fallout from a controversial and unauthorized car sale that took place over a weekend this month on the campus of Flagler Palm Coast High School. The event was approved by the district's administration, but not the school board. At a minimum, the board is likely to rewrite the policy that controls the use of district facilities, and one board member suggested a letter of admonishment to Flagler Broadcasting, the company that owns WNZF and other local radio stations and that organized the car sale event.
The controversy is exposing the gap between administrative discretion and school board oversight—an unresolved gap in this case—while raising difficult and unanswered questions about the board's role in events intended to raise significant sums of money for district programs. In this case, the district's Future Problem Solvers were the beneficiaries. The issue is further muddied by School Board member Andy Dance's involvement, as he has championed the problem solvers and sought out big-ticket events that could underwrite the program's costs: he was involved in making the car sale possible months before the rest of the board learned of it.
Those strains again emerged at a school board workshop Tuesday, and were once again left unresolved.
"Some of the board heard about this from the general public, people whose business had been compromised before the board ever knew anything about this," board member Janet McDonald said. "So we have people in the community that have been caused harm by this action without the board knowing what's going on. And so given that, I think we need to revisit this in a very serious way."
"The bottom line is this was not or should not have been a use of facility. This was not a use of facility. This was a sublease," Colleen Conklin, who chairs the board, said. "It didn't meet the definition. I want to know how we never get back in this position again." She also wants to know how the show turned into a car sale. "Or was it an assumption on the vendor's part, for selling?" The ads for the event were unequivocal: it was to be a sale.
But those questions remain unanswered. While much remains muddled in the controversy two facts are not in dispute. And those two facts have Conklin and McDonald upset and "frustrated," not least because they're not getting the answers they're seeking from their own administration.
First, there'd never been such a massive sale event at any of the district's school properties before as the one held by Ritchey Auto the weekend of Sept. 10-11 . The school board would not have approved one, and did not approve Richey's.
Second, the agreement signed by Superintendent Jacob Oliva, Flagler Broadcasting general Manager David Ayres and Flagler Palm Coast High School Principal Dusty Sims on Aug. 19, never mentioned a car "sale." It referred specifically to "the First Inaugural Boat, Car and RV show to be held in the parking lots of the Flagler Palm Coast High School" (emphasis added). It did not mention that cars, boats and RVs would be sold. It did not mention that that there would be test drives, or that customers would get their loans and financing arrangements prepared on campus. It vaguely referred to creating a partnership with vendors that would give students "mentoring relationships" with broadcast professionals and salesmen, and it mentioned that a portion of "proceeds" would go to "student programs including the Future Problem Solvers Program."
---
A car "show" morphs into a car "sale" through a smog of assumptions.
---
In fact, only the problem solvers were to benefit from the sale. The agreement stated that 20 percent of the advertising revenue from the event would go to the problem solvers, or $5,000, as Ayers would later specify. But Ritchey Auto was never mentioned in the agreement, which left the impression that not only would it be a car "show," but one involving a variety of vendors. It did not: Ritchey was the only vendor, which is what led other car dealers in Palm Coast, particularly from Tom Gibbs Chevrolet, to contact school board members and complain that a Flagler school property was being essentially subleased to an out-of-town car dealer under their noses, to the detriment of their own brick-and-mortar commitments. Ayers said he'd extended invitations to all local car dealers. Tom Gibbs officials said they had not received such an invitation.
Board members found out about the car sale days before it was held—too late to stop it, too late to figure out just then how an agreement of that magnitude could have been signed without their knowledge or approval, and without a use of facilities agreement—the normal procedure when a school property is used by an outside agent, company or organization.
Whether a policy was violated or not is a matter of interpretation: McDonald and Conklin say the board's policy very much was violated, because Flagler Broadcasting subleased the school to Ritchey Auto. Subleasing is explicitly prohibited in the policy. Ayers, the school board attorney, Kristy Gavin, and School Board member Trevor Tucker say there was no subleasing since the agreement was with Flagler Broadcasting, which held all liability risks. Tucker says various events on district properties involve vendors, which could be considered subleasing, though he acknowledges that the FPC event was uniquely big.
Gavin provided some perspective by describing two other school districts' use of facility policies, and revealing the startling fact that even Flagler's standard use-of-facilities form was never approved by the school board.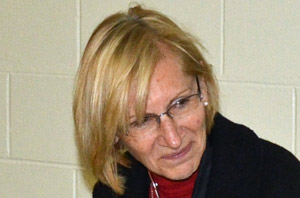 "I'm not really concerned about other districts, because I think it's wrong to explore other possibilities out there after we violate our own policy," McDonald said. McDonald doesn't have an issue with the current policy, which she found "very clear" on the subject at hand: subleasing. She was, rather, concerned about why the situation got to the point where it did.
"All the urgings to postpone, to do it right, to do it within the guidelines, didn't happen," McDonald said. "And I know that there's some strong personalities in the county that like to ask forgiveness rather than permission, and I don't think that's the mode that we need to do it in. I think we need to be true to our policies, and go before the board rather than act unilaterally. So while this is interesting, I'm not really happy that we're doing this in the air. We haven't even seen those documents before today to even review them before workshop. I don't know how it supports us. Where was it that we didn't have the opportunity to do it the right way the first time, within the policies? And the irony is that it's for the Future Problem Solvers, who always have to figure out a way within the confines of the parameters of their projects."
"I share in Ms. McDonald's frustrations," Conklin said. "One of the questions that I very specifically want to know is who or how or why did they think that they had permission to actually work to actively sell vehicles on our property. Because the agreement, even though the agreement didn't go through the process, and I was extremely disappointed with the way it was done, at the end of the day even the agreement that actually was signed off on, was violated. So I don't understand why or how the agreement could have been violated to such a degree, and whether that is a letter of admonishment from the school board to the vendor, I don't know. But all I know is that that agreement was not what took place. And it doesn't matter who this is for. It doesn't matter who benefits from this. It's a simple fact in my mind that not only was the policy not followed, but that the agreement that was even signed was not followed."
Tucker saw no ready recourse. "I'm guessing we have zero recourse because the event is over, it's done," he said. At most, he said, the board could take civil action, "and I don't think we're going down that road."
"Recourse can mean a lot of different things, Mr. Tucker, it doesn't need to mean legal action," Conklin countered. (She was not in the room, but piped in by phone over a speaker.) "But the simple fact is we had an agreement that in and of itself was questionable, but we had an agreement that was completely violated. So as a board how do we respond to that appropriately and responsibly?"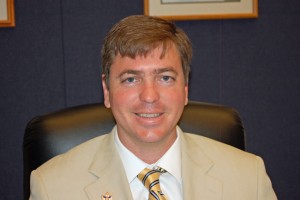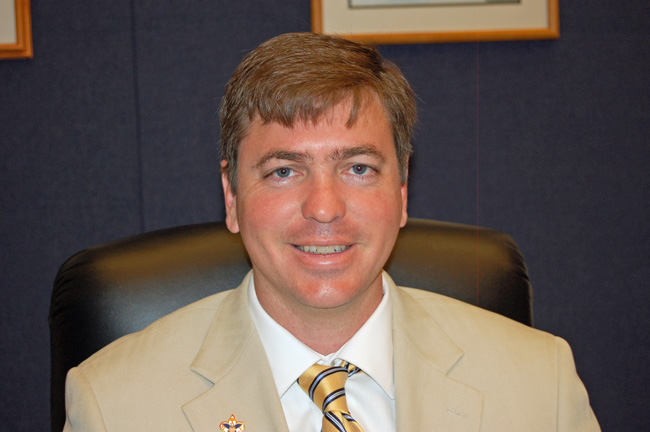 Tucker noted other events having what would be interpreted as subleases, such as the recent fund-raisers for the Belle Terre Swim and Racquet Club.
"It was a major commercial event at the Belle Terre Swim Club?" McDonald asked. (It was not.)
"With all due respect," Conklin said, "we've never had a massive auto or boat tent sale where we provided financing, our vendor who we didn't realize was going to be doing that, was providing financing, loans, and having a massive tent sale on our property. We've never had that."
"And test drives on the property," McDonald said. "Huge liability."
"Yes," Tucker said. "But I think we have other events that these same things happened at. They might not be to that scale."
"Maybe the scale has brought it to our attention," McDonald said.
Dance, who had not spoken until then, spoke in defense of the agreement. "There may have been some words or terminology in the agreement that may not have fully substantiated what was going on," Dance said, "but the agreement and the way it was fulfilled was the way that it was intended to go through. There were questions at the beginning when the radio station brought the fundraiser forward, but those were worked out through many different checks and balances, and I think the question being the scale of the event. If there is issues with the scale of the event and ways to provide checks and balances for those, then that would be something appropriate to look at."
"I beg to differ," McDonald said. "If the words of the agreement don't align with the way it was worked out because that's the way it was intended, that's a false presentation on the agreement. If it actually came out the way it did, and that was the intent but that wasn't the language that it got signed and committed to, that's a violation. A huge violation."
Tucker wanted to end the workshop, as it had run into the scheduled time for the board's regular meeting. Gavin, the board attorney, was not clear on what board members wanted her to do next. Nor were the board members themselves, other than a more complete history of the car sale issue that McDonald requested.  "We will revisit this in the future," Tucker said, trying to cut off Conklin, who nevertheless got the last word in.
"In my conversations with the superintendent," Conklin said, "I believe that he was under the same impression that this was going to be some type of a show, not a sale at all, so somewhere somehow the checks and balances were not there, and that's what I think we need to find out to ensure that this doesn't happen again."