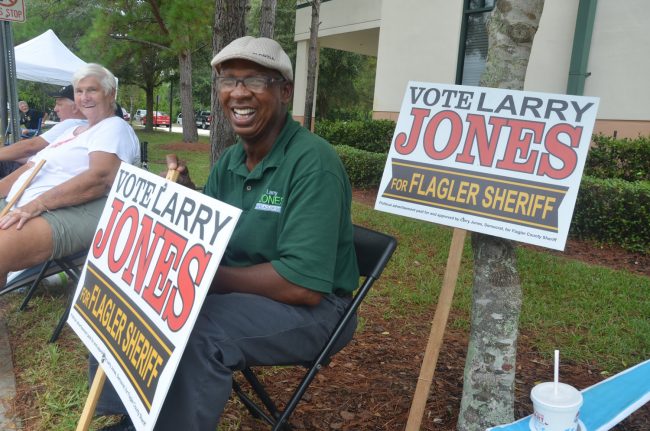 For Nov. 8 general election results, go here.
Milissa Holland has won the election to succeed Jon Netts as Palm Coast's mayor, routing her three opponents, early tallies of the primary elections show. Her 63 percent tally of early voting and voting by mail built an insurmountable lead, even with about 5,000 votes yet to be counted. Dennis McDonald was second with 15 percent, John Brady third with 14.5 percent, and Ron Radford last with 7 percent.
"It's obviously a pleasant surprise, I'm excited about all the confidence the voters have demonstrated in my ability to become the next mayor," Holland said after her win. "I've always gone into every single one of my campaign working day and night to get to as many voters as possible."
Colleen Conklin has won her fifth term as a Flagler County School Board member, easily beating Jason Sands and cruising to what may be another trouncing: Conklin has usually been among the leading vote-getters in her two decades on the board.
"At the end of the day I hope people know and realize that I still fight with the same level of passion and attempt to shine a light on those issues impacting children and education in the same way that I did when I was first elected," Conklin said from her home this evening. "I mean, I still have fire in the belly." (Someone in the background shouted, "and it's far from out.") Conklin added: "And I'm humbled and I'm honored to be reelected and to continue to fight for those issues that mean so much to all of us."
Kaiti Lenhart, the newly minted incumbent supervisor of elections, has also won, easily beating Kimble Medley and Abra Seay. Lenhart took 56 percent of the vote, leaving Seay with 24 percent and Medley with just under 20 percent. "I feel very relieved and ready to get back to work," Lenhart said Wednesday morning. "Now I can really focus on the general election and continue to rebuild the office and do what the voters have now placed the confidence in me to do."
In the closely-watched race for sheriff, Larry Jones upset incumbent Jim Manfre by 500 votes, and Rick Staly defeated John Lamb, also by 500 votes, with Don Fleming in third and all other competition too far south to register.
"It tells us they want a change," Jones said of voters, "they want a change in leadership. The leadership is not what the county deserves. He's not a cop. He's not a cop." He added: "I'm going to lend an ear to every voice in Flagler County."
For Manfre, the loss–to a retired sergeant, beloved in the community but with no managerial experience, is a stinging rebuke of a tenure too long dominated by peripheral, ethical issues, and a repeat of Manfre's loss in 2004, when he fell in the Democratic primary to Thomas Hutson, an unknown. Then as now, the electorate was turned off by several issues that had embroiled Manfre in peripheral battles–with the News-Journal over open records, with the county commission over another set of records.
Late Tuesday night, Manfre issued a statement through his public information office: "I have been honored to have served as your Sheriff for the past 8 years," the statement read, going on to enumerate various accomplishments of the past four years. There was not a word of acknowledgment about the defeat, let alone a word acknowledging or congratulating Jones or Staly. It was, in other words, vintage Manfre.
Staly was undersheriff in Manfre's administration. "I think the voters at least on the Republican side said they want a change, they want a cop's cop at the top that has the experience and the leadership to take the sheriff's office to the next level," Staly said. "I'm the only candidate of the six Republicans that owned a business here and grew it to 120 employees and four years later sold it to a national firm, so I'm the only one who has both business and government experience. I've been committed to this community for 10 years."
"It's been an emotional roller-coaster, just ups and downs," Lamb said of the race late this afternoon. "It's a strain both physically, mentally, psychologically, financially, emotionally. It's been a challenge. It's definitely been a growing experience."
In the Republican primaries for the Flagler County Commission, Donald O'Brien beat Denise Calderwood with a nearly two-to-one margin, Dave Sullivan, the former Republican Executive Committee chairman, beat Jason France by a larger margin, and Charlie Ericksen, the incumbent, easily beat Ken Mazzie and Dan Potter, taking 40 percent of the vote and leaving his challengers with 30 percent each. O'Brien now faces incumbent Democrat George Hanns–for whom O'Brien has voted in Hanns's last two elections–Sullivan faces incumbent Barbara Revels, and Ericksen faces Jason DeLorenzo, who is ending his tenure on the Palm Coast City Council.
"It means I have a lot more work to do, but it's a validation of hard work," O'Brien said, "and I have a real, newfound respect for this whole game of local politics. It's exhausting, and nerve-wracking. Just the pressure of trying to run a good campaign, getting enough volunteers, especially in this season where so many people are committed to so many different things." Of Hanns, he said: "Fighting incumbency is very difficult. George is a brand, he's a good brand and he has a very strong following." But he conceded that he'd voted for Hanns, "I voted the last two elections for him because I really didn't like his opponents."
If Conklin's race was over by early evening, the District 5 race, with four contenders vying for the seat vacated by Sue Dickinson, was closer: Maria Barbosa was the surprise winner, ahead of Myra Middleton Valentine by some fewer than 400 votes and Sharon Demers by 700 votes, out of 17,700 votes. Paul Anderson was a distant fourth. The race isn't over: Middleton Valentine and Barbosa will be in a run-off this November.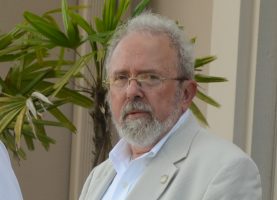 The two Palm Coast City Council races, other than mayor, were shaping up as expected by pre-voting prognosticators: Robert Cuff not only won, but won decisively enough to make him that seat's outright winner, making a run-off unnecessary, and enabling the council to seat him early next month, to fill the seat Bill McGuire resigned this month. It's a different story in the District 3 race, where Nick Klufas and Pam Richardson will be contending the seat again in the November run-off: Richardson won tonight with 42 percent of the vote to Klufas's 38 percent, with Anita Moeder at less than 20 percent. A 50 percent majority is required to be declared the outright winner.
In a brief interview with Holland after her win, the one word that never crossed her lips was "change.
"The message is loud and clear, we need to protect what we have here and focus on moving forward," Holland said, speaking from the Salvo art gallery in Bunnell. "Certainly at my party tonight there were residents form every sector in this community, the private sector that was there, the public sector, the arts, amenities, recreation, and I think what that says to me is certainly people enjoy what we have in our community. But I have spoken to folks that are looking forward to us being progressive in moving forward." Asked explicitly why she was not speaking of change, she said: "I don't know, I think what you get with me is obviously strong leadership, I don't hold back, I don't pull any punches when I have to make decisions."
Among her guests at Salvo was Jon Netts, who's been on the council since 2001, and was mayor for the last eight years.
"I take that as a validation of what Jim Canfield and his first city council did and what I've done over the years," Netts said. "I think by and large Palm Coast has moved in positive directions. Not wanting change doesn't mean you don't want to move ahead." Rather, he said, it also means not wanting to "repudiate what has been done so far."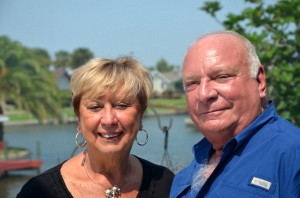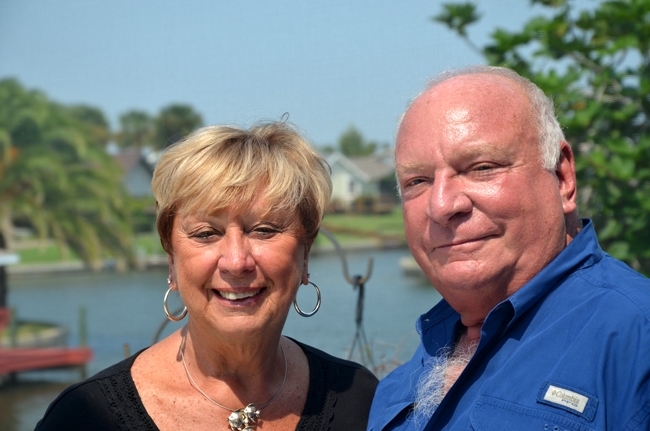 "We heard a lot of rhetoric during the campaign about how terrible things were, I don't think that was the message of the voters," Netts said. The campaign for city council seats, particularly the mayoral campaign, had indeed sounded like that of campaigners on two planets: Holland on one, speaking brightly of a continuing in a certain direction rather than severing a course, and Brady and McDonald on another planet–McDonald criticizing and predicting terrible financial outcomes if the city didn't change direction, and Brady generally seething about all sorts of things, rarely coherently. Voters orbited around the planet they knew best.
"Clean, green, serene, those are kind of what we're looking for, I think Milissa supports that, I think Bob Cuff supports that," Netts said, noting that Cuff would likely be installed as a council member at the next council meeting in a week. "In this case the will of the people is very clear," Netts said of Cuff's election. "I'm very pleased with the results and I would assume we will see him at the next meeting, and we will be in compliance with the city charter, or very close thereto."
Will Netts remain a Holland adviser? "To the extent that she wants my advice," the mayor said. "She is a different person, I would not expect her to seek out my advice. If I thought she needed my advice on issue after issue after issue, I probably would not have supported her. A leader is a leader: a leader seeks advice, a leader seeks counsel from other people, but ultimately a leader has to take responsibility. You have to make the best decisions that you can make."
As for himself, Netts said he would stay involved. "While I will not be on the City Council, I am not going to abandon my community, there are all kinds of opportunities to be part of the community, to participate in the community, to serve the community."
In the four races for circuit judge, Stasia Warren, Scott DuPont, Kathleen McNeilly and Howard McGillin Jr. were winning the tallies in Flagler, with a few precincts yet to be counted–and, more notably, with tallies in Volusia, Putnam and St. Johns not yet included. Judges' races are judicial-district-wide.
Ron DeSantis easily won the Republican primary for the 6th Congressional District, while William McCullough was winning the Democratic primary.
The turnout was dismal: only 6,585 people voted today, on Election Day, fewer than the 6,772 who voted by mail, fewer than the 7,696 who cast ballots in the two weeks of early voting. The total turnout was 27 percent, just two points better than in the 2012 primary, three points better than the 2008 primary. Republican voters outnumbered Democrats by a margin of almost 2-to-1, and for independents or those not registered with either major party, just 2,338 voters cast ballots, or 11 percent of those not registered with either party, even though many non-partisan races were on the ballot.
Voters also approved the expansion of a renewable-energy tax break that backers say will help businesses and spark the expanded use of solar energy in Florida, the News Service of Florida reported. The proposed constitutional amendment approved Tuesday was known as Amendment 4 and was placed on the ballot by the Legislature. It is designed to extend a residential renewable-energy tax break to commercial and industrial properties. The preliminary results indicated that the measure, which backers say will spur growth in solar and renewable energy, was supported in almost every county by well over the 60 percent margin necessary for a successful amendment, and by around 70 percent in Flagler.


More detailed results, as reported by the supervisor of elections, appear below the chart.
Primary Election 2016 Results: Flagler County's Local Races and State Races
| Candidate and Race | Votes | Percent |
| --- | --- | --- |
| Supervisor of Elections | | |
| Kaiti Lenhart | 10701 | 56.21 |
| Kimble Medley | 3761 | 19.76 |
| Abra Seay | 4576 | 24.04 |
| Flagler School Board, District 3 | | |
| Colleen Conklin (incumbent) | 11489 | 64.47 |
| Jason Sands | 6333 | 35.53 |
| Flagler School Board, District 5 | | |
| Paul Anderson | 3803 | 21.51 |
| Maria P. Barbosa | 4979 | 28.16 |
| Sharon A. Demers | 4295 | 24.29 |
| Myra Middleton Valentine | 4607 | 26.05 |
| Sheriff, Republican Primary | | |
| Donald Fleming | 1613 | 14.09 |
| John Lamb | 3806 | 33.25 |
| Jerry O'Gara | 989 | 8.64 |
| Rick Staly | 4306 | 37.62 |
| Mark Whisenant | 518 | 4.53 |
| Chris Yates | 215 | 1.88 |
| Sheriff, Democratic Primary | | |
| Larry D. Jones | 3599 | 53.83 |
| Jim Manfre (Incumbent) | 3087 | 46.17 |
| Palm Coast Mayor | | |
| John R. Brady | 2220 | 14.60 |
| Milissa Holland | 9644 | 63.43 |
| Dennis McDonald | 2284 | 15.02 |
| Ronald Radford | 1056 | 6.95 |
| Palm Coast City Council, District 1 | | |
| Robert Cuff | 5280 | 52.89 |
| Sims E. Jones | 2561 | 23.27 |
| Arthur McGovern Jr. | 2624 | 23.84 |
| Palm Coast City Council, District 3 | | |
| Nick Klufas | 5286 | 38.50 |
| Anita Moeder | 2670 | 19.45 |
| Pam Richardson | 5775 | 42.06 |
| Flagler County Commission, District 1, Republican Primary | | |
| Charles F. Ericksen, Jr. (Incumbent) | 3801 | 39.88 |
| Ken Mazzie | 2893 | 30.35 |
| Dan Potter | 2837 | 29.77 |
| Flagler County Commission, District 3, Republican Primary | | |
| Jason France | 2818 | 30.53 |
| David Sullivan | 6412 | 69.47 |
| Flagler County Commission, District 5, Republican Primary | | |
| Denise Calderwood | 3546 | 37.62 |
| Donald O'Brien | 5881 | 62.38 |
| Circuit Judge, Group | | |
| Chris France | | |
| Sebrina L. Slack | 52,362 (5941) | 44.9 (47.62) |
| Stasia Warren | 64, 267 (6535) | 55.1 (52.38) |
| Circuit Judge, Group 10 | | |
| Malcolm Anthony | 52,216 (5934) | 37.8 (35.84) |
| Scott DuPont | 86,053 (10622) | 62.2 (64.16) |
| Circuit Judge, Group 13 | | |
| David Hood | 63,728 (7532) | 44.2 (44.2) |
| A. Kathleen McNeilly | 80,482 (9502) | 55.8 (55.78) |
| Circuit Judge, Group 17 | | |
| Linda L. Gaustad | 63,855 (7985) | 45.8 (48.61) |
| Howard O. McGillin Jr. | 76,624 (8443) | 54. 2 (51.39) |
| US Senate, Republican Primary | | |
| Carlos Beruff | 264,338 (2620) | 18.5 (22.90) |
| Ernie Rivera | 45,128 (326) | 3.2 (2.85) |
| Marco Rubio | 1,029,374 (7893) | 72.0 (69) |
| Dwight Mark Anthony Young | 91,029 (600) | 6.4 (5.25) |
| US Senate, Democratic Primary | | |
| Roque "Rocky" De La Fuente | 60,730 (272) | 5.4 (4.09) |
| Alan Grayson | 199,781 (1669) | 17.7 (25.11) |
| Pam Keith | 173,762 (919) | 15.4 (13.83) |
| Reginald Luster | 29,122 (106) | 2.6 (1.59) |
| Patrick Murphy | 665,403 (2680) | 59.0 (55.37) |
| Congressional Representative, District 6, Republican Primary | | |
| Fred Costello | 16,681 (2009) | 24.7 (18.28) |
| Ron Desantis | 41,276 (7723) | 61.0 (70.34) |
| G. G. Galloway | 9,681 (1252) | 14.3 (11.39) |
| Congressional Representative, District 6, Democratic Primary | | |
| William McCullough | 16,034 (2457) | 36.6 (39.09) |
| Jay McGovern | 8,378 (1256) | 19.1 (19.98) |
| George Pappas | 6,758 (832) | 15.4 (13.24) |
| Dwayne L. Taylor | 12,619 (1741) | 28.8 (27.70) |
Note: For statewide and multi-county results, as in the races for governor, senate and judicial races, the total tally appears first, followed by the Flagler-only tally in parenthesis.