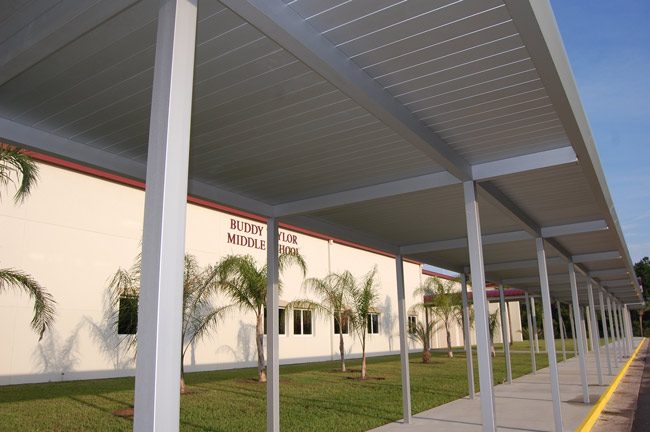 A 14-year-old Buddy Taylor Middle School student was suspended for 10 days Monday after he burned another student's hair with a lighter as others took video of the incident to post on SnapChat.
Returning home, the 14 year old then assaulted boy he'd burned in the morning, telling him that "snitches get stitches." The victim is 13. His mother opted against filing charges this time.
The incident took place on a school bus after it had picked up students in the area of Secretary Trail in Palm Coast. The 13-year-old student told a Flagler County Sheriff's deputy that the older boy lit  a lighter behind his head and singed the hairs on the back of his head, enough to burn an area about an inch and a half in diameter, according to a sheriff's incident report. The deputy observed the area of the burn.
The student told Natah  Lovelette, the principal, about the incident. The 14 year old got a referral and was suspended for 10 days from school. But when both students–who share a bus stop–got off at the intersection of Selma Trail and Secretary Trail Monday afternoon, the older boy told him that "snitches get stitches" and, according to the incident report, subsequently struck the younger boy in the left side of his face, knocking off his glasses. The boy "had a noticeable red mark near his left eye socket and there appeared to be minor swelling to the affected area," the report states.
Video of the incident, provided by someone who had filmed it on a cell phone, shows the attack and the younger boy falling to the ground. The older boy had gotten a copy of the video and, according to the incident report, had "accidentally" texted the video to his mother's boyfriend.
The boy who was twice attacked and his mother told the deputy they did not wish to pursue charges. While the deputy was investigating, the older boy's mother mother arrived at the younger boy's house and  apologized for the incident. With her permission, a deputy spoke to her son, who closely corroborated the victim's account.  He said he never intended to burn the back of the younger boy's hair but wanted to see what his reaction would be as several students on the bus were filming the incident to post on SnapChat, the image-messaging social media app which enables images to disappear after a set period. The boy said he did not mean to cause harm, but then was upset that the younger boy had told on him.
"The two juveniles shook hands on scene" and the older boy apologized for his actions, the incident report states. The younger boy's mother said if anything like this ever happens again, she will pursue charges.