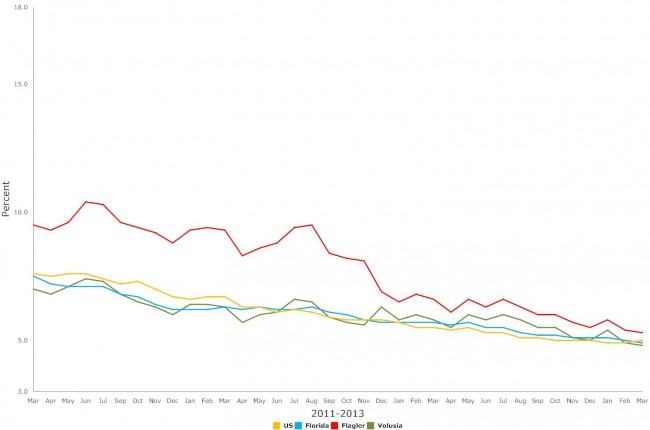 Flagler County's unemployment rate declined only by two decimal points in March, to 5.3 percent, but it was another symbolically significant decline as the rate scraped a new low since the Great Recession, while employment continued to swell impressively for the second consecutive month.
In February Flagler County saw jobs grow by 472. In March, strong job growth continued with a gain of 396 for a two-month gain of 868 jobs. (Jobs had declined in December and January.) The total number of Flagler residents holding jobs rose to a record 41,964, a 52 percent increase of 14,312 since March 2010. Keep in mind: these are not necessarily jobs in Flagler County, but jobs held by Flagler County residents anywhere in the state. And they are not necessarily full-time jobs. A worker needs only register one hour in a two-week period to be considered employed for that month's job report. But all things being equal, the trend continues to be favorable.
The county's labor force also grew robustly in March, to 44,330, an increase of 346 over the previous month and of 883, or 2 percent, over the year. A growing workforce means that, in addition to the natural growth of the labor force, workers are encouraged to rejoin the workplace after remaining sidelined, or workers are moving into Flagler County, encouraged by job prospects in the region. A growth in the workforce also means that the population is increasing with working-age families, and likely with children, rather than with retirees, as had largely been the case since the end of the recession: school enrollment has been static since.
The number of unemployed in Flagler County declined from 2,416 to 2,366. For all that, Flagler County is still not yet out of the tier of Florida counties with the worst unemployment. It's 14th from the worst (Hendry County has held that unhappy spot for years, since Flagler relinquished it), flanked by Indian River and Dixie counties, with St. Johns County second from best at 3.5 percent unemployment, and Monroe in the most favorable spot at 3.1 percent.
In Florida, Gov. Rick Scott could yet again claim that the unemployment rate was falling, though as in each of the past several months, it did so only to the extent that the previous month's rate had been revised upward, thus creating the illusion that the latest month's rate had fallen by a decimal point. In reality, the state unemployment rate was stuck at 5.1 percent for three successive months before falling to 5 percent in February and 4.9 percent in March, with 478,000 unemployed Floridians out of a labor force of 9.8 million. Aside from exceeding it significantly during the recession, Florida's unemployment rate has kept largely in line with the national rate since.
In March, the state added just 3,000 jobs, with no single industry showing either large gains or losses except in hotels and restaurants, which lost 5,900 jobs and private service providing jobs adding 4,200.


<![if !IE]><![endif]>