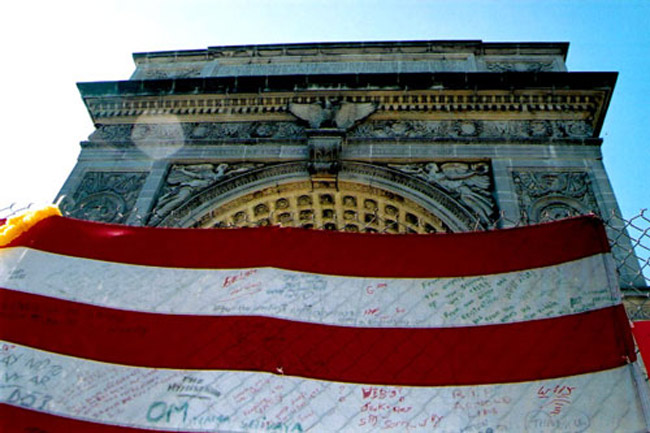 Several local organizations and local governments are commemorating the 12th anniversary of the September 11, 2001 attacks on the World Trade Center and the Pentagon.
Flagler Habitat for Humanity will join fellow Habitat affiliates to mark the occasion through volunteer service. Anyone interested in giving back to the community can turn up at 14 Utrillo Place in Palm Coast, from 8 a.m. to noon and again from 1 to 5 p.m. for a "Framing a Future" house construction in conjunction with the Corporation for National and Community Service
Flagler County government will not have an event of its own, but it's working in partnership with the Red Knights of Palm Coast for a Sunday, Sept. 8 Memorial Ride and Ceremony, a 67 mile motorcycle ride through Flagler and Volusia County–starting at the Government Services Building in Bunnell at 9:30 a.m. The event is chiefly sponsored by Rue, Ziffra and Caldwell, the law firm.
Registration for the event will begin at 8:30 a.m. at the Flagler County Government Services Building with a ceremony starting at 9:30 a.m. The police-escorted ride will begin at 10:30 a.m. and end at the White Eagle Lounge in Korona. Additional information is available at MemorialRun911.com. The rain date is set for Sept. 15.
Palm Coast will hold a public Fallen Heroes Memorial honoring emergency responders killed during attacks–police, firefighters, EMTs. The ceremony will be held at Heroes Memorial Park, 2860 Palm Coast Pkwy., half a mile west of the Flagler County Library, starting at 8:30 a.m. Wednesday, Sept. 11.
The ceremony will include an Honor Guard compromised of New York, Palm Coast and Flagler County Fire Departments and police agencies. The Honor Guard joins together for the presentation of the Parade of Flags, which is a representation of New York and local emergency service agencies.
The invocation will be offered by the Rev. Father Jim May, and the benediction will be given by Jewish War Veterans Chaplain Howard Schwartz. The National Anthem will be performed by the Matanzas High School Marching Band, and a special musical tribute of Wind Beneath My Wings will be performed by 9/11 survivor Yvonne Robinson.
The ceremony will feature a presentation of wreaths to the respective agency memorials by active duty emergency responders and 9/11 survivors. That will be followed by a performance of Amazing Grace by the Ancient City Pipes & Drums. Other tributes include the Firefighter's Last Alarm and Taps, to be performed by Raul Zambrano, the Volusia County Circuit Court judge.
Palm Coast Mayor Jon Netts will speak, and the Firefighter & Police Officer Prayer will be offered by a Palm Coast firefighter and a Flagler County Sheriff's deputy. A National Moment of Silence will be marked at 8:46 a.m., the moment the terrorist attacks began when American Airlines Flight 11 crashed into the North Tower of the World Trade Center.
In case of rain, the ceremony will be held at nearby Fire Station 21, 9 Corporate Drive.
For more information, contact Cindi Lane at 386/986-3708.
And at Stetson, the university will host a "Day of Action" of service and programs, all free and open to the public, on Sept. 11 proper.
At 8 a.m., students, staff, faculty and community members will gather at the campus flag located in front of Elizabeth Hall on Woodland Blvd., where members of the University's ROTC program will lead a ceremony to put the flag at half-staff in remembrance of the victims of 9/11. Stetson University President Wendy Libby will give brief opening remarks, followed by interfaith readings on peace and a charge to honor our national values through community service.
From noon to 1:30 p.m., select faculty, staff and community members will be panelists on a forum entitled "Civil Liberties, Security and Syria: Looking at current issues in the context of 9/11." The discussion will be held in the Rinker Auditorium, inside Lynn Business Center, 345 N. Woodland Blvd. (Students can earn cultural credit.) Experts will comment on current issues ranging from foreign to domestic policy, as well as providing insight as to how 9/11 has influenced our national debate on current issues.
From 3 to 5 p.m., students and community members are encouraged to participate in volunteer activities to benefit our community. These sites have been arranged by the Stetson University Center for Community Engagement and include preparing food bags for people who are homeless at The Neighborhood Center, painting a dining room for people who are disabled at the DeLand Center ARC, and cleaning up nearby lakes. Individuals wanting to participate in any of the volunteer activities should meet at the Center for Community Engagement, 609 N. Bert Fish Dr., at 2:45 p.m. to sign-in and arrange transportation.
"This is a wonderful opportunity to band together in support for those in need, just like many did during the time of tragedy 12 years ago," said Heather Hamilton, the Stetson staff member who is coordinating the day's events.
At 6 p.m., students, staff, faculty and community members will again gather at the campus flag for a closing ceremony where the flag will be raised back to full-staff in recognition of our country's resilience after 9/11. Brief closing remarks and group reflection will conclude the event.
"Events like 9/11 remind us that we all have a voice and a chance to make a change," said Hamilton. "Participating in days of service like next Wednesday, or getting involved in your community is one way to start making that change. Take this opportunity to reflect on your values, and let those values steer you to make the changes that you want to see in your life, your community and your country."
For more information, contact the Center for Community Engagement at Stetson University at 386/822-8706.