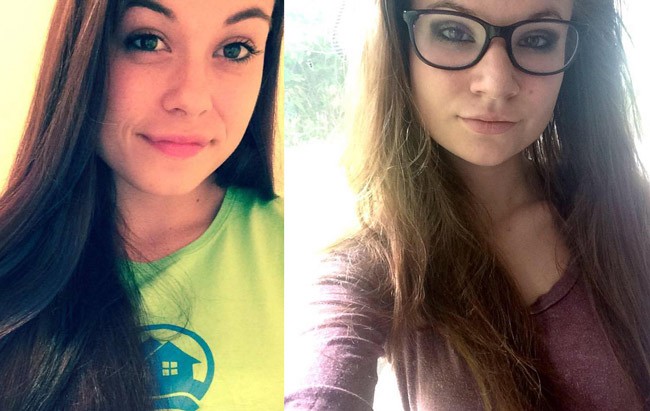 They'd both attended Matanzas High School. They both lived in Palm Coast's B-Section, just 4,500 feet from each other as the crow flies. They were the closest friends. And within a month, they both killed themselves by the same method: they hung themselves from a tree limb in their backyard.
Cora Ann Engel, 18, died on Dec. 17. She was discovered at the Beechwood Lane property that morning by her brother and two friends, according to a Flagler County Sheriff's report. The date may not have been entirely coincidental: two years earlier almost to the day, on Dec. 18, Dalton Coxwell, then a 15-year-old freshman at Matanzas, had killed himself by the same method. At the time, it was the first suicide to strike the Matanzas High School community.
On Sunday, Lindsay Brockhaus wrote the following on her Facebook page, referring to her friend Cora: "One month ago, you ran away to heaven. I miss you more than you know." She posted the note with a link to Copland's "The Day I Lost My Voice," a song about running away ("I've got my life in a suitcase.")
Tuesday evening, Brockhaus had hung herself.
Deputies had gone to her Barring Place house that evening to check on her after getting word from Melissa Blackwelder, one of Brockhaus's friends, who was worried that Brockhaus might hurt herself—and in fact may have tried to harm herself the day before, according to an incident report. Blackwelder relayed to authorities that "she had a feeling that Lindsey might try and harm herself because Lindsey was having a tough time dealing with the recent loss of their friend," Cora Engel.
Deputies investigated the scene in the presence of two of Brockhaus's friends, 18 and 20, both residents of Palm Coast. Blackwelder had stayed with Brockhaus the night of the 18th then dropped her off at work at Ace Hardware in St. Joe's Plaza at around noon on Tuesday, when Brockhaus told her she was fine. It was the last time she'd seen her.
When deputies got permission to enter Brockhaus's house from her father, they saw no foul play, only music playing in her bedroom, and a light left on in the living room. Her room was left untouched, with only her cell phone taken into evidence to check Facebook posts Brockhaus had made before her death.
News of the suicide by Wednesday was rippling through social media and the Matanzas high school community, alerting school officials to respond.
"I first learned about the loss of Lindsey yesterday morning," Colleen Conklin, who chairs the school board, said. Just weeks before the death of Dalton Coxwell in 2013, Conklin had led two virtual town hall meetings, both well attended, to draw attention to bullying and teen suicide in the wake of the suicide of 12-year-old Rebecca Sedgwick, the Lakeland student who'd been bullied at school.
"I was contacted by Dalton Coxwell's mom, Barbara, and told that we lost another child and can't we do something about it," Conklin said. "Barbara and I have stayed in contact since the loss of her son. She joined me for the virtual town hall meeting to share her experience with parents and teens. She is an exceptionally brave woman. We spent sometime talking on the phone and agreed to work on putting something together to raise awareness."
In the school district, Lynette Shott, who heads student and community services, and Tracy Umpenhour, who heads exceptional student education, have been working with Matanzas faculty and staff to provide counseling services to students, staff and past graduates.
"We recognize this is a larger community issue. It's my hope that we can reach out to the mental health professionals in the community and possibly beyond to assist with putting together a community wide plan for tackling this issue," Conklin said. "There needs to be a shared understanding of suicide and suicide prevention. We need to closely examine our mental health infrastructure as a community and ensure that one exists to support suicide prevention. Young people need to know help is available and that anything they are dealing with is temporary and that suicide is something that can never be taken back. It is a permanent solution to a temporary problem."
Online and through social media, current and former students, friends of both young women, spoke of their grief in innumerable ways, often at a loss for words. "It's too overwhelming for me to deal with this about Lindsey Brockhaus right now," one wrote, "so please if everyone can just stop asking me what happened. I appreciate everyone's messages and condolences about her and Cora Engel but I don't even know how to deal with any of this right now."