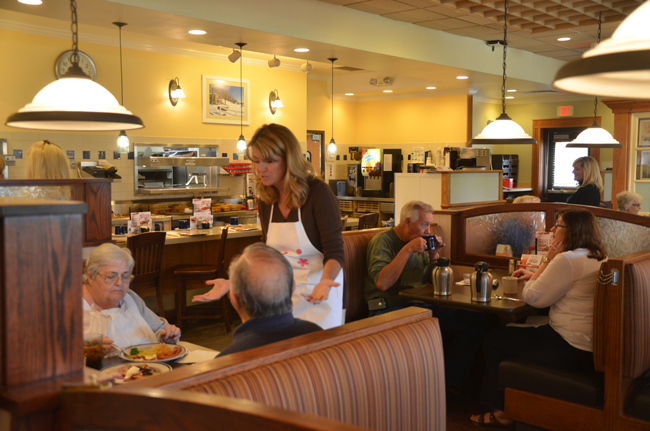 Starting at 11 this morning and through 9 tonight, you could get your favorite all-day breakfast, lunch or dinner served at Bob Evans by a Flagler County school board member, a superintendent, a school principal, a school board attorney or a number of other top district officials whose high-five and six-figure salaries suggest that they should have long ago jilted the need to moonlight as waiters.
But when Student Services Director Katrina Townsend sent an email calling for volunteer waiters, few could resist: the money raised today–15 percent of the day's profits, plus whatever additional tips or contributions diners choose to give directly–goes to a special fund for students services.
To most parents, student services is about discipline, bullying, expulsions. But it's also about guidance, helping homeless children, and often, it's about providing that extra dollar–for a haircut, for school supplies, for a pair of shoes, for transportation not available through the district for older students trying to get their GED, for prom tickets–for students who can't make ends meet on their own.
Student Services, in sum, is where the effects of the economy's most serious stresses intersect with the lives of thousands of students and their families.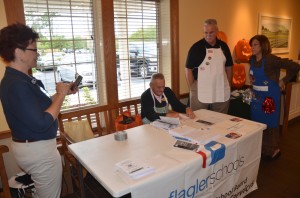 "A lot of times we get requests from families and needs can be anything from help with groceries to electricity to simple basic needs like clothing," School Board member Colleen Conklin, who had the noon-to-1 p.m. shift, said, "and obviously we don't have a budget for that. So this is one of the activities we do to help raise funds to help support those types of expenses." The district through Student Services is also raising money for a series of Christmas programs that convert donated dollars into gifts for up to 3,000 children from needy families.
Since the district is barred from spending public dollars on those needs, fundraisers like today's at Bob Evans are essential. There's just $1,500 in student services' fund at the moment, and the school year is still young. Townsend would like to see the sum closer to $5,000. "The fund always operates with what we have, so if we raise $100, we can do a $100 worth," Townsend said. "If we had $10,000 we could do $10,000 worth."
Lora Lee Craton, a 6th grade academic coach and dean of students at Wadsworth Elementary, has seen the effects of a harsher economy double the proportion of students in the free and reduced lunch ranks at the school (now at 87 percent, Craton says). "I have students that the only meals they eat are the ones they eat at school, which is breakfast and lunch, so that's auge concern for me," Craton says.
Craton also serves on the district's disciplinary committee, which recommends how to ensure that students expelled from school continue to receive instruction. "We have students that have to be homeschooled because they're suspended or expelled, so we need to have computers for them to be able to do Florida Virtual School" or similar programs, Craton says. The students often can't afford the necessary equipment. Student Services pitches in.
And so here they were, making their pitch to lunchtime patrons.
John Fischer, the school board member, stood in his apron behind the bakery counter, chatting up the staff, clapping his hands in slo-mo, smiling at whoever walked in (reporters excepted), mimicking the teapot scene from Beauty and the Beast (he acted out the teapot), or playing host to arriving guests ("your server will be right here. If you need anything just give us a call"). Not 30 minutes into his shift he was the one giving commands to the wait staff, hurrying waitresses to clean tables or summoning them to take guest's orders.
Kristy Gavin, the school board attorney, wore a blue apron fluffed up with a pair of pom poms ("wearing the abnoxious apron has helped, it's a conversation starter") and "Flo" for a nametag, perplexing to those who may not have been properly clued in to 1970s television.
"You don't remember Flo from Mel's Diner?" Gavin asks a mis-educated reporter, referring to "Alice," the sitcom that ran on CBS from 1976 to 1985. "Flo was one of the waitresses, her line was to the owner of Mel's Diner was kiss my grits. She always wanted to be something else and Mel was one of those crusty mean diner owners. Flo was the Southern redhaired firespitball."
Gavin had been a waitress herself before the law took over–at a country club in Ohio. She and other district volunteers weren't handed order pads and trays, however. At least not at first. "They really don't want us serving," she said. Maybe it was a matter of liability. Or not wanting to take tips away from the wait staff. But as the day wore on, and with Conklin's arrival–she had waited tables as a teen at a restaurant on the Hudson in New York, and later worked at a catering hall–you could see them take the occasional order or clean the odd table.
Alan Kugler, the general manager of Palm Coast's Bob Evans, said at the end of the day he'll tally it all up "and submit it to corporate, and in return we give them a check for 15 percent of the sales we generated that were accompanied by a flier." Kugler said the event helped rather than hindered his wait staff, since it brought in more business. "We're seeing a lot of folks that are coming in specifically for the event to help raise money for the school," he said. "It's awesome, it's great, giving back to the community. It's just a great thing to be able to do."
You have until 9 p.m. today (Thursday) to make it count. The printable flier is below.


Bob Evans Fund-Raiser, Flagler County School: Download and Print