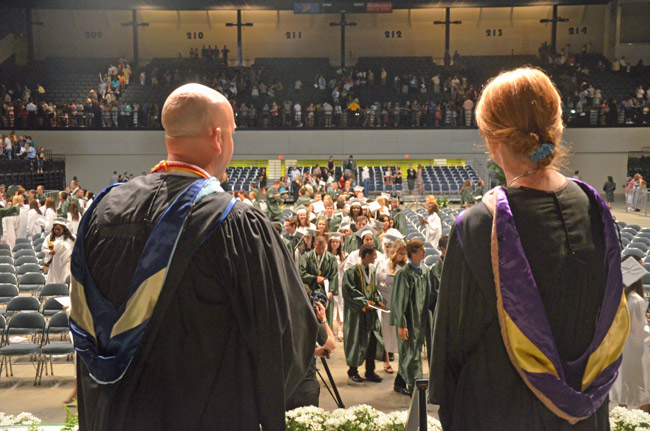 The Flagler County School Board will ask voters in a referendum later this year to approve a property tax that would add about $25 to the tax bill for a home valued around $150,000, with a $50,000 homestead exemption. The levy would net $1.6 million a year. It would be in effect for four years, beginning on July 1 and through June 2017.
The referendum, to be held in a special election that would cost $80,000, will actually ask voters to approve double that levy—specifically, a 50-cent tax on every $1,000 in assessed property value, which would increase the typical property tax bill by $50, and generate $3.2 million for the district. But voters have already been paying a 25-cent levy, which expires in June. That levy has been bringing in $1.6 million a year.
The board voted 4-1 to move ahead with the referendum, with Chairman Andy Dance in dissent. It will formalize that decision in a special meeting next week.
The board is essentially asking voters to approve a continuation of that levy, and to add an additional 25 cents to pay for mounting needs, among them the new posting of sheriff's deputies in all five traditional elementary schools. Most parents support that initiative. But the board has no money for it short of raiding its reserves. Deputies in elementary schools will cost anywhere between $275,000 and $437,000 a year.
The new money would also help restore 45 minutes to the school day (which will cost $2 million), and therefore lead to the re-hiring of teachers laid off when the day was cut, two years ago, to save money. Parents and teachers were unhappy with the shorter day (which was never a shorter day for teachers, only students), but the district said it had no choice at the time. The new money will not eliminate cost-cutting pressures on the board, which anticipates facing more cuts even if the levy is passed.
Board members are confident that voters will strongly support the levy, just as they have supported similar, smaller levies in the last two years.
"I believe that we've been good stewards of the sales tax dollars, and the citizens in this community know that," board member Colleen Conklin said. "So I say, give them the option to say yea or nay. I don't think we have anything to lose."
"That is certainly my recommendation," Superintendent Janet Valentine said. "I have heard from many parents and community members and all wanting to assist and step up to the plate, So I agree going out and allowing that to be provided for the voters to make that decision, because if this was approved by the voters, we would give them what they've been asking for."
There was little question three years ago, when school officials knew that the existing extra levies would expire, that they would be turning to voters for a renewal of a 50-cent sales surtax, which they did last November. Former School Superintendent Bill Delbrugge had actually counseled against going ahead with the 25-cent levy to ensure that when the time came for the 50-cent levy, voters would not be put off by the request. The concern was that voters would feel hammered by successive tax referendums virtually three years in a row.
But the district had what it called "critical needs" coinciding with a significant decrease in state aid as the drastic economic downturn dropped property values. On top of that, the district's school population stopped growing, ensuring that state aid would not grow either.
School Board Chairman Andy Dance made that very point this evening, saying he wasn't "at all" comfortable going back out to voters to ask them for a full 50-cent levy. "I don't know that I'm on board with the half-mil," he said. "I'm not crazy about even asking for the quarter, but I can realistically talk to voters about an extension, but not necessarily about a new tax."
But Conklin said a continuation of the 25-cent levy would be similar to doing nothing, in that it would not provide additional money. She proposed putting three options to the public for community input before deciding what to place on the referendum. Board member Sue Dickinson didn't like the idea.
"It's too complex to put it out to the community to tell us what to do," Dickinson said. "We as a board are given the information of what our needs are, we hear from the community they want the safety increased, we know what that's going to cost, and rather than go out and say, well, do you want us to do nothing, do you want us to do a quarter, do you want us to do half, let's just go out and tell them we need the half. And this is what we're going to do with it."
Dance was concerned about the all-or-nothing approach. "I heard somebody say we don't have anything to lose," he said. "Actually we do have a lot to lose, because going back out for an additional tax, which this would be, we have the very real possibility of losing and getting nothing. I mean, it's a lot of discussion here about how everybody seems really positive that this is going to happen. But it has to be approved by the voters." Another option, he said, is continuing with the 25-cent levy. Dance stumped hard just last year for the renewal of the district's half-penny sales surtax, but on the assumption that the board would be cautious. Dance is also concerned about a special election costing $80,000. Voters, he said, "are getting school-funding fatigue." (An earlier version of this story incorrectly referred to the tax Dance stumped for as another 25-cent property tax levy.)
But in this case, Dance was strongly outnumbered by the four other board members.
Because voters approved two levies in the last two and a half years–the 25-cent property tax levy and, last November, the renewal of a half-penny sales surtax–the district was able to minimize the effects of the downturn and the reductions in funding. It did so better than most districts even as it cut $7 million dollars from its budget, reduced the school day by 45 minutes a day, and laid off more several dozen teachers. Last year, the district used $1.8 million from its reserves to balance the budget. It plans to use the same amount from reserves this year—not counting the cost of federal sequestration, which may have a net cost of $1.5 million for Flagler schools.
"While we have planned for this and have set aside grant funds to roll forward to 2013-14 to try to minimize that impact, we're still going to fall short," Patty Wormeck, the district's finance director, said. "Sand the amount of funds that we're going to roll forward is just for a one-year period. The sequestration is for 10 years. The outcome of that is unknown." (It is unlikely, however, that sequestration as it now stands will outlast the year.) Wormeck added: "For the first time in probably as long as any of you can remember, we have had a steady decline for the past five months in our students. We could not predict this, nor did we fully plan for this. We had hoped to be slightly increasing that at this point, and a little bit higher at the beginning of the next school year."
The district has lost 228 students since the beginning of the school year, or the equivalent of $1.4 million in funding.
The new money would also help add health and counseling services, and preserve current academic programs, such as the International Baccalaureate, that might otherwise suffer from pressures to cut costs.
"This half-mil," board member Trevor Tucker said, "it might not even solve our problem of just being solvent with what we currently have." He said "we need this half mil, terribly," but that the board was still facing cuts ahead.
Valentine says that will be the case, but that the district had been "diligent in making the necessary cuts we've had to make without affecting programs at this point. At some point program does become affected because you do have to prioritize." Valentine had considered proposing a full $1-mil referendum, but knew that politically, it would be unfeasible.
The school board will formally approve a resolution to go to a referendum at a special meeting next week (on March 12). The board will ask the Flagler County Commission, which must approve any local referendum, to place the initiative on a ballot later this year, at the commission's March 18 meeting.